Diversity and Inclusion in the Workplace: A Fireside Chat at EDHEC
In January, EDHEC welcomed three industry leaders from L'Oréal, Henkel, and Smurfit Kappa to its Paris campus to discuss diversity and inclusion in the workplace. In this second feature in our series celebrating International Women?s Day, we hear from these experts about how they?re embracing diversity, promoting inclusion, and setting examples for future generations.
Reading time :
6 Dec 2022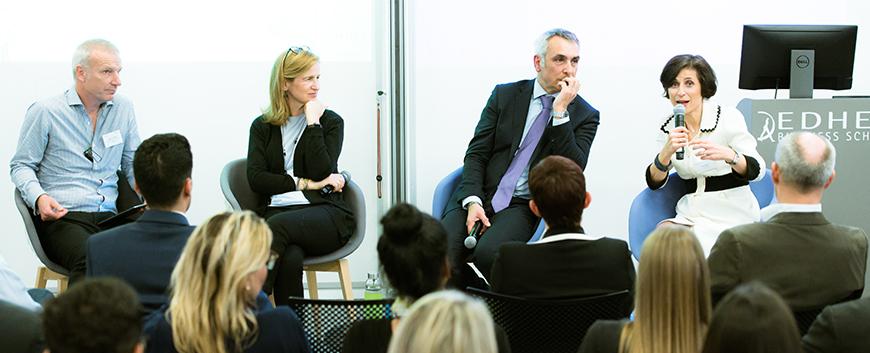 Diversity and inclusion are hot topics and certainly a key theme of discussion when it comes to the 21st Century workplace. As a business school that pushes boundaries and celebrates diversity, EDHEC brought the subject front and centre when it hosted a Fireside Chat on the topic at this month's Global Talent Day. The session welcomed three executives from global brands including Jean-Christophe Bugeon, CEO France at Smurfit Kappa, Anne Guichard, General Manager Digital Worldwide Team at L'Oréal, and Amélie Vidal-Simi, President France at Henkel.  
Spencer Hamilton, Head of MBA Careers and Corporate Services at EDHEC, was host to this Fireside Chat and chose the theme of diversity because it is such an important topic in today's workplace. "It's something that our MBA participants and all businesses are becoming aware and conscious of, but it's the conversations we have that move the needle."   
This Fireside Chat promoted conversations amongst the three panellists prompted by challenging questions from Spencer. The hour-long discussion allowed the audience of MBA students and alumni to actively engage in questioning and get involved in the conversation.
"Having executives from such a broad range of industry backgrounds provided a wide array of perspectives, from luxury cosmetics to industrial packaging," said Aidan Johnson, a Global MBA alumnus from the January 2020 class. "The result was a unique dialogue where students engaged with each other as well as on an organisational level."
Diversity and inclusion stretch far beyond just racial divides and the panel did not hesitate to challenge and embrace the wide scope within the topic. Read on for a full overview of the interesting Fireside Chat.
Bridging the Gap of Social Diversity
The session kicked off with Amélie Vidal-Simi from Henkel speaking about how they approach "social diversity" within her organisation. This specific type of diversity includes social classes and attempting to bridge the gap between high-income earners and lower-income individuals. Social diversity is an integral part of Henkel's company culture and is offered as a voluntary programme the company offers to its employees. This project lets Henkel managers volunteer to work with individuals from lower-income areas to help them develop a CV, find work, and aid them in their professional goals.  
"We all have a role to play to help reduce these differences," encouraged Amélie. She says this enriching programme helps Henkel's managers experience a different side of the world, respect diversity, and realize that "Paris isn't the norm of France," for example.
When Amélie started at Henkel 28 years ago, she was among very few women within the organisation. Thankfully as her career developed over the decades, Henkel has progressed too. It has made monumental strides toward gender equality and inclusion as a whole leaving gender stereotypes far behind. Diversity is especially important to Henkel because "Henkel's team should reflect that of society," said Amélie. To develop the best products, "we have to get into the mind of the consumer and that means having people on staff that meet those different standards."
Diversity Encourages Innovation and New Ideas
CEO of France at Smurfit Kappa, Jean-Christophe Bugeon, agreed with Amélie that diversity pushes brands forward. As a CEO, you have infinite fires to put out every day so it's easy to see why a company muffles out diversity issues. But he believes it's important to focus on this area because simply put: "diversity is good for business".
Bringing different people from different backgrounds and perspectives together helps foster new opinions and ideas that otherwise would not have been discovered. A diverse group of people simply think differently, and companies should leverage that to their advantage.
One unique type of diversity that Jean-Christophe addressed is "invisible diversity" which occurs in every office and on every team. It is the idea that your coworkers may not know about your life outside of work. Breaking down an example, he explained it is as simple as comparing a single parent to a triathlete to someone who loves to cook.  
"It's the idea we all have something that makes us different, but we work together regardless," explained Spencer as he led the conversation. No matter what makes you different, it should not change how you're perceived at work. This "invisible diversity" proves that no matter how similar we appear at first glance, every one of us brings something different to the table.
Jean-Christophe took that conversion further saying that diversity in the workplace might help people overcome fears or biases altogether. "Work is a safe space to overcome any fears or hesitations with new people. We often grow up surrounded by those similar to us, so a diverse team may be our first experience with someone different from ourselves. This helps us learn and leave work with a new respect for them. Diversity at work "helps us be better people," he concluded.
Overcoming Bias and Embracing Diversity
The third panellist, Anne Guichard, is well-versed in diversity coming from the world of L'Oréal. The mission Beauty for All truly forces L'Oréal to "practice what they preach," Anne said. If they sell cosmetics to suit all different skin types and races, they must have people behind the scenes that mirror that diversity. However, inclusion extends far beyond foundation shades and skin colour to one factor of diversity that isn't often addressed: age.
"[Our current consumer] spans four generations and that is reflected in our marketing," said Anne. For example, when Jane Fonda became a spokesperson at age 81, L'Oréal broke the mould to display Jane Fonda's image as more 'pro-age' than 'anti-age'; promoting her as a brand ambassador with energy and positivity rather than focusing on marketing beauty fixes that hide the physical signs of maturity. This refreshing stance on age is a prime example of how L'Oréal includes a wide range of models to convey new messaging that makes the world think differently about beauty.  
Supporting a Diverse Future
Diversity is an umbrella term that encompasses so much; from race to religion, culture, age, physical abilities and more. It was inspiring to see what these three global companies are doing to address inclusion and support diversity as they set the example for the world. Their procedures and internal practices raise the bar for many businesses and their positive models can help shape more diverse teams worldwide.
This Fireside Chat was the perfect ending to EDHEC's Global Talent Day leaving students, alumni and faculty embracing change and celebrating the evolution of workplace culture. EDHEC's current Global MBA class is proud to be diverse with over 33 nationalities. This international cohort is bound to continue and advance the inclusive way of thinking that these three leaders have started.
What are your thoughts on diversity in the workplace? Share your comments and celebrate diversity on social with #ProudlyEDHEC.
Are you ready to transform your career? 
Download the brochure to find out how the EDHEC Global MBA will give you the tools, knowledge and confidence you need to accelerate your international career