Meet the Class: Global MBA January 2020
This January wasn't just the beginning of a new decade, but the start of another MBA intake at EDHEC. Twenty-three new Global MBA candidates joined the class to embark on their 10-month, intensive programme. Here's an introduction to this diverse class and a glimpse into their experience so far.
Reading time :
25 May 2021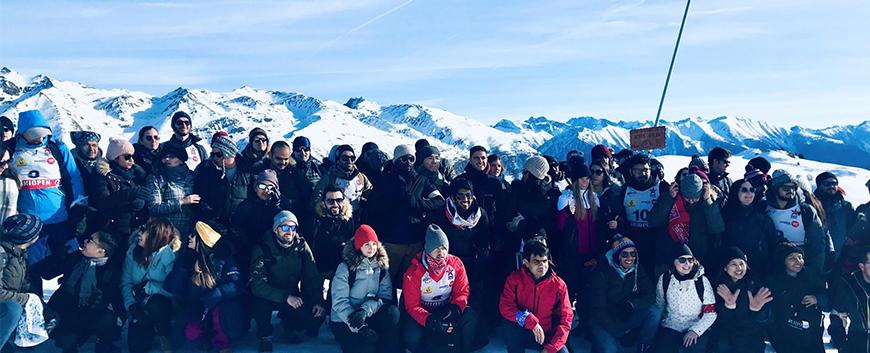 The January intake of EDHEC's Global MBA programme is global indeed including students from countries like the United States of America, Australia, Ireland, Germany, the United Kingdom, Bulgaria, China, and Lebanon - just to name a few. Coming from all corners of the world, the students who just began this January were blended into the September intake. These two groups together create the Class of 2020.
What does this class look like? Here's an at-a-glance guide to the class of 2020 :
Now, these two cohorts of MBA candidates will work together through to the end of June tackling fundamental courses, travelling internationally on learning expeditions getting a deeper dive into their chosen month-long specialisation, collaborating on consulting projects, and more. To help students get to know one another, EDHEC hosted a team-building getaway to kick off the year in true Global MBA spirit...
MBA Team Building at Auron
What better place to "break the ice" than on a frozen mountain? The class of 2020 took a day trip to Auron, a ski resort north of Nice. Here students bonded over winter team challenges like sledging, snowball fights, and for some - seeing snow for the first time! To create some healthy (and fun) competition, the students participated in a "Frosted Olympics" where teams competed in five winter events like ice-hockey, snow frisbee, and even an avalanche rescue simulation.
"Students were put into the teams that they will work with during the semester so they can discover each other's strengths and weaknesses. It's the ultimate ice-breaking (no pun intended!) activity since they have to work together to succeed," said Spencer Hamilton, Head of Global MBA Career and Corporate Services at EDHEC. "It got very passionate sometimes, it's quite impressive."
An Intense First Month
This day at Auron was just one part of the kick-off week for the January intake. The week prior, EDHEC hosted its annual Global Talent Day at the Paris campus where they attended eight company presentations from global brands like Uber, Amazon, and PayPal. After which, they had speed-interviews with them.
"They must be a bit overwhelmed but they adapted very quickly. They came right to Paris then Auron the next week," said Spencer. "It's been a pretty intense couple of weeks to get introduced to France."
An "intense" start is a proper initiation for the January intake considering that they have nearly nine more months to go. But hectic or not, it's bound to be filled with energy, education, and excitement!
Are you ready to transform your career? 
Download the brochure to find out how the EDHEC Global MBA will give you the tools, knowledge and confidence you need to accelerate your international career