The Economist ranks EDHEC Global MBA among Top 20 worldwide, #4 in Europe
The EDHEC Global MBA ranks among the Top 20 best MBAs worldwide and #4 in Europe, according to the 2022 Economist "Which MBA?" ranking released today. In addition, the EDHEC Global MBA scored #1…
Reading time :
22 Jun 2022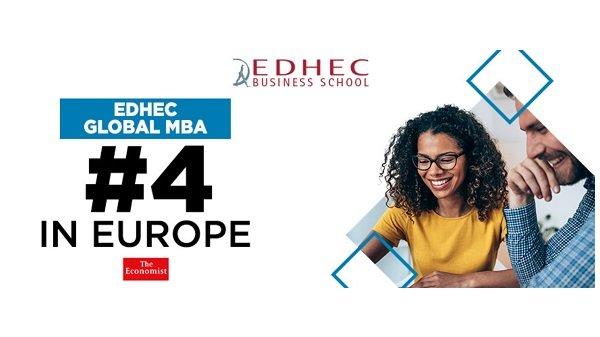 The EDHEC Global MBA ranks among the Top 20 best MBAs worldwide and #4 in Europe, according to the 2022 Economist "Which MBA?" ranking released today. In addition, the EDHEC Global MBA scored #1 worldwide for Student/Faculty Diversity and #3 for Open New Career Opportunities. EDHEC prides itself on providing students with exciting new career pathways and recruiting participants and faculty from around the globe.
The Economist "Which MBA?" ranking is based on feedback from MBA students and recent graduates. Responses from EDHEC Global MBA students and alumni were overall very positive and highlighted several unique strengths. The EDHEC Global MBA ranks #18 in the world and #2 in France.
"The 2022 Economist ranking reinforces the EDHEC Global MBA's key strengths: that it enables students to develop new career opportunities around the world whatever their field or line of work, and that it is truly one of the most international programmes around," says EDHEC Global MBA Director Sandra Richez. "Our highly personalized programme delivers an exceptional experience that allows our graduates to move into exciting international leadership roles."
EDHEC delivers on diversity and career opportunities
This year, the EDHEC Global MBA moved up from #3 to #1 for Student/Faculty Diversity. Since its inception, the EDHEC Global MBA has focused on recruiting multicultural classes that reflect the diversity of our world and the international openness that many top global firms prize.
For example, 97 percent of EDHEC Global MBA students come from outside France; 46 percent are women, and there are typically 30 nationalities represented in each cohort of 70 students. This diverse and inclusive environment prepares students for global careers and makes them especially attractive to recruiters. The EDHEC Global MBA's faculty is also diverse, with a total of 26 international (non-French) professors out of 45 part-time and full-time faculty members. There are 11 female professors and 12 visiting professors.
The 2022 "Which MBA?" ranking also highlights another strength of the EDHEC Global MBA: it is beneficial to students who want to take on new leadership roles in multinationals, non-profits, SMEs, and start-ups. This year, the EDHEC Global MBA ranks #3 for Opening New Career Opportunities, which encompasses the diversity of recruiters, the percentage of students who accept a job offer within 3 months of graduation, and alumni rating of the school's career services.
Ninety percent of EDHEC Global MBA alumni move into new corporate positions within three months of graduation. EDHEC Global MBA alumni are attractive to companies because of the high quality of the EDHEC educational experience and the intense professional development students receive during the 10-month programme.
EDHEC also ranks highly in Diversity of Recruiters, placing #3 in the world. This reflects the programme's perceived value by corporate recruiters from a wide variety of industries.
"At EDHEC, our goal is to provide our students with a high-impact MBA experience, one that gives them all the knowledge and skills they need to tackle the major issues facing companies and society in general," says Richez. "We're dedicated to providing them with the best path forward and are proud of our alumni's success and their continued and consistent support."