|
EDHEC
|
Events
Programmes
Research
(EDHEC ALI) Attend the round table "The changing of public expectations about AI and its ethical implications"
June 19, 2 pm - Event in French, in Paris, organized by the EDHEC Augmented Law Institute, as part of the Digital Ethics Officer training course, in partnership with the AFJE, Govern & Law and Seraphin.legal, with the support of the AFCDP.
Reading time :
13 Jun 2023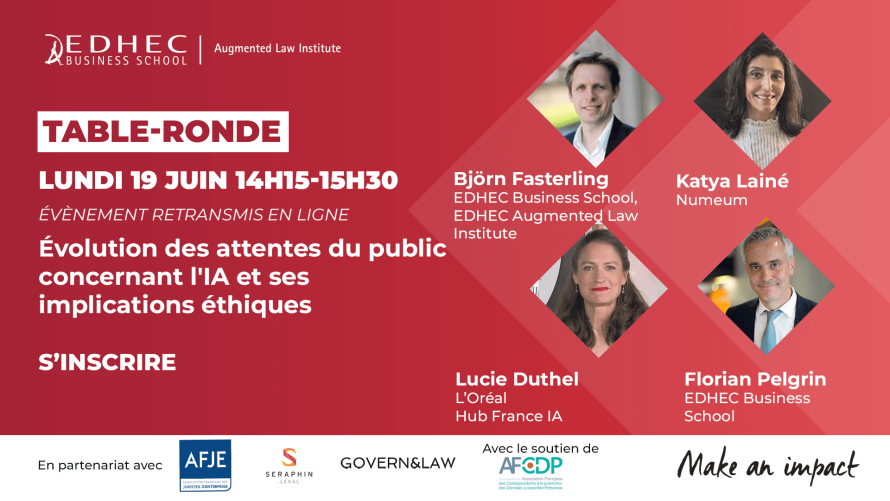 The EDHEC Augmented Law Institute and its partners - the AFJE, Govern & Law, Seraphin.legal and the AFCDP - are pleased to invite you to the next round table (in French) on the ethics of AI in the presence of the 2023 learners of the Digital Ethics Officer programme:
Evolution des attentes du public concernant l'IA et ses implications éthiques pour l'entreprise en France et à l'international
Practical information
June 19, 2023 | From 2 pm to 3.30 pm
Conference in French - On the Paris campus and online :
Option 1. To attend this round-table discussion on the EDHEC Business School campus in Paris, please confirm your attendance with Elodie Teissèdre ([email protected]) as soon as possible (places are limited - reserved access).
Option 2. To follow the event online, please register using the dedicated form.
Subject
Growing exposure to AI applications in everyday life has given rise to new expectations on the part of the general public: transparency in the way AI systems make decisions, responsibility in taking account of social, environmental and ethical impacts, etc.
This round-table discussion (2 pm - 3.30 pm) is an opportunity to revisit the latent concerns of the general public today, and to set out the concrete responses that can be provided at company level: governance, implementation, limits, etc.
Speakers
Katya Lainé - Director and Chair of Numeum's IA Committee
Lucie Duthel - Digital transformation and Data acceleration for Talent Acquisition - Global project manager at L'Oréal and member of the IA&RH Working Group at Hub France IA
Florian Pelgrin - Professor of Economics, EDHEC Business School
This round table will be moderated by :
Björn Fasterling - Professor of Law and Business Ethics, EDHEC Business School, and researcher at the EDHEC Augmented Law Institute.
Second part
During the second part (3.30 pm - 5 pm), which will not be broadcast online, the participants in the Digital Ethics Officer 2023 programme will present the broad outlines of their projects relating to ethics and AI to a selection of invited guests and 2022 graduates, in preparation for their oral presentations to juries.