EDHEC Alumna Hayatte Maazouza Honored as 2022 AACSB Influential Leader
EDHEC announces that alumna Hayatte Maazouza is one of 27 business school graduates honored by AACSB International (AACSB)—the world's largest business education alliance—as part of the 2022 Class of…
Reading time :
1 Feb 2022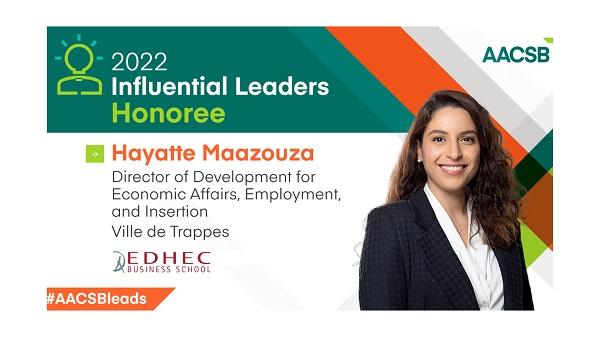 EDHEC announces that alumna Hayatte Maazouza is one of 27 business school graduates honored by AACSB International (AACSB)—the world's largest business education alliance—as part of the 2022 Class of Influential Leaders. The annual initiative recognizes notable alumni from AACSB-accredited business schools whose inspiring work serves as a model for the next generation of business leaders, and this year's class features champions of diversity and inclusion.
This AACSB prize rewards the inspiring career of Hayatte Maazouza, EDHEC alumna, who works for social innovations in favor of economic inclusion.
Hayatte Maazouza currently serves as Director of Development for Economic Affairs, Employment, and Insertion for the Ville de Trappes.
It was first at Mozaik RH, the leading non-profit recruitment firm in France specializing in the promotion of diversity and economic inclusion, that Hayatte Maazouza made her debut. She contributes to carrying out several projects, including the first edition of the "Top 10 diversity recruiters" organized ever since each year at the Ministry of Economy and Finance, or the "Jobs For All" project, the first inclusive recruitment program supported by the American State Department which gathers many American companies established in France in order to meet talents from less privileged territories in France.
Up until July 2021, Hayatte Maazouza served as Impact and Advocacy Manager at Positive Planet France, where she rose awareness and informed decision-makers in favour of entrepreneurship as a leverage for economic and social inclusion. In this position, Hayatte worked with actors of economic inclusion in targeted neighbourhoods in the Paris Region, as well as on innovative and experimental projects.
Hayatte also worked for the Boston Consulting Group, where she was a Partnership Manager and lead of the company's Social Entrepreneur Award. For example, she contributed to forge the first partnership between BCG and TÊTU magazine to promote the BCG barometer of LGBT+ inclusion in the workplace.
Hayatte graduated from EDHEC in 2015 with an Msc in Creative Business. Hayatte won the EDHEC Best Research Prize for her work on discrimination linked to origin in the labour market in France and responses in terms of social innovations.
Today, Hayatte Maazouza, as Director of Development, manages three units for the Ville de Trappes, namely Economic Affairs, Entrepreneurship, and Employment and Integration.
Through her work for integration and entrepreneurship in disadvantaged neighbourhoods, Hayatte Maazouza uses concreate means to help residents create new economic opportunities for themselves and for their community.
"Hayatte Maazouza 's achievements show us there are many ways to elevate the voices and perspectives of all. She inspires us to listen, learn, and act with authenticity and courage," said Caryn Beck-Dudley, AACSB President and CEO. "It is a privilege to amplify her efforts and the entire 2022 Class of Influential Leaders."
"On behalf of EDHEC, I would like to congratulate Hayatte Maazouza for her brilliant young career, the maintenance of her convictions in her work and the achievement of her objectives. Hayatte Maazouza's actions are totally in line with the school's strategic plan for 2025, Impact Future Generations," said Emmanuel Métais, Dean of EDHEC Business School
EDHEC Business School prepares its students to innovate, inspire, and drive positive change. EDHEC is proud of Hayatte Maazouza, who is setting the example as a positive leader within her industry and community. Hayatte is creating a lasting impact in business and society.
Now in its seventh year, AACSB's Influential Leaders spotlight programme recognizes more than 250 business school graduates who have created lasting impact in business and society. All honorees have earned an undergraduate, graduate, or doctoral degree from one of the more than 900 AACSB-accredited business schools worldwide.
The 2022 honorees include advocates across businesses, nonprofits, academia, and governments who are educating and empowering others to create welcoming, inclusive spaces for all. Together, they represent one facet of business education's efforts to elevate diversity, equity, inclusion, and belonging (DEIB) in the workforce and society—a key feature of AACSB's 2020 business accreditation standards and the focus of a recently released positioning paper. The paper illustrates AACSB's commitment to equitable access to high-quality business education globally and calls on the business education community to embed the tenets of DEIB into its strategies and cultures.
The unique stories of each honoree, and how they are creating meaningful, lasting impact in the world, are available at aacsb.edu/influential-leaders.
We encourage you to discover the second episode of the EDHEC Vox Podcast, which focuses on Inclusion and Diversity and features interviews with Hayatte Maazouza, Hager Jemel, professor and Director of the pre-Master programme and EDHEC Open Leadership for Diversity and Inclusion Chair, and Abiola Ulrich Obaonrin, journalist and co-founder of Argot.