EDHEC Business School in the top three business schools in France - Le Parisien Grandes Ecoles 2018 ranking
EDHEC Business School in the Top 3 in France In addition to its repeated top-three presence in the Financial Times rankings, EDHEC Business School was today ranked third among business schools in…
Reading time :
16 May 2018
EDHEC Business School in the Top 3 in France  
In addition to its repeated top-three presence in the Financial Times rankings, EDHEC Business School was today ranked third among business schools in France by Le Parisien, France's biggest-selling national and regional daily newspaper (324,189 copies). The paper underlined EDHEC's excellence in entrepreneurship (3rd), the quality of its international agreements (joint 1st with ESSEC) and the strength of its tuition and research in the field of finance (1st worldwide).
This outstanding entry to the Paris market demonstrates the School's excellence and testifies to its acceleration.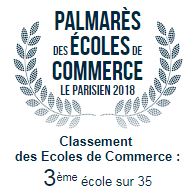 «
This latest ranking once again confirms EDHEC's standing as one of the very best business schools, not only in France, but worldwide. This historic double by EDHEC this week – placed in the top three in the Financial Times Executive Education global ranking of Open Programmes and now third by the Le Parisien – adds to the world n°1 rating achieved by our Master in Finance last June and shows the extent to which the established order can be disrupted. These rankings reward and recognise the impact of our substantial investments in high-quality teaching and research for the purposes of responding to the expectations of students and businesses alike
»  recalls Emmanuel Métais, Dean of EDHEC Business School.
Find the full ranking by Le Parisien here (in French) >>