EDHEC Business School's AACSB accreditation renewed for another five years
The Association to Advance Collegiate Schools of Business (AACSB) brings together the global management education community. After a lengthy evaluation, its accreditation is awarded to those…
Reading time :
24 Jun 2019
The Association to Advance Collegiate Schools of Business (AACSB) brings together the global management education community. After a lengthy evaluation, its accreditation is awarded to those institutions able to demonstrate compliance with a rigorous set of specifications regarding student recruitment processes, faculty qualifications, educational performance, effective learning, pedagogy, research, graduate recruitment, etc.
Since its first AACSB accreditation in 2004, EDHEC Business School has been one of the 1% of business schools worldwide with triple crown accreditation (EQUIS, AMBA, AACSB).
This accreditation, a vector of our international reputation, reflects the quality of our joint effort and commitment to our school. Emmanuel Métais, Dean of EDHEC Business School
AACSB's Continuous Improvement Review Committee has voted and concurred with the peer review team's recommendation to extend accreditation for the business programmes offered by EDHEC Business School.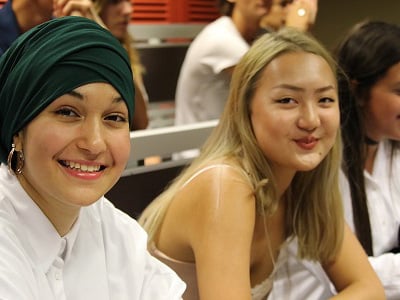 Following a top-rate visit, EDHEC's peer review team found it to be an excellent school. The team's commendations were numerous, among which it mentioned the effectiveness of the school's multi-campus management, the strong link between strategy, faculty activity and the school's palpable 'for business' mission, the many double degree opportunities provided to students and the extensive overseas options with
reputable partner schools
(such as UC Berkeley, UCLA, Nanyang Business School, SKKU) to enhance the education of students.
They were also very impressed by EDHEC's entrepreneurial spirit in taking its research to industry through the creation of spin-offs, like EDHEC Scientific-Beta, a success story is in the area of financial services, which proposes indices for investment management products.
According to Emmanuel Métais, Dean of EDHEC Business School, "The renewal of the AACSB accreditation comes at a time when EDHEC is collectively imagining its new strategic plan […]. This accreditation, a vector of our international reputation, reflects the quality of our joint effort and commitment to our school, students and alumni to produce innovative, relevant and impactful research; to provide state-of-the-art teaching in all our programmes; and to help all our partners to understand the challenges of the future."
AACSB accreditation is the result of a self-assessment process and an international peer review involving an on-site visit. The process guarantees that the school's strategy, mission and the plans for implementation are consistent with AACSB's accreditation standards which require excellence in areas relating to strategic management and innovation; students, faculty, and staff; learning and teaching; as well as academic and professional engagement.
This renewed accreditation emphasizes the fact that EDHEC Business School is not only part of an elite circle of leading, international business schools but also provides students with a unique, seamless and caring educational experience.
EDHEC, awarded by ACCSB Innovation that Inspire Initiative
In 2017, EDHEC Business School was recognized by the AACSB's Innovation that Inspire initiative for EDHEC Teaching Factory. This project presented how EDHEC Business School co-develops classes with corporate partners for some 2,000 students who work with managers on real cases and count on faculty for guidance as needed. The Teaching Factory was highlighted among the 35 best innovations unveiled at AACSB's Deans Conference. A total of 315 submissions were received across 33 countries for this international initiative, which recognizes institutions serving as champions of change in the business education landscape.