EDHEC career support at distance: continuous follow-up and a highly active network
After fully digitalising its services, the EDHEC Student Career Centre has been offering all students looking for internships or jobs, be they in EDHEC International BBA or Master, an array of online…
Reading time :
5 Jun 2020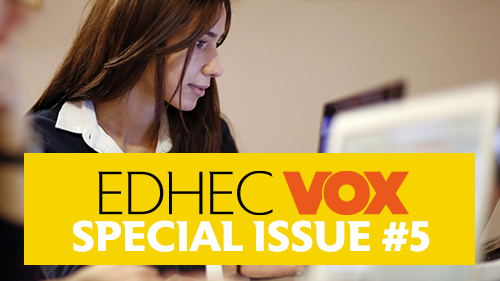 After fully digitalising its services, the EDHEC Student Career Centre has been offering all students looking for internships or jobs, be they in EDHEC International BBA or Master, an array of online events, coaching sessions, webinars and the assistance of the EDHEC community at distance since mid-March.
Isis Salem Descormiers, Manager, Financial Economics EDHEC Career Centre, talks to us about the full range of career support services.
What kinds of support at distance does the EDHEC Career Centre provide? 
Right from the start of confinement, we digitalised all the services we offer to students both in groups and as individuals, via tools like Teams and Collaborate.
Our main aims were to maintain contact with students, provide teleworking assistance to those currently on internships and facilitate the online recruitment process for our students and corporate partners. We offered a large number of tools to students that enabled them to show agility and resilience in a fast-changing job market.
We categorised our services according to students' profiles, level of studies and needs. Consequently, each group session was designed for specific categories of students, whether at bachelor's degree, M1 or M2 level or currently on internships, so as to meet their requirements better in a more personalised manner. Our goal was to give each student the specific tools and strategy needed to attain their objectives, especially in this exceptional period.
What services do you offer to students?
We offer webinars to prepare them for recruitment interviews in various buoyant sectors, like sustainable finance, fintech or private equity. More generally, we also provide training on soft skills, such as speaking in public, how to approach a recruitment interview at distance or how to understand the overall process of recruitment at distance.  
"
Philippe Zaouati [CEO of Mirova] explained his career path to us, from quantitative research to Chairman and CEO, and how essential it is to work on a subject that counts both for you and the world. He gave us information and predictions on post-crisis trends both in sustainable finance and on our careers and how they might evolve. It encouraged me to keep any eye on opportunities in sustainable finance and revived my interest in the field.
"
Inès Djazu, EDHEC Master in Management/Financial Economics double degree student
Webinars are interactive and allow students to ask questions throughout the session. Certain sessions can attract up to 100 participants.
The Career Centre set up workshops to help our students quickly adapt their internship/job hunting strategies. Led by members of our team, like Sylvain Pagès, manager of the EDHEC Nice incubator, alumni like Xaviera Nallet, Senior Associate at Hg Capital, and corporate partners, these workshops were designed to provide insight into various questions: how to break into a sector at the current time? Is the sector hiring at the moment? What is the best strategy for applying at present? 
Apart from being stimulating and much appreciated by students in their own right, alumni contributions have frequently resulted in EDHEC students being hired by the companies in question.
Coaching sessions at distance
We maintained our coaching sessions at distance in the form of individual interviews. Each EDHEC Career Advisor receives up to eight consultations per day. We work with students on an individual basis to get to grips with their individual cases. All our students also have access to our phone numbers.
"
We keep in contact with all our students
"
Isis Salem Descormiers, Manager, Financial Economics EDHEC Career Centre
We worked with partners offering platforms that enabled us to maintain our usual Career Fairs, where employers were able to meet candidates physically. During the confinement period, we offered two Virtual Career Fairs online per week. Each Online Fair was presented with two geographic zones - Asia-Pacific and Europe-Middle East-Africa – so as to facilitate contact between businesses looking to fill their recruitment needs and students searching for interesting internships. Relations were maintained throughout the period, by sharing information that helped students to position and apply for attractive jobs where businesses were recruiting both internationally and locally.  
How do you support internship students? 
Students on internships were followed up individually and called on a very regular basis. We wanted to know how they were getting on and offered them training to continue their development. Numerous projects were put together in agreement with our corporate partners, so as to enable students to continue to boost their experience and employability and to showcase a full project on their CVs. We distributed CVs to our corporate partners, so as to generate internship offers for our students according to their availability. These solutions were applied according to the student's profile and category and targeted sectors.   
And fortunately, certain companies put their onboarding processes for welcoming new interns or employees online, thereby ensuring many hirings for our students during the period,.
What can you tell us about the Career Centre's relations with alumni and businesses?
A highly reactive EDHEC Alumni network
An in-depth job-market survey, combining data gathered internally by EDHEC and externally through our partners, was presented to students, so as to guide them towards buoyant sectors. We then put them in contact with our Alumni based internationally and domestically, and with our corporate partners, so as to facilitate meetings between businesses and students during this unprecedented period. And notably for the Financial Economics track, we ran a match-making process between students and alumni for specific sectors and geographic regions, with one alumnus helping one student. This proved a very useful way to help our students.  
Stronger partnership with companies
We noticed that some of our corporate partners were having trouble in publicising the fact that they were continuing to recruit during the period. EDHEC Career Centre webinars were very effective for responding to this need. We worked with the Corporate Relations teams to offer additional services to companies faced with the challenge of continuing to recruit during confinement. We also facilitated the recruitment process by undertaking a pre-selection of students for the positions concerned. It's during periods like this that we really test our relations with our partners! We assisted companies in presenting their business and day-to-day activities, so as to facilitate exchanges with students.
"
Our students managed to find internships and jobs right in the middle of confinement.
"
Isis Salem Descormiers, Manager, Financial Economics EDHEC Career Centre
What's on the Career Centre's agenda for the coming months?
Digitalisation will continue throughout the summer and for the start of the new academic year. Our agenda of events is set to continue online with our partners, associations and businesses. This means that students – even those on internship, during lunch breaks, for example – will be able to follow training sessions that help them continue their development.  As soon as we can, we will be resuming face-to-face events, while obviously maintaining our online services. The same services will be offered to students, whether on a distance or face-to-face basis. And we will always be at their sides to help them find internships or jobs.