THE EDHEC EXECUTIVE MBA RANKED IN THE TOP 20 WORLDWIDE BY THE 2020 ECONOMIST RANKING
The EDHEC Executive MBA was placed 17th worldwide out of 70 business schools by The Economist in its Which MBA? 2020 ranking, a gain of three places relative to 2018. At European level, the EDHEC…
Reading time :
29 Jun 2020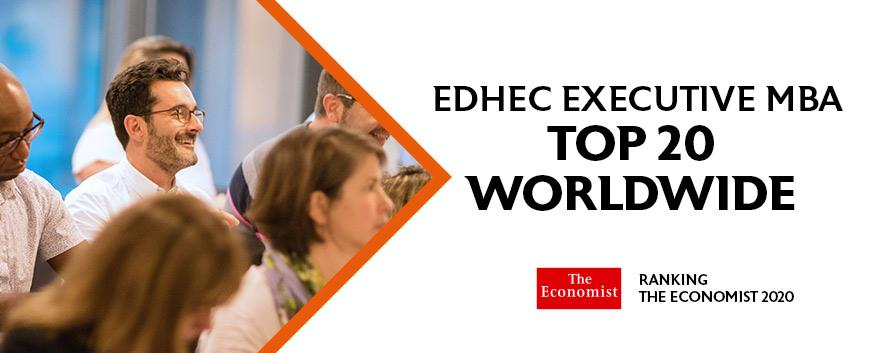 The EDHEC Executive MBA was placed 17th worldwide out of 70 business schools by The Economist in its Which MBA? 2020 ranking, a gain of three places relative to 2018. At European level, the EDHEC Executive MBA came in 6th and was rated the 2nd best MBA in France.
This pivotal ranking is based on criteria like personal development and academic experience, diversity, the quality of programmes, career progression, graduate salaries and network quality. The various programmes around the world are assessed both in terms of the schools' own responses, and students' and graduates' evaluations.
Ranked in the top 10 in Europe and 20th worldwide, the EDHEC Executive EMBA came in 9th worldwide on the career progression criterion. This is one of the criteria on which EDHEC has made continuous improvement since joining the ranking in 2018. These results hail the efforts made to deliver an unprecedented learning experience to executives and business leaders on the programme, through active teaching methods based on "learning by doing", a broad choice of electives focused on business issues, blended learning alternating online and experiential, and participation of a network of experienced professionals.
"
An Executive MBA is one of the best tools for managers to project themselves into the second part of their career through a meaningful professional project that matches their values. The programme enables participants to acquire high-level vision, get to know their capabilities better and develop an all-round view of the company, in order to lead projects that entail social and environmental impacts. The results from this ranking by The Economist strengthen our desire to develop leaders with real human values
"
underlines Stéphane Canonne, Director EDHEC Executive Education & MBAs
The accelerated development of the Executive MBA in Lille then in Paris in recent years has today made the programme a prime choice for French and international executives and business leaders who wish to boost their careers and better steer the performance of their companies in a continuously changing environment.
Find the ranking here
More information about the EDHEC Executive MBA here