EDHEC Executive MBA ranked 20th worldwide by The Economist
In its first-ever appearance, the EDHEC EXECUTIVE MBA made a high-profile entry to this ranking published by The Economist on 2 July, finishing among the top 10 in Europe and 20th worldwide. Rated in…
Reading time :
3 Jul 2018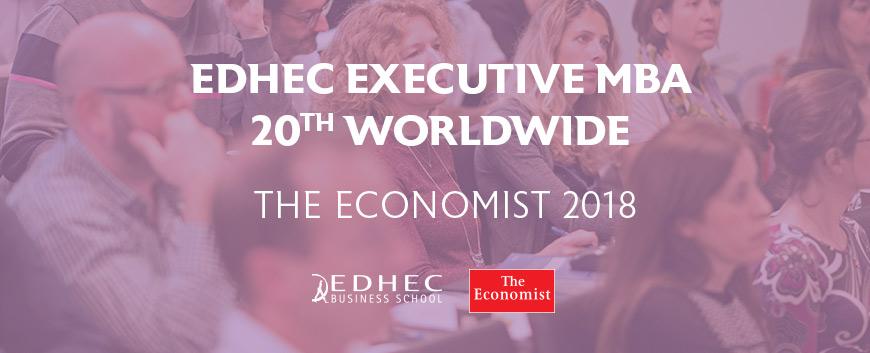 In its first-ever appearance, the EDHEC EXECUTIVE MBA made a high-profile entry to this ranking published by The Economist on 2 July, finishing among the top 10 in Europe and 20th worldwide.
Rated in the top 10 in Europe and 20th globally overall, the EDHEC Executive MBA was placed 1st worldwide on the Managerial Work Experience criterion.
These results testify to the efforts made by EDHEC staff to offer executives and business leaders an exceptional training experience, comprising a focus on hands-on learning, a broad choice of electives catering to business issues, e-learning classes to facilitate learning and access to a network of experienced professionals.
"This recognition from The Economist testifies to the high-quality experience offered by EDHEC, with participants placing EDHEC's Executive MBA among the top programmes worldwide. Thanks to a new career and leadership development initiative, the Executive MBA offers participants a genuine transformational personal and professional experience." comments Benoît Arnaud, Associate Dean for Executive Education and MBAs, EDHEC Business School.
The Economist, the world-renowned business weekly acknowledged for its high-quality analyses, employs 2 main criteria for its bi-annual ranking of the world's top Executive MBAs, namely the quality of the educational experience and career development support offered to participants. To rank programmes, equal recognition is assigned to the responses furnished by the schools themselves and to the assessments made by students and graduates.
Following its accelerated development over the last few years, firstly in Lille, then in Paris, the Executive MBA constitutes a programme of choice for executives and business proprietors wishing to inject fresh impetus into their careers and better steer the performance of their companies in a fast-changing environment.  
About the EDHEC Executive MBA
Class of 2017-2019:       
39 years old and 12 years of professional experience on average
31% international, 15 nationalities 
32% female
Programme:
Fundamental classes (Finance, Strategy, Leadership, Economics, Operations, Marketing)
12 electives
 Individual project consulting
 2 business trips
 Career IMPACT initiative
Delivery: 16 months part-time. 2 formats:
Lille: week-end format (1 weekend in 2)
Paris: weekly format (4 days a month)                          
Cost:  €41,000 excl. tax
Degree:  Executive Master of Business Administration, Grade Master (equivalent to five years post-senior high school)
Training eligible for France's personnel training account facility (CPF) - Code 189790