EDHEC Faculty welcomes Oxford professor Renée B. Adams for a reseach seminar
On September 12, 2019, EDHEC faculty will be delighted to welcome Oxford professor Renée B. Adams who will present a paper entitled "Shareholders and Stakeholders around the World: The Role of Values…
Reading time :
11 Sep 2019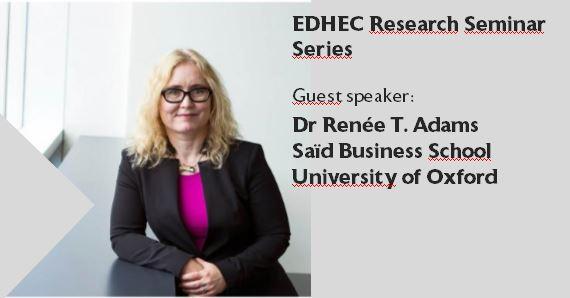 On September 12, 2019, EDHEC faculty will be delighted to welcome Oxford professor Renée B. Adams who will present a paper entitled "Shareholders and Stakeholders around the World: The Role of Values, Culture, and Law in Directors' Decisions" co-authored with Amir N. Licht.
This study sets out to examine the relative importance of legal and cultural institutions and personal values in directors' discretion.
Abstract and paper are available here.
Renée B. Adams is professor of Finance at Said Business School.  Her work focuses on information flows on boards, bank governance, group decision-making, the governance of central banks and gender diversity on and off boards. Her global experience is reflected in the interdisciplinary nature of her research, which has been published in top accounting, economics, finance and management journals. 
This presentation is the first one of the new academic year, part of the regular research seminar series organized by Kim Peijnenburg and Raman Uppal, that gathers the EDHEC faculty members of the Finance Department.