EDHEC FE Track Research: Investing in its students for a greener, more sustainable future
Any Financial expert will concede that the Investment landscape is changing, and this shift in trend is one that will continue. Last year BlackRock Inc, the world's largest asset manager, overseeing …
Reading time :
14 May 2021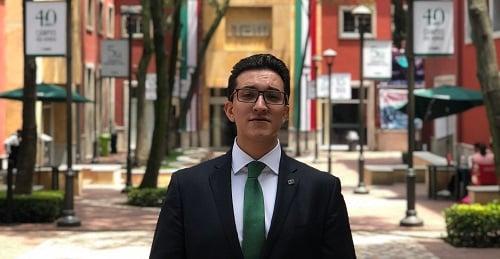 Any Financial expert will concede that the Investment landscape is changing, and this shift in trend is one that will continue. Last year BlackRock Inc, the world's largest asset manager, overseeing $8.7 trillion said they plan to take into consideration corporations' disclosures of environmental risks, including carbon footprints.  The USA, prompted by a change in political power, is moving away from an economy reliant on fossil fuels to one driven by wind, solar, and other renewable energy sources.  All in all, it appears that the tide has finally started to turn and soon the green stock will win hand over fist when faced with its brown adversary.
Our professors at EDHEC-Risk Institute have seen this progress in the making over the last years. It is certain that their expertise base and research in the field are playing an integral part in transforming the investment landscape into a brighter, greener future.  EDHEC is a leader known for its innovation and excellence in financial research.  It also recognizes the beneficial role a student can play in research. This is therefore why the EDHEC-Risk Lab Elective has been developed:  a real mind-share opportunity.
We spoke to Alejandro Palacios, one in a team of 5 students who has just completed his research.  Alejandro has centered his research on Unobservable factors associated with green characteristics & Identify the risk premia associated with these portfolios. We asked him about his experience, his thoughts on green asset management and his vision for his future career.
Before I ask you about your research, can you tell me a little about yourself and your background?
I'm from Mexico and I moved to France in 2020 to study at EDHEC.  Prior to EDHEC, I studied in Mexico where I did two bachelor's degrees in Financial Management and Actuarial Sciences. Straight after graduation, I chose to specialize in investment management.  I worked at GBM (Grupo Bursátil Mexicano) in Fixed Income Mutual Funds for almost two and a half years. GBM is a large player in Mexican markets and is mainly focused on local and US markets.  While working there, I soon realized that I wanted a wider and more global experience in the financial world by gaining insights from other financial markets.  This was one of the main reasons why I applied to EDHEC.  I felt that EDHEC was very well suited to me as it is widely recognized for its excellence in financial markets and it is also known for being extremely international.  A good example of this international learning experience would be the fact that many of the cases and projects which we engage in explore different markets and contexts. This engenders a broader outlook of the financial world.
Can you tell me a little more about your research?
The aim of the project was to analyze the green characteristics of stocks and how well were they priced in the market. We analyzed stocks that are present today in the STOXX 600. 
The first challenge was probably amassing the different data from all the companies.  It was challenging because we were managing a huge data set.  As I indicated, we were analyzing an initial portfolio of 600 stocks. From these 600 stocks we were able to identify all the green characteristics from the data provider to which we had access to. Thanks to EDHEC we had access to DataStream from Reuters. We were able to get 136 green characteristics from each of these stocks from 2001 to 2019. However, it's probably interesting for you to know that in the end only 10 of these may be crucial.
For those who have a lesser knowledge of this subject can you give an example of a green stock picking?
Yes, an example of green stock picking could be one with a first criteria of "How much CO2 do you emit" compared to "How much CO2 do you need to emit to generate $1 of revenue".
What is the aim of this research in the long run?
Well, what you have is a lot of data from these stocks and green characteristics that can help you to differentiate between them.  For each of these characteristics you can form a portfolio based on how green or how brown these stocks are.  You'll then end up with several managed portfolios. The first step is to see how these portfolios perform over time to see if there is an embedded risk premia.  Then, we expect to find that you can generate portfolios with higher risk-adjusted returns by selecting green stocks.  We want to prove the theory that green stocks outperform and therefore that investing in green stocks should not be considered as a sacrifice.
Some of our readers may not understand "risk premium", Can you explain this?
For sure… It's basically a calculation of by how much a risky asset is expected to outperform the expected return on a risk-free asset. You can think of it as compensation from bearing a risk.
Who was your Mentor?
Our mentors were Professor Mirco Rubin and Emanuele Chini, (who is a teaching assistant at EDHEC-Risk Institute). Emanuele is also performing important research on this same topic at PhD level. Both of them are awesome. They were both extremely supportive. We used to have two meetings per week in which they took all the required time to explain everything clearly to us and to give us enough guidance at each stage of the process. They're both extremely smart people and they have an amazing amount of knowledge on this topic. For me, it was a very friendly but professional work environment.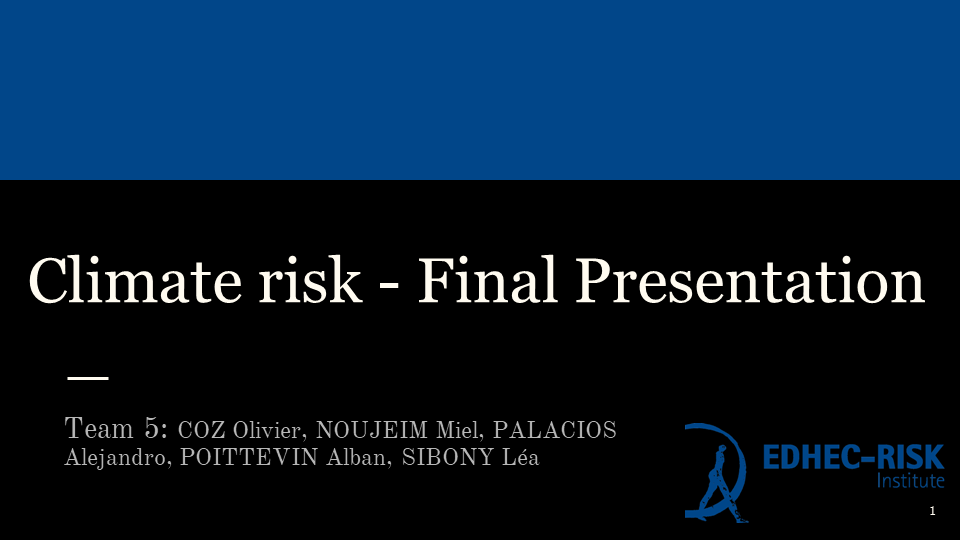 What is your main driving factor?
Naturally, I would like to go into business. However, I think I'd really like to combine this with some academic contributions. This was also another reason why I was attracted to EDHEC. It has a philosophy that bridges the academic and practical world. As I said before, I was also drawn to it because it's a very international place where all paths meet and this aspect was important for me.
Why is that important to you to remain in touch with the academic world?
Because we are in constant flux. Sometimes, once a person enters the professional world as, for example, an investment banker, there's a tendency to forget that we live in a world that is in constant evolution and change. This project is a good example of how research can make the financial industry flourish. Indeed, it shows us how hypothetical theory of something that was not done before or has been done from a different angle can be the driving factor to ensure financial experts have the right knowledge and tools to well-manage his client's financial health.
Where do you see yourself in 5 years?
Well one thing on my list, of course, is to earn the CFA designation. Besides that, ideally, I would like to be working as a Portfolio Manager in either a boutique-type company or a multinational firm. In the long term, I would like to build my own asset management company.  But to be honest, perhaps I'll need a little bit more time to reach this latter goal, but it is definitely something I am working towards!
Do you believe the financial industry is the driving force to making significant changes in Climate Change?
Yes, absolutely…we need to change the way we do business but not just that alone. Governments need to continue being motivated and playing an active role. Only by doing so will we create real change.