The EDHEC Global MBA cohort 2023
Reading time :
3 Apr 2023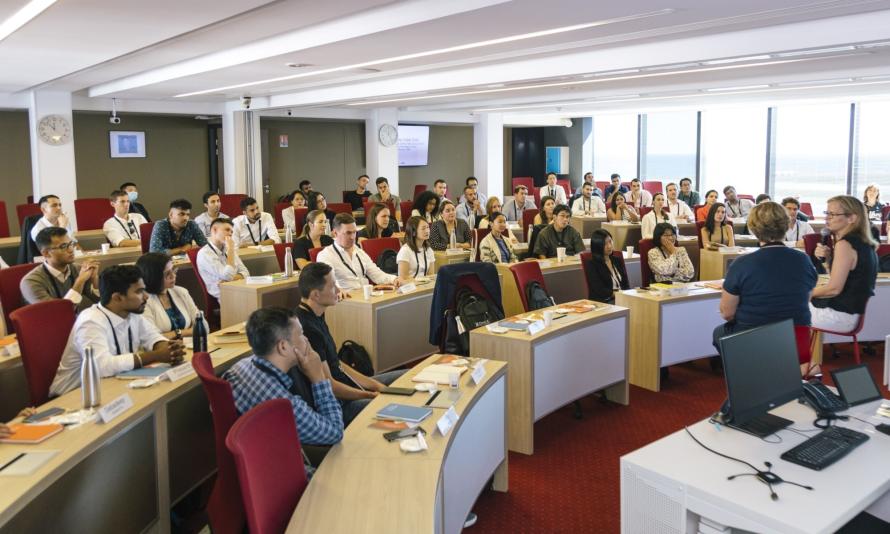 The EDHEC Global MBA attracts talent from all parts of the world. Diversity is one of EDHEC's core values and each year we offer various scholarships to ensure diversity and equity in the classroom.  
Our cohorts are not only diverse in their origins but also boast a wide range of professional skills and experiences within various sectors and industries. The 2023 cohort is no different, there are 61 candidates representing 27 different countries.  
Meet the EDHEC Global MBA cohort 2023  
For starters, there is Howard Lee born in Taiwan and raised in South Africa, a former management consultant at Deloitte. 
There is also Veronica Sigurdson from Canada. Before joining the EDHEC Global MBA, she was a consultant at a leading public relations and marketing agency, specialising in Agribusiness and international trade. Veronica decided to do an MBA to finetune her financial and strategic skills.   
And Shreeja Nandy from Pune, India, who holds a degree in mechanical engineering and has spent the last seven years working in New Product Development in the global lighting industry. She has previously been recognised for her social Impact work, in encouraging exposure to arts and STEM education for underprivileged children.
Diversity and social impact  
As diverse as their backgrounds are their aspirations, but they all agree that an MBA will provide them the tools needed to take their career to the next level, regardless of industry or field.    
Discover the diverse talents of this MBA cohort  
Although they follow an intense MBA schedule, they still make time for incredible extra-curricular activities. From the Social Impact and Diversity Club that tackles issues of sustainability and diversity. To the Entrepreneurship Club that focusses on all aspects of entrepreneurship.        
In fact, five members of the Entrepreneurship Club, Sri Krishna Palabathuni, Rustem Ospanov, Tom Mullee, Shiva Kumar Dundi, and Hashika Lalla, recently participated in the annual Renewable Energy Case Competition held during the Ross Energy week hosted by the Energy Club at Ross School of Business at the University of Michigan, where they took 3rd place win.      
The EDHEC Global MBA Social Impact and Diversity Club is aimed towards gaining deeper insights into the dimensions of sustainability including the key dimension of DE&I.
These are just a few examples of the talent pool we have in this Global MBA cohort. EDHEC is proud to be a place where they can showcase their talents and be recognized for their achievements.  
The EDHEC Global MBA curriculum is designed to provide a well-rounded business education while enabling candidates to explore and pursue their passions, develop and enhance skills that will serve them well in their future careers. 
Could this be you ?
Evaluate your profile to speak to one of our career advisors and see how you would fit in with our next Global MBA cohort.