EDHEC Global MBA Ranked Best ROI MBA in the World by QS Rankings 2021
Quacquarelli Symonds (QS) published their annual MBA rankings benchmark and we are proud to say that EDHEC's Global MBA was ranked as the best ROI MBA in the world out of 258 programmes in 40…
Reading time :
24 Sep 2020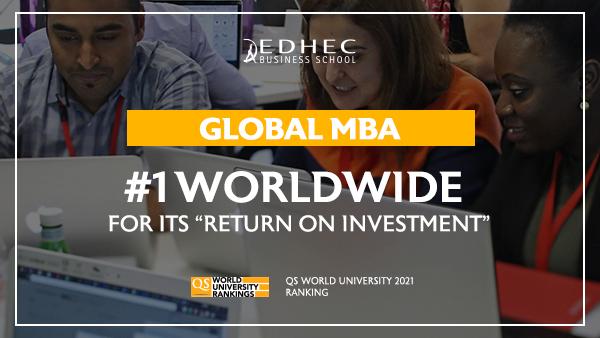 Quacquarelli Symonds (QS) published their annual MBA rankings benchmark and we are proud to say that EDHEC's Global MBA was ranked as the best ROI MBA in the world out of 258 programmes in 40 countries.
Return on investment takes into account a number of factors including tuition costs, living expenses, opportunity costs and a 10-year salary outlook for MBA graduates. The rankings also revealed that the average payback period for the EDHEC Global MBA is under 2 years – just 20 months.
According to the independent rankings, EDHEC's full-time MBA is one of the strongest programmes for employability, with 94% of participants starting new roles within 3 months of graduation. All of these combined factors helped the EDHEC Global MBA become the #1 best ROI MBA in the world according to QS in 2021.
Furthermore, in the last Economist MBA rankings, EDHEC placed 7th in the world for opening new career opportunities and 6th worldwide for post-MBA employment in the Financial Times latest report, demonstrating our focus and ability to help participants transform their careers on an international level.
Sandra Richez, Global MBA Programme Director explained why EDHEC's MBA is continuously recognised for value and return.
"We are extremely proud to be recognised for providing exceptional value and return on investment. The intensive 10-month format of our programme is designed to enable experienced professionals from diverse sectors, regions and backgrounds to embark on an intense transformational MBA journey which may not be accessible in more traditional, longer programmes. We strongly believe that a global education should be accessible to all, women and men from any background or world location. Our generous and transparent scholarships make this possible each year for students from over 35 countries."
EDHEC focuses on offering a balanced programme which combines business fundamentals with personalised options, including a 1-month specialist track and a tailored project, so that participants can maximise the MBA experience according to their own goals and ambitions.
The programmes' location in Nice, South of France provides a significant benefit too, according to Sandra:
"Nice is a stunning location, the French Riviera is one of the most beautiful places in Europe with outstanding quality of life and French art de vivre. It is surprisingly affordable compared to major cities like Paris, making it an ideal destination for students on a budget or those with families. With an international airport on our doorstep and access to the high-speed train network, we are in a very attractive location for participants from across the world who want to gain a European perspective with a truly French touch."
Overall, the programme moved 6 places up to enter the world's top 40 programmes. The EDHEC Global MBA is ranked #2 in France and #17 in Europe. You can see the full QS ranking here.
You might also be interested in reading:
How do you calculate the value of an MBA?