EDHEC, partner in Lille for the Tournée de l'Excellence 2023
As part of its partnership with the Les Entretiens de l'Excellence not-for-profit association, 28 January saw EDHEC Business School's Lille campus plays host to the fourth edition of the Tournées de l'Excellence, an annual event designed to give secondary students an insight into career opportunities and help guide their choices in the area.  
Reading time :
6 Feb 2023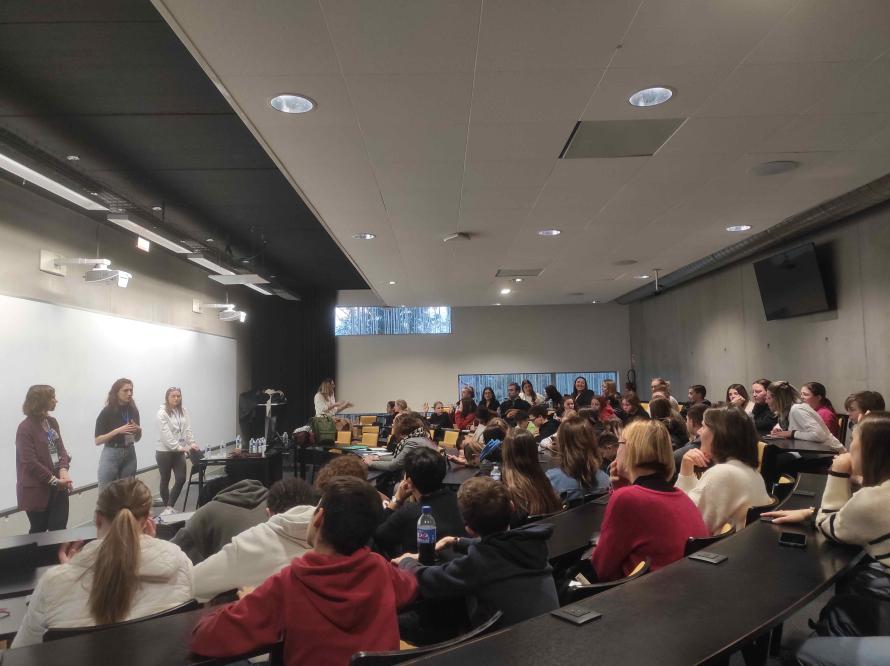 This latest edition began with a plenary session in the amphitheatre, during which some 450 secondary students from the Hauts-de-France region – notably from priority neighbourhoods and rural areas – heard the testimonies of professionals with untypical trajectories, like Yanis Belaid, a filmmaker from Roubaix, whose student film was nominated for the prestigious BAFTA Awards. In the words of Géraldine Charles, a volunteer for Les Entretiens de l'Excellence, "it was a highlight of the day. For each edition, we showcase personalities or people with particular experience, whose stories are liable to inspire the youngsters and encourage them to find a career path in line with their aspirations."
The day then continued with a series of 16 themed workshops (culture and tourism, banking and finance, scientific professions, etc.) run by 85 professionals drawn from different sectors of activity. Constructed around presentations of different jobs and professions, and free exchanges between the youngsters and professionals, the workshops aim to reduce geographic, social or cultural inequalities, as underlined by Géraldine Charles: "These discussions enable youngsters originating from rural or underprivileged backgrounds to obtain information on a large number of professions or career sectors not represented in their entourage or direct environment."  
The partnership between EDHEC Business School and Les Entretiens de l'Excellence lies at the heart of the School's equal opportunities policy. As part of this policy, EDHEC engages in numerous actions geared to promoting social diversity, such as the creation of Talents Prépa, a support programme designed to foster the success of bursary students studying on preparatory classes with a view to gaining admission to prestigious grande école business schools or by assisting secondary school students in gaining access to higher education, via the government's Cordées de la Réussite support programme, which EDHEC partners.