EDHEC PhD in Finance Forum 2021
On 26 May 2021 from 13:30 BST, the fourth edition of the EDHEC PhD IN FINANCE FORUM (online event) will present the research carried out by our graduates and candidates: new insights on relative…
Reading time :
10 May 2021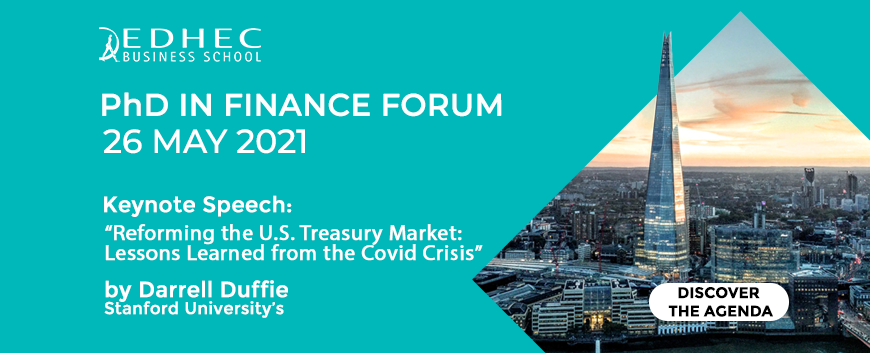 On 26 May 2021 from 13:30 BST, the fourth edition of the EDHEC PhD IN FINANCE FORUM (online event) will present the research carried out by our graduates and candidates: new insights on relative value, strategic trading, socially responsible investing, option returns, and social media and ambiguity aversion.
We are extremely grateful to Darrell Duffie, Dean Witter Distinguished Professor of Finance at Stanford Graduate School of Business, for agreeing to deliver the keynote speech entitled: Reforming the U.S. Treasury Market -- Lessons Learned from the Covid Crisis.
This forum is opened to Finance practitioners, Economics and Finance faculty, and PhD students. Registration is free but required.  
Full programme is available at: EDHEC PhD in Finance Forum 2021 | EDHEC Business School