EDHEC PhD in Finance Programme: A new team of directors
September 2021. We are pleased to announce a new team of directors for the EDHEC PhD in Finance programme. Professor Emmanuel Jurczenko, has joined EDHEC as Director of Graduate Finance Programmes…
Reading time :
24 Sep 2021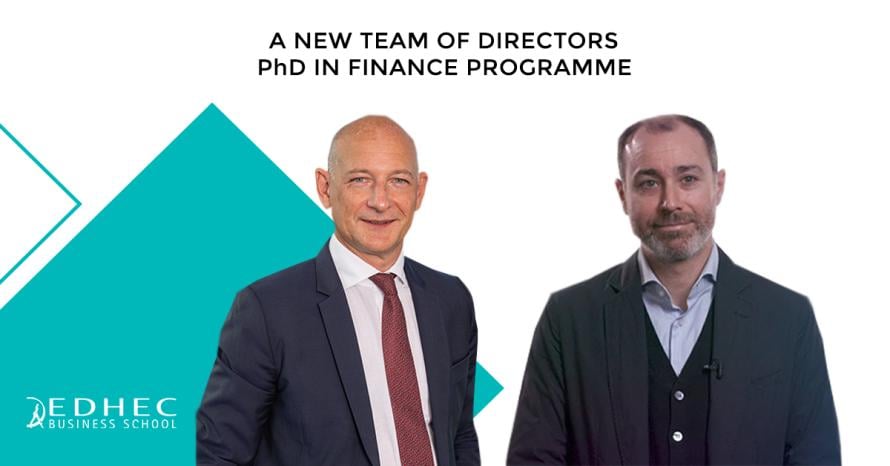 September 2021.
We are pleased to announce a new team of directors for the EDHEC PhD in Finance programme.
Professor Emmanuel Jurczenko, has joined EDHEC as Director of Graduate Finance Programmes. He will direct the PhD and the portfolio of Masters in Finance programmes. Emmanuel's combination of academic and professional experiences fit well the Executive nature of the PhD programme. Prior to joining EDHEC Business School, Emmanuel was a tenured associate professor of finance at ESCP Business School, Associate Dean at Ecole Hôtelière de Lausanne and Director of Graduate Studies at Glion Institute for Higher Education. Emmanuel's primary research interests are quantitative portfolio management and asset pricing. He earned a PhD in economics from University Paris Panthéon-Sorbonne, worked in fund of funds at ABN-AMRO and served as academic consultant for various asset management companies.
"I am delighted to be part of the team managing a successful and unique PhD in Finance programme. My role is to ensure that all PhD students get full support in the exciting but challenging journey of research, enabling them to conduct and complete projects that advance scientific knowledge and practices in the financial industry", says Emmanuel Jurczenko.
Professor Enrique Schroth, who has been teaching in the PhD programme since 2015, takes on the role of Academic Director. He is also a Research Fellow at the Centre for European Policy Research (CEPR). Before joining EDHEC in 2019, he was a Faculty member at Cass Business School, the Amsterdam Business School and HEC Lausanne. He received his PhD in Economics from New York University in 2002. Professor Schroth's current research focuses on corporate liquidity management under long-term and short-term cash flow risks, and on activism and value creation. His past research, in topics such as the value of corporate control, the determinants of financial fragility, and financial innovation has appeared in leading academic journals, including The Journal of Finance, the Journal of Financial Economics, the Review of Financial Studies and the Review of Finance. His work has been recognized with awards in major research conferences and by top practitioners.
Former Director of the EDHEC doctoral programme, Professor Nikos Tessaromatis recently stepped down to focus on his research and teaching. He continues to be an active faculty member within the PhD in Finance programme, serving as dissertation advisor. Professor Raman Uppal, who has worked alongside several PhD Directors as the Academic Director, will be taking a sabbatical year beginning this fall. 
Professors Jurczenko and Schroth will work jointly with the PhD team and faculty to further develop this unique and innovative programme offering courses at the cutting edge of financial research and industry relevance.
Learn more about the programme: Research & Innovation: EDHEC PhD in Finance at a glance and its programme faculty: EDHEC PhD in Finance - Programme Faculty