EDHEC rated among the world top 5 Masters in Finance in the Financial Times 2020 ranking
EDHEC Business School reasserted its position as one of the leading Masters in Finance in this global ranking. Rated 5th alongside globally prestigious universities such as HEC, MIT and Bocconi,…
Reading time :
15 Jun 2020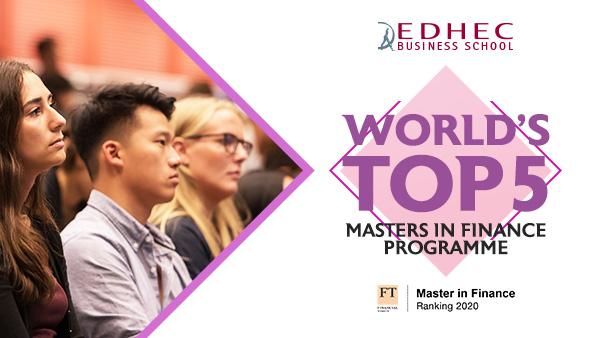 EDHEC Business School reasserted its position as one of the leading Masters in Finance in this global ranking.
Rated 5th alongside globally prestigious universities such as HEC, MIT and Bocconi, EDHEC's programme in Finance cemented its place in the top 5 worldwide of the programmes recognised in the Financial Times 2020 ranking. The ranking confirms EDHEC's appeal in a field where its research and relevance to the real world are designed to positively impact practices in the financial industry.
EDHEC was placed 3rd worldwide on the 'career progress' criterion by students on its MSc in Financial Markets. EDHEC's career service, which gained 8 places in this year's ranking compared to 2018, was praised by its alumni and analysed by the Financial Times as one of the most effective worldwide. The 100% placement rate for EDHEC students on completion of the programme is effectively recognised as excellent, with a large proportion of graduates following international careers in finance.
"
I am extremely proud of the success of our alumni, witnessing the progression they are experiencing in their careers and how they contribute to the best financial institutions in the world soon after graduating. It is a pleasure to see that our faculty's work to keep the programme academically rigorous and industry relevant, alongside career support and international exposure, prepares our students for top careers across the globe
"
underlines Michelle Sisto, Associate Dean of Graduate Studies.
Students on EDHEC's Masters in Finance programmes benefit from comprehensive, professional training that opens the doorway to prestigious international careers. The excellent tuition, career support for young graduates and international agility offered by the programme were all acknowledged and praised in the Financial Times 2020 ranking.