EDHEC students win the Amazon Innovation Award 2020
The theme? To rethink in an innovative and sustainable way the last-mile delivery footprint of the world's largest online retailer and how to eliminate waste from its supply chain – issues very much…
Reading time :
13 Feb 2020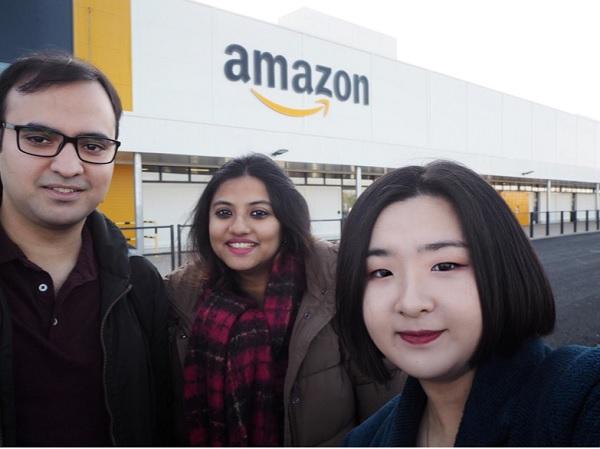 The theme? To rethink in an innovative and sustainable way the last-mile delivery footprint of the world's largest online retailer and how to eliminate waste from its supply chain – issues very much in line with CEO Jeff Bezos' pledge to reduce Amazon's carbon emissions to net-zero by 2040. Four French business and engineering schools and three Italian universities took part in this year's competition. One hundred second-year Master students from EDHEC Business School, alone, participated in earlier rounds before the finalists were selected.
A winning team, built on friendship
Friends since they met on the first year of their Master's course, the winning team of Difei Guo, Abhimanyu Singh Dhapola and Debangita Ghosh (Master of Science in Strategy, Consulting & Digital Transformation) decided to take part in the Amazon Innovation Award 2020 as soon as they heard about it. "We trust each other and have won several competitions together, so why change a winning formula," Difel says. Most recently, the trio won the HEC Business Game 2019. "For us, the CO2 emissions of Amazon's delivery operations were a concern that needed to be addressed," says Debangita.
"I did a supply-chain internship during my gap year," adds Abhimanyu. "This competition was a great opportunity to understand the carbon emissions of the supply chain." Throughout the process, the team received guidance from their professors, along with support from EDHEC to make their prototype and advice from an EDHEC alumnus currently working at Amazon. "We worked on three solutions and filtered it down to one that exactly matched Amazon's objectives," said Abhimanyu. "We gained a broader understanding of the whole supply chain and the issues surrounding sustainability."
The team's winning solution is reusable packaging made of polypropylene that turns into an Amazon-branded shopping bag – an innovative solution, it says, that is good for people, planet, and profit.
"Cardboard boxes are recyclable, but do not solve the problem – the making of a cardboard box produces 200g of CO2," Difei explains. "Our solution brings about a 70% reduction in carbon emissions in the manufacturing phase and a 73% reduction in CO2 in delivery. Our solution is easy to use and people are free to return it to an Amazon locker or to keep it."
Their solution impressed the jury and EDHEC's winning team will soon fly to Amazon's headquarters in Seattle to present their project to company management.
"I'm proud of our students," says Michel Philippart, EDHEC's Professor of Supply Strategy. "They really put EDHEC's 'Make an Impact' motto into practice." Prof. Philippart lauds the 32 teams from EDHEC that participated in competition, with the support of teachers, programme directors, and the Career Centre team. "We had three finalists with high-impact projects that demonstrated the sense and practicality of our students, as well as their ability to organise themselves into multicultural teams, search for relevant data and innovate in their search for solutions for both the company and the environment," he says. "EDHEC Business School is very proud of the success of its students in a programme based on the principle of 'research-induced teaching', which combines academic excellence and professional commitment."
Link to Amazon's press release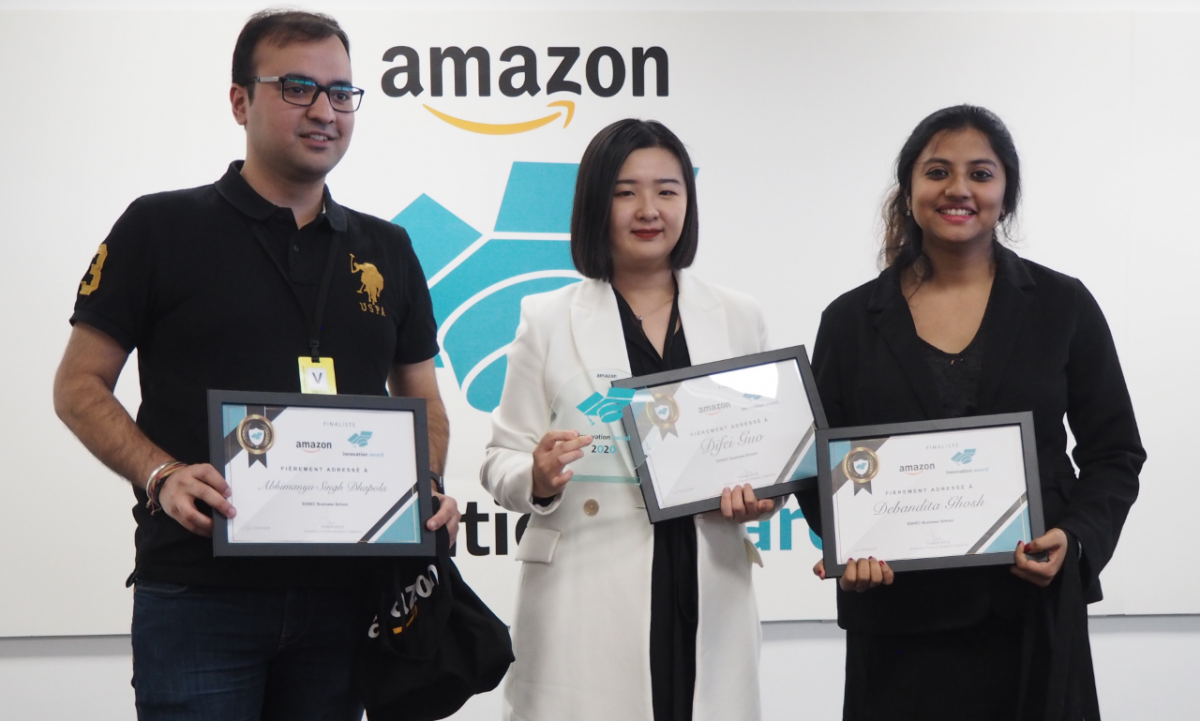 Related resources:
Meet Michel Philippart, MSc in Strategy, Consulting & Digital Transformation Programme Director
Meet François-Nicolas Gombert, MSc in Strategy, Consulting & Digital Transformation Alumnus
Blockchain: Tomorrow's world today?
Meet Aritra Roy, MSc in Strategy, Consulting & Digital Transformation Alumnus
Meet Xiangming Bei,  MSc in Strategy, Consulting & Digital Transformation Alumnus
Products: how to set the right price?
Meet Laura de Oliveira,  MSc in Strategy, Consulting & Digital Transformation Alumna