EDHEC's Executive MBA gains 7 places in the QS 2021 global ranking
Reflecting the programme's high-impact and transformational experience, the EDHEC Executive MBA gained 7 places this year to rank 38th worldwide in the QS 2021 ranking, while also making progress…
Reading time :
28 Jun 2021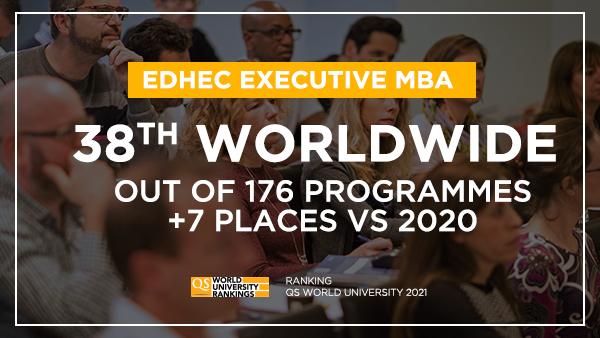 Reflecting the programme's high-impact and transformational experience, the EDHEC Executive MBA gained 7 places this year to rank 38th worldwide in the QS 2021 ranking, while also making progress among the top 20 European EMBAs (up 1 place), out of 176 programmes covered.
Conducted by the UK think tank of the same name, the Quacquarelli Symonds (QS) ranking classifies the world's most prestigious Executive MBAs each year. The criteria used include the career progression of EMBA graduates - of primordial importance - the diversity of cohorts and faculty, and the return on investment for participants.
Of the 176 prestigious programmes covered this year, the EDHEC EMBA advanced strongly after making clear progress on almost all criteria on an international and European level.
EDHEC's EMBA was placed 16th worldwide for "Executive Profile", a position that reflects the seniority and experience of the programme's participants. This year, 86.7% of participants were classified as 'Executive Profile', up from 83% in 2020. This increase reflects the confidence shown in the programme by top managers and senior executives joining the EMBA. In addition to offering continuous collaboration with other highly experienced profiles, the programme allows participants to reap the benefit of a network of excellence throughout their EMBA journey and beyond.
The 'Career Outcomes' criterion, on which the EDHEC EMBA was ranked 25th worldwide and 17th in Europe this year, demonstrates the impact the programme has on participants, enabling them to progress professionally and impacting positively their careers.
" We are very proud of the EDHEC EMBA's progress in this prestigious ranking, both on a global and European level. It results from the excellence of EDHEC's teaching faculty and staff who do their utmost to make the EMBA a first-choice for participants wishing to develop their leadership skills and prepare the second part of their career. The programme is recognised for its diversity this year, 28% of faculty and students engaged in the programme are of international origin and 43% are women – and also offers a network of excellence for experienced executives with diverse profiles.  We consider this the ideal combination to prepare participants to lead projects with a positive impact on society and the environment."
underlines Stéphane Canonne, Director EDHEC Executive Education & MBAs
Discover the QS 2021 ranking
Find out more about our Executive MBA training