AN ENTREPRENEUR AT THE HEAD OF EDHEC's MSc IN ENTREPRENEURSHIP & INNOVATION
WHAT WAS YOUR CAREER PATH BEFORE COMING TO EDHEC? I worked as a salesman and a human ressources manager, then as a CEO in Europe and Africa in the car-rental business, the food sector and the music…
Reading time :
26 Nov 2019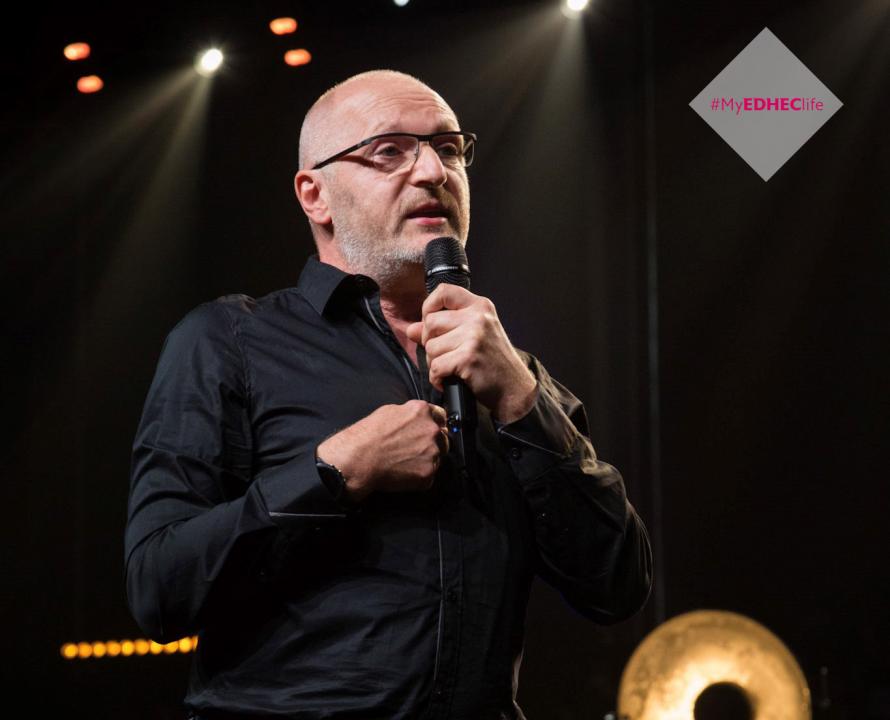 WHAT WAS YOUR CAREER PATH BEFORE COMING TO EDHEC?
I worked as a salesman and a human ressources manager, then as a CEO in Europe and Africa in the car-rental business, the food sector and the music business. I launched my own company aged 45 and sold it four years later. I went to a post-secondary prep school before attending business school, but then dropped out a year later to join the company where I had interned! Almost, three decades later, I became director of EDHEC's incubators in Lille, Paris, and Nice and Programme Director of the MSc in Entrepreneurship & Innovation. Theory and practice united. Life can have interesting twists and turns!
WHAT DRIVES YOUR PASSION FOR THE PROGRAMME?
The MSc was created in 2009 and this is my fourth year as director. I took the job because I found it challenging, interesting and fun. I was also humbled by the vote of confidence from Dean Emmanuel Métais. I'm passionate about culture, education and knowledge transfer. As programme director, I get the best of all worlds: I accompany our students in their entrepreneurial endeavours and teach a class ‒ "pitching with success".
HOW HAS THE MSc EVOLVED?
The MSc is constantly evolving. It's a continuous improvement process. An academic programme cannot be frozen in time. The world, the technology, the economy, the start-up ecosystem … they all evolve, as does a programme. It means that we, as programme directors, must remain attuned and alert to any signs of weakness and always be a step ahead. We have to listen to our primary consumers, the students, and get their feedback on programmes. I don't survey them formally, but I ask them how the programme meets their needs. And, of course, I get direct feedback from class representatives. Consequently, all students in the next intake, for example, will take a mandatory course in coding and app development at Le Wagon.
WHAT DO YOU WISH FOR YOUR STUDENTS?
I want them to find their place in the world. When I take them to San Francisco to explore Silicon Valley on our final study trip, for instance, I don't just take them to visit tech companies, I also show them the ecological and social issues of the region. In this way, they can form their own views of the world.
I truly believe that after graduation, our MSc students are fully capable of taking on an innovation scheme at a start-up or a larger company. I just want them to find their true career path, to be passionate about whatever they do. One path is no better than another. I don't believe that entrepreneurs are kings. As I mentioned, I created my company at 45 and sold it four years later. I moved on. We must be entrepreneurs of our own lives.
I remain connected to my students and I'm happy to see them enjoy what they do. I recently heard from a German alumnus who has launched a range of insect-based pasta. She told me she was grateful to have learned how to pitch her project to raise funds. The ex-EDHEC founders of Canard Street, the duck-based street-food company and the Pumpkin mobile payments app are successful and love what they do. I'm proud of them and of all my students. 
[button size='' type='' icon='' link='https://master.edhec.edu/news/my-campus-life-intense-first-months' class='']DISCOVER A STUDENT'S POINT OF VIEW[/button]