EDHEC
|
Institutionnal
Student Life
Lookback to the Forum EDHEC 2023
The latest edition of the Forum EDHEC took place in Paris in early January. This large-scale recruitment fair is organised by the School's corporate relations team and designed to bring students and corporate partners together.  Some 460 professionals (HR and operational staff) from 110 companies (Auchan Retail France, Ardian, BNP Paribas, Bouygues Telecom, Deloitte, KPMG France, Onepoint, PWC, Microsoft, LVMH, Mars, EY, Renault, Vinci, etc.) were there to offer students over 650 internships, jobs, VIE international internships, apprenticeships and graduate programmes.  
Reading time :
6 Feb 2023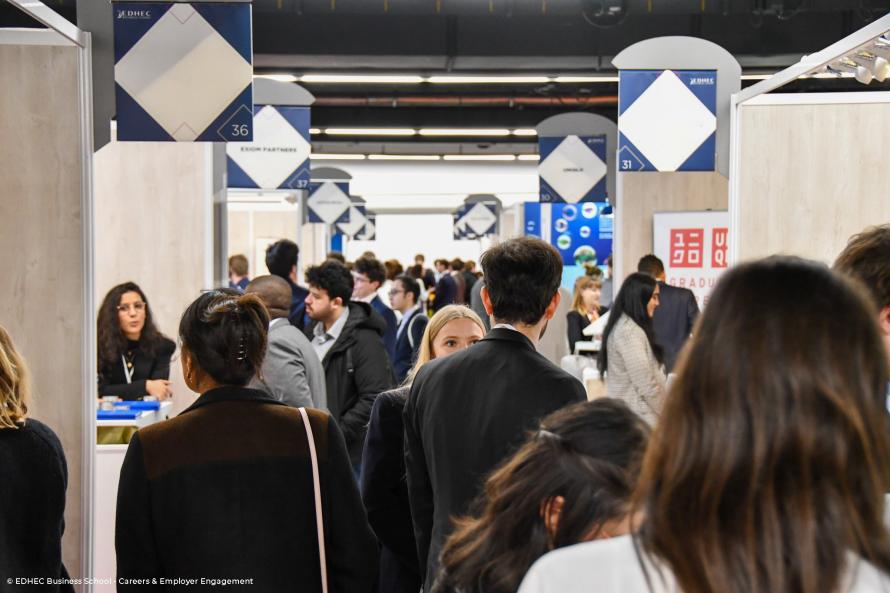 One specific feature of the Forum EDHEC is in hosting organisations from a diversity of sectors (consulting, finance, agrifood, telecoms, construction, etc.) and of varying sizes (large corporations, SMEs, start-ups). The event enabled the 1,500 students present to appreciate first-hand the expectations of employers and the career choices open to them after their studies, as underlined by Anne Zuccarelli, Associate Dean, Educational Experience & Operations at EDHEC: "We now have close to 8,000 students spread across our various campuses at EDHEC. And given the individual nature of their career plans, it's important for us to make them aware of the diverse range of sectors, companies and jobs that exist on the market. This allows them to fine tune their career plans, particularly by meeting companies that they never knew about before."
In addition to the recruiters present at the Forum, many EDHEC graduates were there to welcome the students on the companies' stands. In a spirit of proximity and mutual help, they shared details of their professional experience and advised the students on the opportunities available with their companies: "The Forum EDHEC is a major networking event that brings together students, companies and graduates, the latter frequently accompanying HR staff on the stands. They come to meet the students and talk to them about their experience and the internship and job opportunities available within the organisations they represent. It's an ideal opportunity for students to ask questions to their peers and potentially to imagine their future", explains Anne Zuccarelli.