Is an Executive MBA worth it? How to decide
Pursuing an Executive MBA requires a significant investment in time, money, and energy. Tuition for top European EMBAs can cost anything between 40,000 to 150,000 Euros. And while full and partial…
Reading time :
14 Dec 2022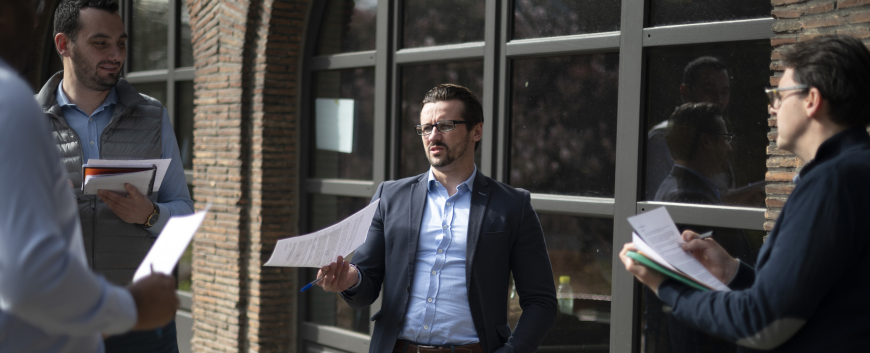 Pursuing an Executive MBA requires a significant investment in time, money, and energy. Tuition for top European EMBAs can cost anything between 40,000 to 150,000 Euros. And while full and partial scholarships are available, more than 56% of EMBA participants remain self-funded. With an Executive MBA taking anywhere between 12 to 24 months to complete, many programmes are designed to accommodate the busy lives of working professionals. With that said, pursuing an EMBA still requires considerable adjustments to the candidate's work schedule, commute, and personal life.
So, taking the above into consideration, why is an Executive MBA worth it for so many 32 to 44-year-old mid-career executives? Is the return on investment (ROI) worth the effort expended? Read on to find out.
Improve your confidence by upgrading your skills and expertise
Many candidates join EMBA programmes with the objective of gaining new insights and perspectives. With globalisation and digitalisation changing business paradigms, many candidates benefit from joining a programme with an international student body and a focus on digital transformation skills.
"My Executive MBA has changed my life at so many levels. It allowed me to perfect my knowledge and vision of the business world, to strengthen my soft skills and meet extraordinary individuals," says Sophie Wilford, Veterinary and co-founder of "See my Vet" with regards to her experience with the Executive MBA programme at EDHEC.
High-quality Executive MBA programmes are particularly valuable for professionals seeking to improve their confidence by refining their leadership skills.
Expand your network and your opportunities
The average EMBA candidate is 38 years old with about 14 years of valuable industry knowledge and around a decade of management experience that they bring into the classroom. Executive MBA programmes allow participants to connect with experienced leaders through joint industry consulting projects, building strong peer networks, connecting with alumni and participating in events and conferences.
Globally-competitive EMBA programmes come with one or multiple international business trips that further extend networking possibilities, expand horizons and provide context to academic learning.
Vito Cavaliere, Senior Vice-President & Senior Portfolio Manager at Neuberger Berman, attributes the success of his new professional path to the tightly knit network his EMBA programme helped him build. "Since the very beginning of the programme, I have felt like I was part of a new family. To this day, this network has been a powerful transformation factor: during and after the programme, we have all felt supported by our classmates, their skills, and their experience. It has helped us in our career evolution and in the development of our projects. It has been the backbone of my new professional path."
The opportunities for capitalising on such an expanded network are only limited by the imagination.
Increase your overall lifetime salary through an executive MBA
In a study released in Q1 2021, 39% of EMBA participants received a promotion before the end of their programme. Add that to the 53% of EMBA graduates that were given new responsibilities upon completion and the short-term advantages become clear.
Sonia Botta, Vice-President, Global Citrus Firmenich attributes her career promotion and salary uplifts to her Executive MBA Programme: "With the EDHEC EMBA, I acquired new skills that were necessary for both my personal development and my professional evolution, so I could progress my career – including in terms of salary evolution. After 13 years as an executive in my company, Firmenich, I was promoted to Vice-President and became a member of the Senior Leadership Team."
Increased short-term and subsequent lifetime career salary are an attractive return on investment, one of several significant factors in the decision-making process.  
Good executive MBA programmes combine classroom with action learning. Graduates expand their knowledge, skills and professional network while also experiencing first-hand what they have been learning through business trips and company visits.
Is an Executive MBA worth it?
Many participants find that the investment in time, money and the temporary adjustments to work and family life are well worth it as they are outweighed by the future benefits and overall programme experience. While the question 'is an executive MBA worth it?' is ultimately a personal judgement, the above-mentioned figures speak for themselves. 
Are you ready to accelerate your career with an MBA?
The EDHEC Executive MBA is a 16-months part-time programme designed to equip you with the insight, knowledge and personal resolve to lead the transformation your career and business need:
Refine your strategic, financial and business leadership competencies.  
Challenge your perspectives and develop new ways of thinking.
Develop your capacity to lead with confidence and authenticity. 
Develop an international business network.