Executive MBAs as a Gateway for more Women in Leadership
Why do we need more women in leadership? What can business schools do to encourage more women into executive programmes? Why is leadership development important? 
In this interview, Stephanie Levy tells us why she chose the EDHEC Executive MBA to sharpen her leadership skills and give her career new momentum.
Reading time :
23 Jan 2023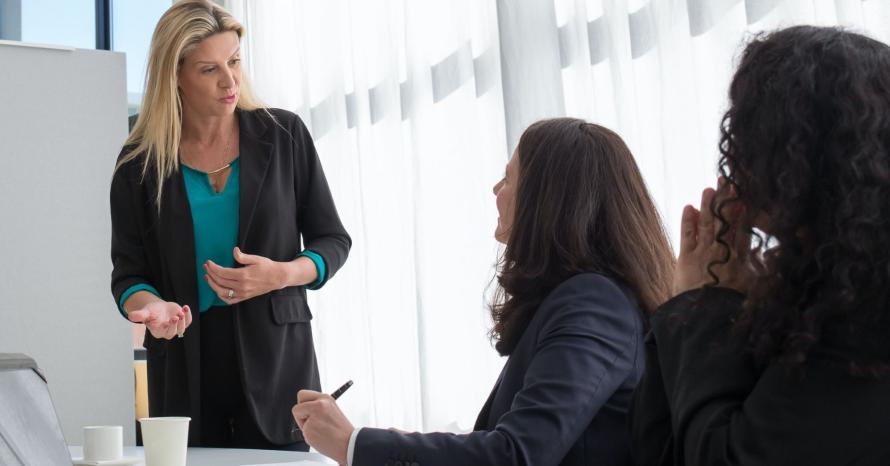 Despite proven benefits of female leadership, only one in four C-suite leaders is a woman. We have asked Stephanie Levy, Senior Director of Operations at CIEE and EDHEC Executive MBA participant, why the business world needs more female leaders and why women shouldn't hesitate to develop their leadership skills. Stephanie herself has chosen the EDHEC Executive MBA to sharpen her leadership skills, give her career new momentum and move towards more senior roles in the future.
Why did you choose to do an Executive MBA and why EDHEC?  
In 2021, I reviewed my professional and personal goals and I determined that an Executive MBA experience would be an ideal opportunity to develop my leadership skills.  
EDHEC Business School impressed me with top MBA programme rankings from the Financial Times, The Economist, and Bloomberg, and excellent scholarship programmes for women and international students.  
After closely reviewing several Executive MBA programmes, I concluded that EDHEC Business School offers an optimal combination of programme quality, excellent reputation, and high rankings. Paris is also a fantastic place to learn about global business and European culture. 
What is the most important aspect of the programme for you and your career goals?  
I enjoy the EDHEC Executive MBA programme immensely, and I am rapidly expanding my knowledge and practical skills in the areas of leadership, corporate finance, strategic analysis, business development, marketing management, sustainable business models, and global operations.  
Leadership development is an essential aspect of the Executive MBA programme. The individual and career coaching sessions are insightful and encourage me to pursue professional goals beyond my previous expectations. Particularly for women, developing leadership skills increases self-confidence and the ability to rise to executive positions.  
Increased female leadership can directly benefit companies. Numerous research studies have shown that when women are in leadership roles, companies are more profitable, offer outstanding customer experiences, and practice greater social responsibility.  
Now is the perfect time for women to advance to senior leadership roles across industries. I hope to be a role model for my daughters and younger women who are aiming for international leadership roles. I have been fortunate to work with many supportive female leaders during my professional career who have generously offered me mentorship and inspiration. 
How is the men/women dynamic in your cohort and have you noticed differences in leadership style between men and women? 
Although there is a larger proportion of men in my EMBA cohort, we work successfully together in teams. As a relatively small cohort, we have the chance to get to know one another well and we complete many group projects, presentations, and case studies together. The atmosphere in my cohort is extremely positive and collaborative. I feel supported and respected, and my professional and personal qualities are valued without a focus on gender. The EDHEC orientation week in Lille was well-designed and created a spirit of unity and cohesion in our cohort from the beginning. 
What can business schools do to attract more women in their programmes? 
I recommend offering generous scholarships – for instance, the EDHEC Women in Leadership Scholarship – and targeting women specifically in marketing campaigns. Some business schools offer Women in Leadership networking and alumni groups and as well as executive certificate programmes specifically for women. For example, EDHEC is starting a new Executive MBA Women's group this month which is exciting news. 
How do you balance career, personal life and EMBA? Is there such a thing as balance? 
It can be challenging to juggle multiple responsibilities and having a supportive family and partner is helpful. My teenage daughters are enthusiastic about my EMBA programme, even though it means that I travel from Berlin to Paris four days each month, and I spend time on weekends working on projects and preparing for seminars and presentations. 
What advice would you give to the next generation of female leaders? 
Don't give up and don't be intimidated by organizational leadership! Seize the opportunity when leadership roles are offered and trust in your ability to succeed. It is critical for female professionals to believe in themselves, be courageous, and advance to the highest levels of leadership in global companies, organizations, and in politics. Equal representation of females in leadership roles should become the norm in our society, rather than the exception.  
Have you already noticed an impact of the Executive MBA programme?  
Earning an MBA degree opens up many new professional opportunities. As soon as I added "Executive MBA Candidate" to my LinkedIn profile, recruiters started reaching out to me. It is an investment in yourself and in your career. In fact, I got promoted to a more senior role halfway through my Executive MBA programme. I feel well-prepared for leadership roles through the EDHEC Executive MBA programme, and I look forward to upcoming professional opportunities. My next goal is a more senior level leadership role, for example, Vice President, Managing Director, or COO, with increased strategic responsibilities and new challenges.  
Do you have any advice for women who are thinking about doing an MBA?  
I would definitely encourage women to go for it and pursue an MBA or Executive MBA programme and am happy to answer questions in that regard. 
Are you ready for the leadership challenges of tomorrow?  
Sharpen your leadership skills and gain the tools and skills necessary to transform your career. Develop the confidence to lead with conviction and inspire your teams in an ever-changing and diverse business environment. Evaluate your profile to talk to one of our career advisers.