[Insider View] Student Experience - Discovering Berlin entrepreneurial ecosystem
Floriane de Malestroit (third on the right), EDHEC MSc in Entrepreneurship & Innovation student, shares what she has discovered on her class study trip of the Berlin entrepreneurial ecosystem. WHAT…
Reading time :
15 Mar 2018
Floriane de Malestroit (third on the right), EDHEC MSc in Entrepreneurship & Innovation student, shares what she has discovered on her class study trip of the Berlin entrepreneurial ecosystem.
WHAT NEW AND FUN EXPERIENCES DID YOU HAVE IN BERLIN?
We visited various actors of the German entrepreneurial ecosystem: Start-ups (Marley Spoon, Black Lane, Helpling), VC funders (Cavalry Ventures, Project A), a Start-up Hub (The Place). We also were also able to share fun times discovering the city of Berlin with all the MSc students.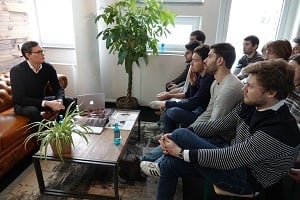 HOW HAVE THESE EXPERIENCES INCREASED YOUR MOTIVATION TO LAUNCH YOUR OWN BUSINESS?
We met people that are not only looking to become billionaires but to also change the world, which is what we want to do in creating our own start-ups. They shared their difficulties and how they manage them. It was relieving to know that even successful founders of start-ups have low moments.
WHAT DID YOU DISCOVER THAT EXPANDED YOUR UNDERSTANDING OF ENTREPRENEURSHIP & INNOVATION?
We discovered that the decisions entrepreneurs make have to be data driven. If the data tells you something you didn't expect, you have to adapt your business-offering in response to it, even if it means changing your target, stopping the production of a product or entrance into a marketplace. We also further developed our understanding of what VC funders are looking for, in particular the importance of the "team composition" that is creating the start-up.
HOW HAS THIS EXPERIENCE CULTIVATED YOUR ABILITY TO BE BRAVE?
It was really comforting to hear the CEOs talk about their failures. At The Place, a start-up hub we visited, they even organize a night where people share and explain their business failures. It incentivises founders to be brave, and not give up as soon as the first obstacles appear.
WHAT STATEMENTS MADE BY THE GUEST SPEAKERS DID YOU FIND MOST MEMORABLE?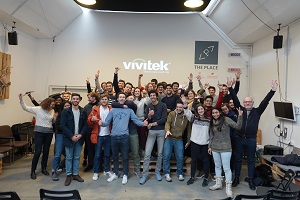 A speaker at Cavalry Venture said, "Its's not about how many times you are right, but when you are right, how right are you" meaning that it is better to focus on a few investments that are really worth it rather than investing in many businesses that won't really succeed. The founder of The Place, shared the idea, that some people are raising money instead of having a solid business model, inferring that we should give priority to the sustainability of the company rather than the cash we can get.
HOW HAS YOUR UNDERSTANDING OF THE WORKINGS OF AN ENTREPRENEURIAL ECOSYSTEM BEEN INFORMED BY YOUR TRIP TO BERLIN?
We discovered that each ecosystem is unique. For example, the German ecosystem is very open culturally. In each place we visited, there were people from many different countries. It was amazing to see that speaking German is rarely mandatory, and you can come from anywhere as long as you speak English. Indeed, English is the official language in the German start-up ecosystem.
Where did they go? Who did they meet? To know more about Floriane's trip, click here >>