Expert Talk – Denis Dauchy: "Reinventing your business model requires creativity"
How to build or transform one's business model in the age of accelerated innovation? Denis Dauchy, PhD, Professor of Corporate Strategy at EDHEC, answers this and other questions
Reading time :
29 May 2018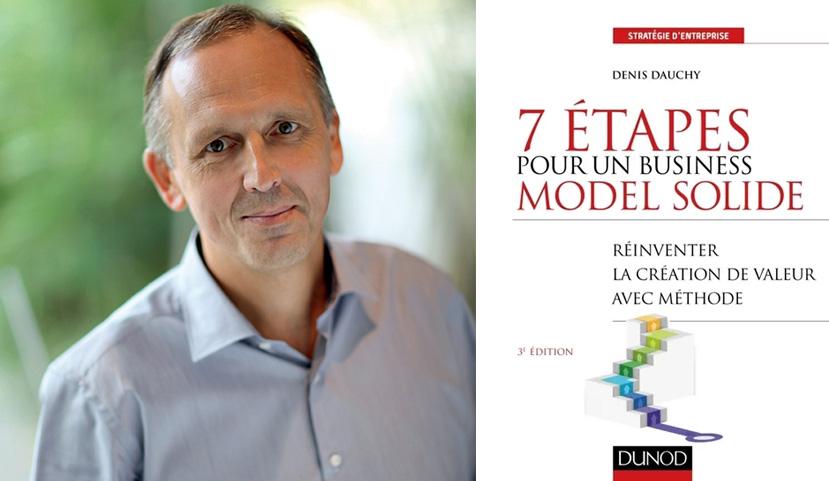 How to build or transform one's business model in the age of accelerated innovation? Denis Dauchy, PhD, Professor of Corporate Strategy answers this question in the latest edition of his book,7 steps for a strong business model*, a practical guide for today's leaders and managers.
Whether you are an SME or a big group, a start-up or a decades old company, in today's economic environment, innovation revolutionizes markets everyday and forces everyone to reinvent themselves in the long run. "In this context, regardless of sector, all economic players must question the way they think and organize their activity, explains Denis Dauchy. That's why the notion of business model has become unavoidable."
According to him, the creation or reinvention of an efficient and sustainable business model lie on some fundamental pillars that are not necessarily obvious at first. Focusing on your customer promise and the utility of your model for your target for example, imagining new – and sometimes multiple – monetization models, preferring a right use of assets to a more classical obsession with margins, or identifying the right performance indicators… Because no model can afford to be static, leaders must ceaselessly question their business reflexes.
"Decision-makers must not hesitate to be more agile and creative, to reinvent their business model or to invent new ones within their company, so they can create even more value."
Denis Dauchy, PhD, Professor of Corporate Strategy and Director of the Executive MBA at EDHEC.
Case studies to learn how to transform your model
In his book, Denis Dauchy addresses the way players such as Nespresso, Decathlon, April, Zara, Bic, Easyjet or Seb have understood it all, redefining the rules of their respective businesses and markets to better adapt to an ever-evolving environment. One of the companies he analyzes more particularly, and of which he is a renowned specialist, is Amazon. The first strength of the Amazon model is its customer centricity, which includes the way the company assumed huge losses in its first years of operation, to build up its customer capital. It also distinguishes itself by its operational excellence, investing massively in logistics and innovating constantly in terms of data-based management. Finally, the group has always shown strategic agility, constantly developing new services and offers (Market Place, Web Services, vocal assistance, Kindle…) and conducting a bold acquisition policy.
"Analyzing the way these players have reinvented themselves and understanding the strengths of their business models is the best way to learn how to be agile." Denis Dauchy
Observing these new models to internalize such fundamentals of business as Finance or Strategy is also the philosophy behind the Executive MBA (EMBA) at EDHEC, in Lille and in Paris. In this perspective, participants carry out an individual consulting project on an actual strategic issue raised by a partner company. A business trip also allows them to meet many companies and to carry out a detailed analysis of one of their models in a Business report. A unique opportunity, for these executives and entrepreneurs, to nourish the construction or transformation process of their own model.
*An updated third edition of 7 steps for a strong business model (7 étapes pour un business model solide), in French, has been published in 2018 by Dunod. 
Take your career to the next level with an executive MBA!
The EDHEC EMBA is a 16-month part-time programme designed to equip you with the insights, knowledge, and personal resolve to lead the transformation your career and your business need:
Refine your strategic, financial, and business leadership competencies. 
Challenge your perspectives and develop new ways of thinking by building an international network of experienced professionals.
Develop your capacity to lead with confidence and authenticity.