Fifteen original contributions for the financial industry
Fifteen PhD candidates successfully defended their thesis during the last year, and late September 2016 in London, the graduation ceremony was held to celebrate their achievements. The event welcomed…
Reading time :
30 Sep 2016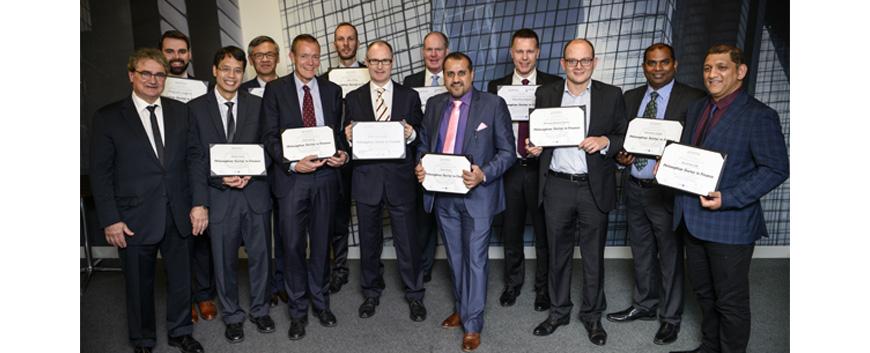 Fifteen PhD candidates successfully defended their thesis during the last year, and late September 2016 in London, the graduation ceremony was held to celebrate their achievements. The event welcomed friends and family members from all around the world and featured speeches from Professor René Garcia and Dr Jean Boivin, Head of Economic and Markets Research of the BlackRock Investment Institute.
The research work of these new PhD graduates is very diverse and brings new insights or creative solutions for the financial industry. Some of the graduates have already published (or publication is forthcoming) their research in practitioner-oriented journals  such as Applied Economics, Journal of Asset Management, Journal of Fixed Income and Journal of Portfolio Management.
Since 2012 (the PhD programme started in 2008), 37 candidates have graduated. To date, they accumulate twenty working papers published in practitioners' peer-reviewed journals and four publications in three academic finance journals, Economic Letters, Journal of Financial and Quantitative Analysis and Journal of Financial Economics.
Staff, management and faculty extend their warmest congratulations to Rama Malladi, Matthew Lanfear, Mark Siebert, Jakob Von Ganske, Russell Nel, Rodney Hoskinson, Sue Wan Chua, François Olivier Cocquemas, Marco Ghitti, Jeroen Jansen, Yasunori Iwanaga, Suprita Vohra, Harsh Parikh, Messaoud Chibane and Douglas Chau. 
The list of their dissertation title, advisors and dissertation committee is available here.