FT RANKINGS 2020: EDHEC GLOBAL MBA RECOGNISED FOR VALUE, DIVERSITY AND INTERNATIONAL EXPERIENCE IN LATEST TOP 100 RANKINGS REPORT
Placed 28th worldwide for value for money by the FT and overall 88th, the intensive 10-month programme is also one of the most diverse and international in the top 100, ranking in the top 30 for…
Reading time :
27 Jan 2020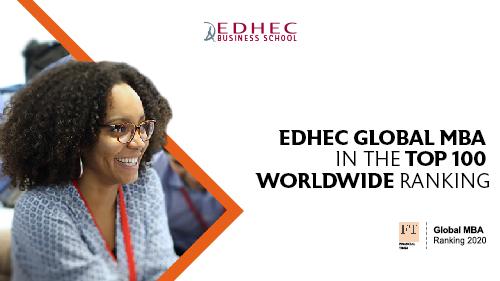 Placed 28th worldwide for value for money by the FT and overall 88th, the intensive 10-month programme is also one of the most diverse and international in the top 100, ranking in the top 30 for international course experience and international mobility. On average 77% of 2018 EDHEC MBA alumni found work outside their home country.
According to the report, over 90% of participants successfully began their post-MBA careers within 3 months of graduation supported by the careers service which was ranked 10th in Europe, making the programme the top school in France and 6th in Europe for post-MBA employment.
Sandra Richez, EDHEC Global MBA programme director commented,
This year's FT ranking recognizes our capacity to provide personalized career services and opportunity for a diverse and experienced cohort. We are very proud to offer one of the most intensive and accessible MBAs in the world in terms of value for money, which is well-adapted to working professionals looking to return to the workforce quickly with redefined purpose and a renewed skillset.
EDHEC's Global MBA consistently ranks amongst the best in the world for value, diversity and international experience – in the latest Economist report, the programme was recognised as 7th in the world and 2nd in Europe for opening new career opportunities and 10th worldwide for return on investment in the recent QS rankings. 
For more information on the programme, visit https://mba.edhec.edu/ or [email protected]