From Getting Organised to Going Live: Tips for Remote Learning Success
Your classes are now online, your home is now also your school and you may be also juggling family and work commitments on top of everything else. So how can you make studying at home a success? Read on to discover our top tips.
Reading time :
26 Jan 2021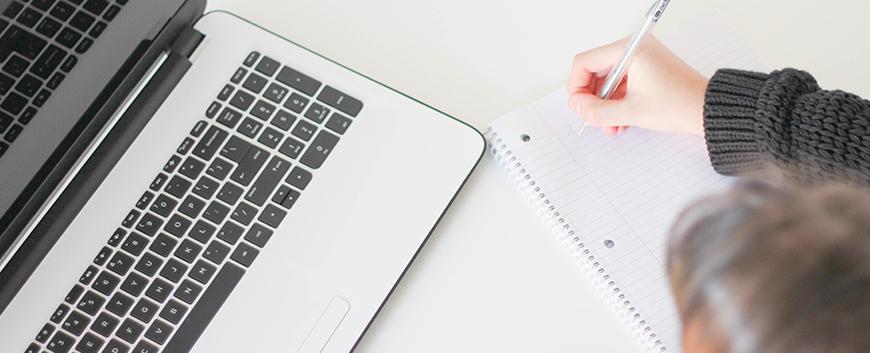 YOUR NEW "CLASSROOM"
If you can, create a dedicated study space, whether it's a whole room, a corner area or even just part of the surface of your kitchen table. Make it as comfortable and as pleasant as possible and think about the lighting; you will need to stay alert and focused. You will probably be sitting in one place for an extended period, so get as comfortable as you can.
Set up a "library" near your study space if possible, with all your books, notes and reference materials in one spot. If you can't create a dedicated study space, consider keeping all your study materials in a box, or create a 'go-bag' to keep everything together.
If you share your home with family, friends or classmates, communicate your new study schedule, and negotiate the use of devices and spaces in advance to avoid conflict. This could be especially important in terms of internet connection if you live in a place with irregular or quite slow connectivity.
GETTING ORGANISED
Set up a virtual workspace. Did you know that internet browsers like Google Chrome allow you to have multiple accounts with different toolbars? Think about setting up one for home, and another one for school or work, to avoid distraction and to keep things separate. This is especially useful if you are sharing a computer with others. If you can, set up different user accounts so you can ensure your notes and essays don't get accidentally deleted.
For organising your workflow or juggling projects (especially tasks for group projects) online tools such as Workflowy or Trello are great, or else check out the Kanban method if you're more of a pen and paper/Post-it notes type of person.
To boost productivity on specific tasks (studying for a test, learning key facts) you may find it helpful to use a time management method such as the Pomodoro Technique or FlowTime. Learning one of these simple techniques can be a lifesaver if you are someone who gets easily distracted!
GOING LIVE
Hopefully, you managed to find a quiet spot for your 'desk'. If you are lucky enough to have a room to study in, keep the door shut and attach a sign to let people know you are IN CLASS. Or if you are sharing a space with others, make a sign and place it in front of your computer to remind them you are not to be disturbed.
Do a test run before your first class. Check the internet connection, sound quality and any other equipment you need. Use headphones or earbuds to help focus (especially if you flat-share or are in an open space). You don't want to miss the beginning of the lecture and turn up 'late' so log into the class early.
You're at school (even if you are not physically there!). Keep the social messaging to your lunchtimes and your new out-of-office hours. If most of your friends/ family are also working from home, think about supporting their time management needs by not contacting them at random times during the day.
 Your online class may be recorded, so if you are absent or think you have missed a vital point, you should be able to watch it again. But if it isn't, or if you want to make your own recording, think about using your smartphone to record the class and then save the file on your computer.
Pretend like you're going to the campus! Create a mental mindset that you transition into when you are going to your new "study place" whether that's a space at the dining table, sofa or desk in your bedroom.
Last but not least, SHARE this article with colleagues, friends and loved ones who might benefit from good advice and your support!
Are you ready to transform your career?
Download the brochure to find out how the EDHEC Global MBA will give you the tools, knowledge and confidence you need to accelerate your international career