Global Business track students graduate from NTU
On Friday, December 6, Global Business track BBA students received their certificate in International Management from Nanyang Technological University (NTU). These bachelor students studied in the…
Reading time :
5 Dec 2019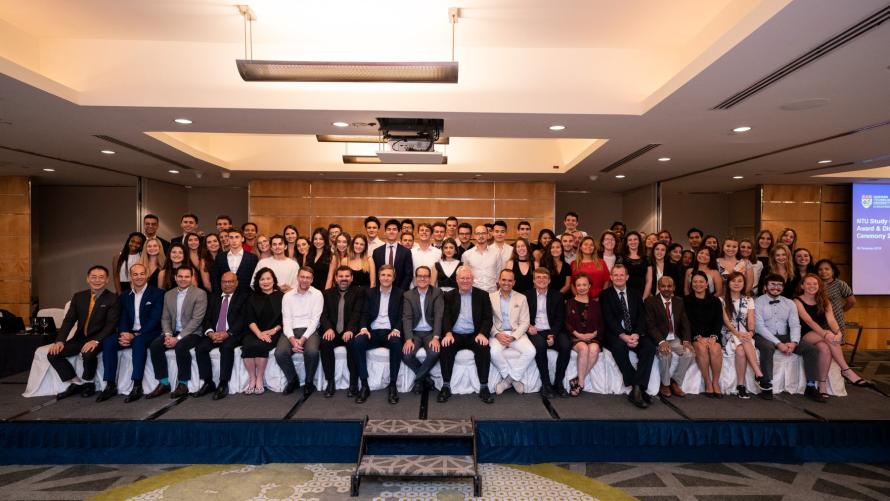 On Friday, December 6, Global Business track BBA students received their certificate in International Management from Nanyang Technological University (NTU). These bachelor students studied in the prestigious Asian university for one academic year where they took international finance and marketing courses at Nanyang Business School.
[carousels][carousel path="/sites/bba/files/images/78726141_603086760436102_6852385699589521408_o.jpg" sequence="0"][/carousel][carousel path="/sites/bba/files/images/78698683_603086510436127_6650210726994509824_o.jpg" sequence="1"][/carousel][carousel path="/sites/bba/files/images/78793945_603086750436103_4889158764223004672_o.jpg" sequence="2"][/carousel][carousel path="/sites/bba/files/images/78530937_603086920436086_1227201873069473792_o.jpg" sequence="3"][/carousel][carousel path="/sites/bba/files/images/79535711_603086500436128_921960282509541376_o.jpg" sequence="4"][/carousel][carousel path="/sites/bba/files/images/78454491_603086217102823_4302620021483372544_o.jpg" sequence="5"][/carousel][/carousels]
This exclusive graduation ceremony took place at the Pan Pacific Hotel in Singapore and was organized by NTU in partnership with EDHEC. Students were addressed congratulation messages by the following guests of honours:
M. Damien DHELLEMMES, Country President at Schneider Electric Singapore & Member of the leadership board of Nanyang Technological University
Prof. Robert KENNEDY, Dean of Nanyang Technological University & Goh Tjoei Kok Professor in Business Management, Nanyang Technological University
M. Bruno De PAMPELONNE, Chairman at the Board of Governors, EDHEC Business School
ABOUT THE GLOBAL BUSINESS TRACK
The Global Business track of our Bachelor of Business Administration programme is designed for highly achieving students with a global mindset. Over the course of four years, they combine theory and practice with in-class courses and periods of long-term internships (up to 14 months). They study on three continents in three of the world's top 20 institutions.
In Year 1, they study EDHEC Business School on the Nice campus. In Year 2, the study at UCLA Extension where they receive a certificate in international trade and commerce. Finally in Year 3, they study in Asia or Latin America in top-ranked institutions such as NTU.
50% of our Global Business track students are international students and chose this programme to be in a multicultural learning environment, understand the challenges of globalization, and build an international career.
To learn more about EDHEC International BBA Global Business track, go to bba.edhec.edu.