Global MBAs Dive into Diversity & Inclusion Strategies with Amadeus, IBM, and SAP
In September, EDHEC's MBA programme welcomed three senior executives from SAP, IBM and Amadeus to discuss diversity and inclusion in the workplace. Global brands are facing these issues head on, and Global MBA students are here to ask the right questions.
Reading time :
7 Dec 2022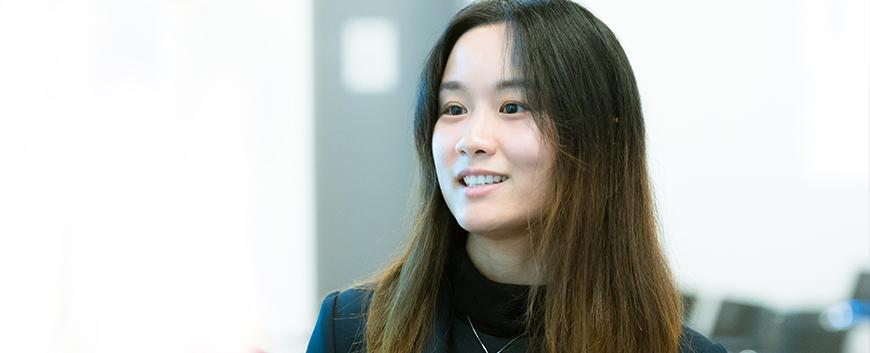 Diversity and inclusion is a rising issue worldwide. As global brands innovate new ways to tackle it, they are capturing the attention of EDHEC's diverse Global MBA class. open discussion was designed to discover how these companies are approaching diversity and inclusion today and what the future holds.
Organised by the CareerSmart team and moderated by two MBA participants, Nabil Chouaib and Aidan Johnson, the chat took place at EDHEC's Nice campus on September 29. The all-female panel included:
Linda Menache - Resource Manager, IBM
Olena Kushakovska - Site Manager, SAP
Christine Manglano - Disability Program & Diversity Project Leader, Amadeus
Earlier this year, senior leaders from L'Oreal, Henkel, and Smurfit Kappa shared their insights with MBAs at EDHEC's Paris campus. Read the highlights HERE!
The goal was to "display the true diversity of cultures and nationalities from this class," Aidan said. "With our rich and diverse class profile of 36 nationalities, we were eager to ask the challenging questions and interrogate the preconceptions of diversity and inclusion."
"As future managers, leaders and entrepreneurs, MBA students will face a diverse work environment due to global economics and diverse people," said Nabil. "They should know how to manage certain situations as well as enforce an inclusive work environment where all employees are part of the journey."
The hour-long discussion touched on many aspects and viewpoints of diversity and inclusion, kicking off with a vital question: Why is diversity and inclusion important to global brands?
The Importance of Diversity and Inclusion
The conversation opened with Christine Manglano introducing Amadeus, a company founded on diversity over 30 years ago. Created by four European airlines, it was multicultural from the start and quickly grew into a global leader of the travel industry.
Amadeus knew that diversity "gives them a competitive edge and improves their team," Christine said. Plus, Amadeus customers are diverse so it is essential that its workforce understands needs on a global scale.
Olena Kushakovska was next to share SAP's stance on the topic. She explained, "SAP helps businesses run better and improves people's lives. We are striving to improve the life of everyone."
Both SAP and Olena believe that diversity is important because your workforce must represent everyone's views. "If you surround yourself with the same people as you, you'll get the same ideas," Olena continued. "If you want to innovate and create new things, you need diversity."
Like Amadeus and SAP, IBM has a similar vision embracing the importance of diversity.
"In terms of diversity and inclusion, it's been something very important to IBM from the start." Linda Menache said. In fact, IBM has a long history of inclusion and diversity employing the first woman and black person in 1899 and the first disabled person in 1914. For over 110 years, IBM has been committed to building an equal opportunity workforce.
Diversity and inclusion is important in the workplace and stretches to the modern education of MBAs, especially at EDHEC. As Nabil said, "It is important for MBAs to know that diversity and inclusion doesn't stop inside companies, but goes beyond that when it comes to building global products that target diverse audiences."
Amadeus Explains Diversity Versus Inclusion
Many use diversity and inclusion interchangeably, but MBA moderator Aidan Johnson wanted to explore if they should in fact be treated individually and discover how exactly we blur the lines when combined.
Christine responded effectively with, "Diversity is the what, inclusion is the how." She explained that a company may have a non-bias HR department and hire diverse and disabled employees, but that's only one piece of the puzzle.
"Inclusiveness is something different to me," Christine said. "It's the way you retain those diverse talents and foster a culture to create a different mind-set." It's not only vital to innovate and lead future trends, but also educate current managers and colleagues.
All three panellists agreed. A company can offer equal opportunities up front, but it is the company's obligation to help the person succeed. Inclusion involves engagement and making diverse talent want to stay and thrive with you.
A Glimpse into SAP's Inclusion Initiatives
It is apparent that diversity and inclusion are extremely important to these three companies, but EDHEC's MBA moderator, Nabil Chouaib wanted to know: How are they taking action?
Olena spoke of notable SAP programmes like their unique extended paternity leave. She said that employed fathers are encouraged to take longer paternity leaves because SAP is trying to change the gender role perspective.
SAP also has programmes to hire candidates with autism, plus offers autism training to employees working with those individuals. It is all about inclusion and "providing everyone equal career opportunity," Olena explained. And that includes the less talked about older generation of workers.
Recently, SAP realized that younger employees are squeezing out older team members. Young candidates arrive with modern education and skills. In turn, they were achieving quicker promotions where long-term SAP staffers were left behind.
Now, SAP offers coaching and education to teach older employees about technology and younger employees about history and company culture.
IBM is Breaking the Glass Ceiling
Amongst inclusion strategies like an autism exchange programme and hiring via Watson, and AI that helps ensure diverse recruitment, IBM is also working on another concern: gender equality.
Linda highlighted a huge challenge within STEM. "We have a lack of women in the field," she said. If the sector as a whole lacks female candidates, "we work at different levels as early as primary school children to create options for girls to acquire technical female representations at an early age."
That's where IBM's group Women In Technology plays a role. Linda runs the group in the South region to encourage women, especially young girls, to choose a career in technology. This involves going to schools to foster inspiration, like building robots in classrooms to promote tech interests.
In addition to a limited talent pool, another challenge is "positive discrimination." Women often lack confidence when compared to men, so they may not present themselves as stronger candidates. IBM considers positive discrimination for all applicants with equal skills and experience levels, thus encouraging diversity in its global teams.
"One of our values is responsibility," Linda explained. "If you want to advance, you have to take action." As a result, IBM now offers training programmes to help people advance and gain the skills and confidence needed for promotions. IBM, based in Armonk, New York, has earned a spot on the 100 Best Companies list, the NAFE Top Companies for Executive Women list, Best Companies for Multicultural Women list, the Diversity Best Practices Inclusion Index and the Best Companies for Dads list.
Designing a Diverse Future Together
Amadeus, IBM and SAP have entire teams dedicated to building a better, more diverse future in the workplace. However, companies of any size can learn from their example.
This panel uncovered diversity and inclusion from recruiting to retiring and illuminated everything along the way. The three executives shared insights spanning from company culture to company processes, and digital tools to internal communities.
"We have to think how to understand everyone, value everyone and push everyone forward," Linda concluded. "To do this, diversity and inclusion must be important to the company."
EDHEC's current MBA class proudly hosts 36 nationalities, but this panel reaffirmed the importance of inclusion to even this well-versed audience. Diversity matters during your MBA experience and beyond. Diversity and inclusion may be related, but they both require attention and action.
"It was amazing to hear that big names such as SAP, IBM and Amadeus are making such an effort," said Nabil. "I definitely feel more optimistic looking forward, but I'll be satisfied as soon as diversity and inclusion is relevant any place in the world. Everyone deserves a chance."
It is global brands like IBM, L'Oréal, Henkel, SAP, Smurfit Kappa and Amadeus that are setting examples for all companies, transforming the world one employee - and MBA candidate - at a time.
Are you ready to transform your career? 
Download the brochure to find out how the EDHEC Global MBA will give you the tools, knowledge and confidence you need to accelerate your international career