Why Diversity Matters During Your MBA Experience
When it comes to evaluating different MBA programmes, there are many factors to consider when deciding which programme will bring the most value - from the classes offered to the affordability.
Reading time :
7 Dec 2022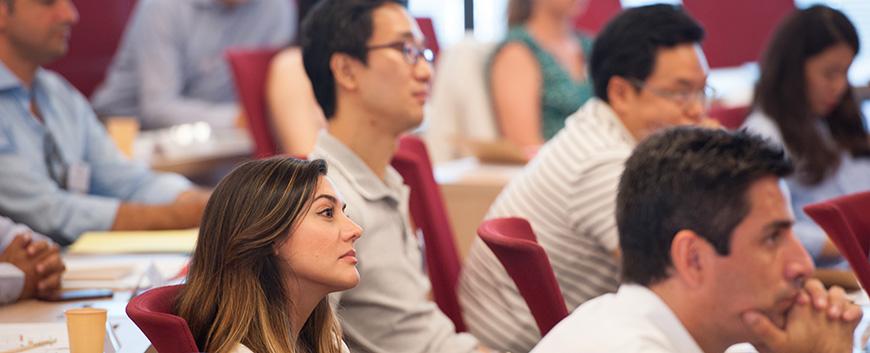 One factor that may not be so obvious to consider, yet is highly important, is the diversity of the student and teaching body.
Here at EDHEC, we believe that a diverse class is the foundation for a truly global MBA experience. As globalisation continues, having a good understanding of multicultural and international perspectives, cultures and customs is crucial to succeeding in business. As a result, we put a strong focus on making sure that our students learn in a highly diverse setting.
But why exactly does diversity matter so much in an MBA programme? Let's explore some crucial reasons.
Develop a global mindset
The global economy is more interconnected than ever before. Global trade has skyrocketed at breakneck speeds in the past few decades.
According to The European Centre for International Political Economy, international trade grew by a staggering 3,500% between 1980 and 2010, and according to the World Trade Organisation, growth has continued steadily since then. As a result, it is more important than ever to have a global mindset when it comes to conducting business.
The best way to develop a global mindset and improve your international skills — from cultural sensitivity and understanding to intercultural communication — is to immerse yourself in a multicultural environment. A diverse MBA class provides an ideal opportunity to develop the awareness, knowledge, and skills required to become an effective leader in global economic business environments.
"When true diversity makes its way into the classroom, not only do the discussions and teamwork become far richer, but also the overall learning experience becomes highly transformational," explained Sandra Richez, EDHEC Global MBA Programme Director. "At EDHEC, we seek potential in all sorts of personality types and use it as a transformation lever. In the end, such ability to think and act globally is what companies really value when they recruit MBAs."
Expose yourself to new ways of thinking
Coming together in a diverse class with people from all walks of life means you will be exposed to different viewpoints and opinions, thus sparking spirited debate. People from different cultures often have different thought processes and think about problems in unique ways. Consequently, the more diverse a group is, the more innovative the group's ideas and solutions will be.
"At EDHEC, I was able to meet and share an MBA experience with people from all over the world," said Charlotte Auterac, a Global MBA student from the UK. "We had almost 40 different nationalities in the class who were all willing to share their knowledge-that really opened my eyes to different cultures and ways of thinking."
It turns out that the innovation sparked from a diverse group is actually proven to improve business. A study by the Boston Consulting Group found that increasing the diversity of leadership teams led to more and better innovation and improved financial performance - companies that had a diverse management team were found to have 19% higher revenue than their non-diverse counterparts!
Create connections all over the world
One of the best reasons for choosing a highly diverse MBA programme is the amazing connections that you can make. You will graduate not only with an MBA in your hand and savvy business knowledge in your head, but also with a large international alumni network that spreads across the world. No matter where your career path may take you, you will have connections to rely upon that can open up valuable possibilities and opportunities in locations you've only dreamed of. You will also have many opportunities to meet and exchange with professors, experts, business leaders and organisations from across the globe during classes, treks, trips and events to give you an insight into a diverse range of industries, sectors, roles and business models.
"I had never before been immersed in such an international environment. With people from all over the world, with different backgrounds and experiences, EDHEC helps you grow in terms of your vision of business in this globalized world. The quality of the people there improves you both as a person as well as a professional," said Global MBA graduate Mario Dacaret from Guatemala.
EDHEC's diversity
The EDHEC Global MBA is consistently ranked as one of the most diverse MBA programmes in the world.
Each year, the Global MBA programme typically has more than 30 different nationalities represented in our classes of 50-60 students.
On top of cultural diversity, our classes are also quite diverse when it comes to gender, age, and experience of our students, faculty and visiting experts. Classes are on average made up of over one-third of women (but we are aiming to get this much closer to parity) and students' background experience ranges from 3 years to over 20 years. We have a highly diverse faculty and board too - we rank amongst the top 30 programmes worldwide according to the latest FT rankings.
Social diversity is also a key focus for EDHEC which is why the EDHEC Global MBA is one of the few world-class programmes with guaranteed and transparent scholarships and an intense 10-month format to help to reduce overall costs and increase value. This is why the programme is ranked 10th in the world for return on investment with an incredibly short payback period of just 1.9 years.
Lastly, all students go on two learning expeditions abroad to further hone their international skills and experience. Based on what specialisation track you choose, you will go to either Singapore, San Francisco, New York or London. In addition, as part of our sustainability and social impact focus, which runs throughout the programme, you will also spend a week in Cape Town, South Africa. Learn more about our Global Learning Expeditions here.
Are you ready to transform your career?
Download the brochure to find out how the EDHEC Global MBA will give you the tools, knowledge and confidence you need to accelerate your international career