HAOHUA (ANDY) TANG
The programme impact to date ? I have started to use some of new asset pricing models such as the production based channel to test and build new factors to help us make better investment decisions.
Reading time :
9 Sep 2022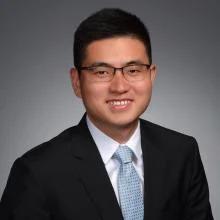 ANDY, COULD YOU TELL US ABOUT YOUR BACKGROUND AND WHAT YOU ARE DOING TODAY?
I am a quantitative analyst at William Blair, a global asset manager in Chicago. I started my career as a quant analyst in Morningstar, where I focused on factor modelling and portfolio optimisation. Before that, I studied economics at the Donghua University in Shanghai and came to U.S. for my graduate degrees in computational finance and statistics at the Illinois Institute of Technology in Chicago, and the University of Chicago.
HOW MUCH DO YOU FEEL A RESEARCH DEGREE IS RELEVANT TO A QUANTITATIVE SPECIALIST LIKE YOU TODAY?
I think the key to a successful career in the quantitative world is to delve deeper into a problem and more importantly, to have a systematic method to define a problem and solve it. All of this requires a strong independent research capability to understand the dynamics of the market movement. From time to time, we discover some new factors, or see certain factors or strategies stop working. In order to understand why they stopped working, we need to fully understand why they worked in the first place. A sustainable strategy is not just putting together some statistically significant signal from a series of back tests, but it requires economic reasoning or theory to support it.  And I believe that a research degree like EDHEC's PhD programme can teach us economic reasoning behind the investment, and to train us in a structured way to form independent research capability. With strong independent research capability, the quantitative career will be more sustainable.
HOW DID YOU CHOOSE THIS PARTICULAR PROGRAMME?
I had been looking for a decent, part-time PhD programme in the U.S. for quite some time, when I saw my friend Marat's graduation update from the EDHEC PhD programme. I did some research on the publication list from EDHEC faculty members and the curriculum. I saw quite a lot of top journal publications in the asset pricing and econometrics area which I am interested in, and I saw a long list of great affiliated faculties from other top universities. Iimmediately filed my application, which was only a few days before the deadline and luckily I got accepted on the programme.
It's been a wonderful experience so far and I wish I had found out about the programme much earlier. The interaction with the professors during class and after class is the most rewarding part of this journey, and it is also what distinguishes most from the other programmes I have been on.
TO DATE, HAS THE PROGRAMME IMPACTED YOUR DAY-TO-DAY WORK?
Yes, very positively and in two major ways. Firstly, it made me question my projects, and to think more about the underlying economic reasoning. Nowadays, the market is moving so fast and there are lots of reports from different vendors. Instead of taking their conclusions for granted, I started to question the possible economic theory from those reports and this helps me filter out the noise and identify the more valuable message.
Secondly, I started to use some of the new asset pricing models such as the production based channel to test and build new factors to help us make better investment decisions.
THE PHD PROGRAMME IS CHALLENGING BY ITS NATURE AND FORMAT, IN YOUR OPINION, WHAT IS ITS MAJOR CHALLENGE?
The biggest challenge but also the most rewarding part is to find a great original research idea. For work or for other non-research programmes, most often we learn existing research and apply it, which is relatively easy and straightforward, because it only requires time and effort to understand the materials. But for a PhD programme, we need to come up with a good original research idea, which requires not just extensive literature review, but a deeper understanding of all subjects and creative thinking to connect the dots. It is a big challenge, at least for the first paper. However, this is also the most rewarding part, because you will not only become more familiar with a certain subject, but you can also contribute to the new research on that subject.
HAVE YOU FOUND BENEFITS IN INTERACTING WITH OTHER PROGRAMME PARTICIPANTS AND OF HAVING A MAJORITY OF PROFESSIONALS IN THE CLASS?
Yes, very much, even during the remote mode given the Covid-19 situation. During the class sessions (both remote and in-person), the questions raised by all other classmates give me lots of interesting exposure to  professional industries other than my own. For example, I learned how the same type of model can be applied to a consulting business or VC business, and also how their application can be applied to my own field.
Also, when I went through some of the recorded lectures online, the EDHEC PhD programme helped me to connect with previous students who were in that class, to share their experience and notes. All of these interactions are valuable to me.
MID-APRIL, YOU WILL BE PRESENTING AN INITIAL DRAFT OF YOUR FIRST PAPER TO THE PHD PROGRAMME CORE FACULTY AND TO PHD CANDIDATES ; COULD YOU PLEASE INTRODUCE THE TOPIC AND EXPLAIN WHAT YOUR RESEARCH AIMS TO ACHIEVE?
My research topic is about the asset pricing from a production perspective. I try to explain the recent dynamics of value-growth premium from the corporate profitability and investment channels.
HAOHUA (ANDY) TANG
EDHEC PhD Candidate, Quantitative Analyst at William Blair, Chicago, USA.