HEAR IT FROM YOUR PEERS*!
What makes EDHEC candidates better for the job market? A high performing organisation can see what's on the horizon, reacting and adapting to the environment before the competition. In today's fast…
Reading time :
6 Dec 2019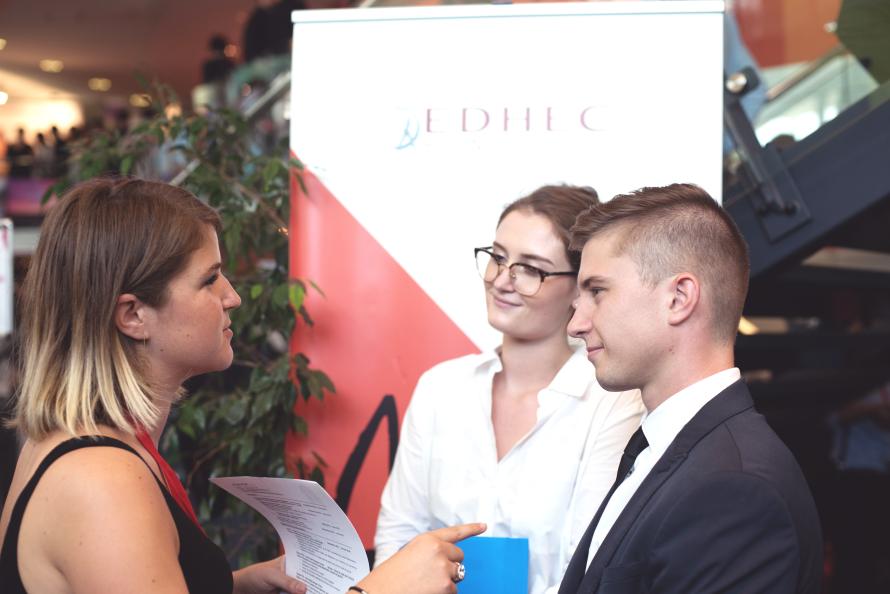 What makes EDHEC candidates better for the job market?
A high performing organisation can see what's on the horizon, reacting and adapting to the environment before the competition. In today's fast-changing and complex world, talent acquisition is key. Businesses world-wide need high potential talent, with a global mindset, ready to make an impact day one.
EDHEC students and graduates can deliver just that. "A certain open-mindedness and pragmatic resourcefulness are the qualities that I would surely find in EDHEC students." Laurence Galateau, Director of Marketing and Communication at Orange
Over the years, we have been building and maintaining a strong relationship with businesses and hundreds of companies have a long and successful hiring history of EDHEC students. Not only do they want to meet the next generation but they are keen to let students know of the opportunities at junior level within the firm and great career paths to senior level.
They are extremely impressed with the caliber the EDHEC students show. Not only do EDHECs demonstrate the analytical and technical skills that recruiters require in order to be successful in a company but they also add that extra special factor that they are looking for. "Our business, particularly in the risk area, does benefit a lot from EDHEC students since they have a good statistical and analytical skills. In terms of what we expect from them, we know that they are very clever and have a very good background from educational prospective." Sheril Sterling, Deputy CFO at Tradition
So what makes EDHEC candidates better for the job market?
"The programmes and the courses at EDHEC and the method in which they are taught are very relevant for our organization." Susan Robinson, HR Business Partner at EDF Trading
EDHEC offers a diversity of talent and candidates who have a strong self-confidence. Students communicate well, they demonstrate themselves as all-rounders who have common sense and ultimately, they are well researched, prepared and show the firms why they want to work for them. "It's a good combination between natives and international profiles. Having said that, we do find EDHEC students having concrete approach in terms of business and at the moment, we mostly receive graduate students from EDHEC." Jean Guillaume Bouchard, HR Director at RBS
EDHEC students perform very well in their respective roles and that gives our partners confidence that they are what they want to recruit in the future as well. They know exactly what qualities and skills they have to bring to the desks and that is crucial for working with them.
It all encourages our partners to come to EDHEC campuses every year to find, interact and network with good talent. "EDHEC's students are very creative and they want to make an impact. They want to change things and challenge the status quo. We like these qualities at Natixis and that is why we like EDHEC students and visit them on campus regularly. The Career Centre is also helping us finding some talented women to join us; we need women in the banking industry because it brings diversity and creativity." Mathilde Boyez, Head of Senior Relationship Management Team CIB London at Natixis
The objective of our events is to create proximity with students, to be able to make companies better known, to develop their employer brand and of course to recruit. "We have been participating in EDHEC's Career Days for many years now. We consistently receive great talent year on year, especially for some of our particular analytics division. What we like about EDHEC students is that they are passionate and are eager to learn. These are the qualities that we at BlackRock highly value. Moreover, they have quantitative skills that most of our roles require. Every year, we hire at least 6 students from EDHEC for our programmes in our London and other European offices. Overall, EDHEC is a close partner and we have a strong relationship with the school." Victoria Didilica, Campus Recruitment & Talent Acquisition at BlackRock
To find out more about our events and services, visit careers.edhec.edu.
Contact us at [email protected].
(*These testimonials were compiled from interviews with our some of our recruiters and partners during events (Finance Career Days, Graduate Programme Day, International Career Day) on our campuses.