How to Decide Which of the Top Global MBA Schools is Best For You
Reading time :
5 Dec 2022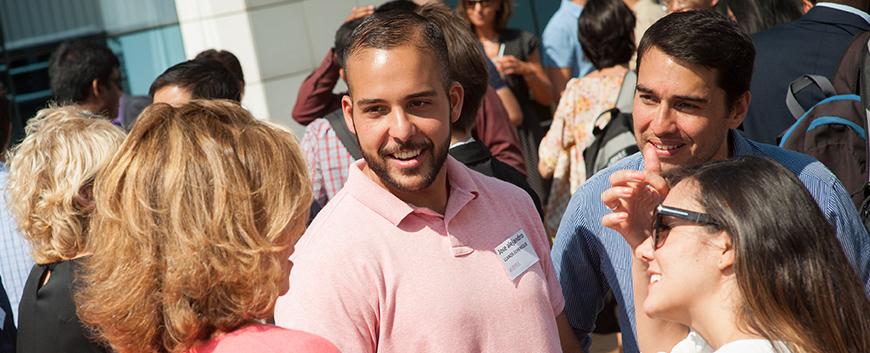 Embarking on an MBA can be life-changing. It's also an investment on many levels; you'll be putting in a significant budget, a serious amount of time, and you'll likely move to a new location to attend your preferred school.
There's lots of diverse programmes out there to choose from, so how do you decide which of the top Global MBA schools is best for you?
Here are 8 things to think about when choosing your MBA programme.
How to choose the perfect programme for you at top Global MBA schools
1 - Do the school and curriculum fit your needs?
AMBA accreditation guarantees that a school's curriculum has been thoroughly audited, and all MBA programmes offer a combination of core courses in strategy, finance and marketing. However, there are many other subjects that will vary from school to school, and some are more personalised than others.
In order for your MBA to be useful in your career, it's essential to have a good blend of soft skills as well as core business subjects. Leadership, management, coaching and mentoring are all essential when applying your knowledge to business. You can learn the theories behind them, but you'll truly develop these skills by applying them directly through active learning, peer-to-peer learning, and real-life case studies.
Some programmes offer a greater potential to customise and specialise than others. Take a careful look at the subjects and options available, and see how they fit with your interests and goals. For example, over 40% of the EDHEC Global MBA programme can be customised with its specialised tracks and tailored projects.
2 - Is it the right learning environment for you?
Each of us has a different optimal learning environment. The campus, facilities, location and atmosphere are all important aspects that contribute to this.
Given the entrepreneurial nature of an MBA, it is beneficial to choose a school where you can create a strong, diverse network. Working in close-knit teams and changing work groups several times throughout the year gives great networking and learning opportunities, while having experienced classmates with a wide variety of backgrounds increases the learning potential — not just from the programme but also from each other.
A good way to find out more about the learning environment is by going to visit schools during their Open Days. Come to EDHEC Global MBA open day in sunny Nice to experience the campus with current students, professors and visiting alumni. You can also get in touch so we can put you in contact with our alumni all over the world.
3 - History, reputation, accreditations and rankings
When building a house, you want to have strong foundations. The same applies to choosing which of the top Global MBA schools you wish to attend. Look into the school's history; what is it built on? Does it consistently turn out quality graduates? Does it have solid corporate relations and a good reputation amongst recruiters?
The answers to these questions can be complemented by the accreditations of a school and its rankings. There are 3 key accreditations; the AMBA accreditation guarantees that the quality of the MBA meets international standards, while the AACSB and Equis prove the same for the school itself. As of January 2019, only 1% of schools in the world-wide have achieved triple accreditation.
At EDHEC Global MBA, we're proud to have this coveted triple accreditation. We are a Grande Ecole founded over a century ago by entrepreneurs, and specifically dedicated to business.
Rankings are important, too. Those published by The Economist, QS, and The Financial Times are recognised for their quality. Some criteria you can look out for are; value for money, diversity, and how long students take to get a job after graduation.
In 2022 the Financial Times ranked EDHEC Business School #7 in the Top 10 European Business Schools and #3 in France. This reinforces EDHEC's reputation as one of the best business schools in Europe and the world.
4 - Faculty, research and the learning experience
Learning theory in a lecture hall and applying your new knowledge to real-life situations are two very different things. That's why it's important to have teachers who are not just experts from an academic perspective, but also come from the industry they teach in, or have close ties with it.
It can be very beneficial when professors apply a variety of practical teaching methods. Case studies, peer-to-peer learning and action learning are all techniques that help you apply what you've learnt to the real-life situations that you find yourself in once you return to your career.
Keeping their professors on the leading edge of knowledge in their fields, some schools also have their own research centres. It's a good sign when a school invests in research that strikes a balance between meeting international academic standards and making it applicable to businesses and policymakers.
5 - Will they help you reach your goals?
You may have chosen to invest in an MBA for a multitude of reasons; to change career paths, to set up your own business, to work in a different country, or perhaps all three of these. Whatever your motives, it's important to have all the help you can get in reaching your goal.
Schools that put focus on individual goals and career progression can give you that extra push. At EDHEC Global MBA, we have the CareerSMART programme that accompanies each student throughout the year. It consists of both one-to-one consultations, and sessions with coaches that are experts in their domains. The aim is not just to get you a job once you graduate, but to help you develop your goals as you learn, and to achieve them.
6 - Will it fit your lifestyle?
When embarking on an MBA, it's likely that you will need to make a few changes in your life for the duration of the programme. Depending on your personal situation, some of those changes will be easier than others. If you are to devote one or two years to your MBA, then it's essential that the lifestyle that comes with it suits you — so that you can better focus on the learning experience rather than the logistics.
The location of the school is often key; it will determine whether you can afford comfortable accommodation nearby, or if you will need to spend a lot of time commuting. If you have a partner or children, they might move with you, or you may choose to travel in order to see them on weekends.
An MBA also represents an intense learning curve, so you'll have to take time away from your current job. It's worth looking at how much time you can afford to take off. Some schools offer fast-track MBAs, which allow you to study more intensely, over a shorter time. At EDHEC Global MBA, the course is only 10 months, meaning that you'll be able to get back to your career with your new knowledge and diploma in under a year.
7 - Can you get a scholarship?
It can be a little daunting trying to sift through all the different scholarship types and understand what you might qualify for. Eligibility isn't a guarantee, so it's important that you don't end up with an unpleasant surprise for your budget at the start of the year.
Some schools consciously promote a transparent scholarship policy, so you can ask your preferred schools for clarity on their offer. Make sure that before paying any fees, you fully understand whether you're eligible and, more importantly, if you will actually be awarded the scholarship.
8 - Take your time, seek advice
Perhaps the best tip for choosing an MBA is to take your time. It's a big investment, so you want to get it right. The programme, the school, the location, and all the other deciding factors need to be carefully considered in order to find the MBA that's right for you as an individual. Ask people around you about their experiences, and don't hesitate to get in touch with alumni and current students to find out more.
Schools that care about getting highly motivated students who are a good fit will not pressure you into making an immediate decision when they offer you a place or a scholarship. Take your time to fully evaluate what the best choice is for you at every level — after all, this is the start of a great new adventure.
Are you ready to transform your career?
Download the brochure to find out how the EDHEC Global MBA will give you the tools, knowledge and confidence you need to accelerate your international career.