Inauguration of the Jean Arnault Campus in Roubaix, in partnership with EDHEC Business School and L'Institut des Vocations pour l'Emploi
Developed in partnership with the EDHEC Business School and L'Institut des Vocations pour l'Emploi (LIVE), a vocational training institute, the Jean Arnault Campus in Roubaix was inaugurated this…
Reading time :
9 Jul 2021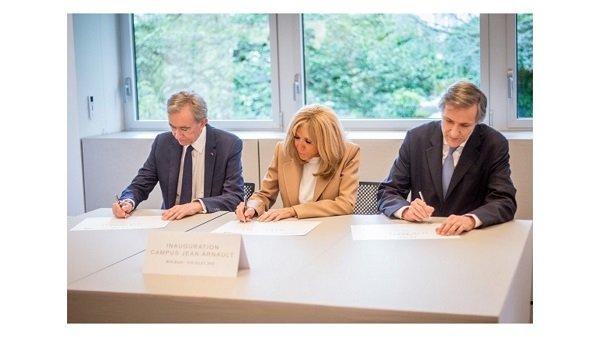 Developed in partnership with the EDHEC Business School and L'Institut des Vocations pour l'Emploi (LIVE), a vocational training institute, the Jean Arnault Campus in Roubaix was inaugurated this morning by LIVE President Brigitte Macron, EDHEC Chairman Bruno de Pampelonne and Bernard Arnault, Chairman and Chief Executive Officer of LVMH.
With a focus on innovation, this public interest educational initiative brings together at a unique site students, entrepreneurs and adults seeking to begin new careers, at a single site.
The Jean Arnault Campus was created in the former offices of the construction company founded by Bernard Arnault's grandfather. It is emblematic of the values embodied by the three generations of entrepreneurs who built the family-owned firm in northern France into a leading global group.
The Arnault family continues to promote an entrepreneurial spirit and the transmission of knowledge and know-how to new generations at the site where the family began its business adventure nearly a century ago. The educational vocation of this new facility reflects a clear long-term vision embraced by EDHEC, LIVE and LVMH.
Lille-based architect Frank Longueval was chosen to completely transform the site. The main building – designed by Jean Arnault in 1971 – has been restored and modernized, offering state-of-the-art teaching facilities.
Located just a few hundred meters from EDHEC's primary site in Roubaix, the new Campus will propose an innovative and integrated approach to education and a dynamic hub for exchanges that stimulate creativity. The second floor of the building is home to the EDHEC Entrepreneurs incubator, which provides selected startups with comprehensive support in launching new businesses, with an emphasis on responsible practices that address the needs of future generations. Beginning in the fall of 2021, the space will welcome some 250 students and entrepreneurs.
Beginning this coming September, the third floor of the Campus will welcome the first Roubaix class of LIVE - L'Institut des Vocations pour l'Emploi. After Clichy-sous-Bois and Valence (France), Roubaix is the third campus opened by this institute, which is chaired by Brigitte Macron. Local partners will identify to begin a six-month program in the fall. They will be supported by an educational team to help them articulate and pursue fresh career paths. Since its creation in September 2019, LIVE has helped over 200 adults move forward to rejoin the workforce, achieving a success rate above 75%.
"The Jean Arnault Campus pays tribute to my father and to our entrepreneurial roots in Roubaix.  This is where my grandfather and my father laid the foundations of what has become one of Europe's most prominent groups. With the creation of this Campus in partnership with EDHEC and LIVE I want to honor the values of hard work, bold thinking and perseverance that have long motivated the entrepreneurial families of this region in northern France. I hope that the future generations who study here at the Jean Arnault Campus will find inspiration in our creative adventure to innovate and pursue their own entrepreneurial success,"
said Bernard Arnault, Chairman and Chief Executive Officer of LVMH.
"Today, Bernard Arnault entrusts us with a building steeped in history, enabling our students and future entrepreneurs to benefit from the best possible learning environment as they invent the business models and companies of tomorrow. The entire EDHEC community feels both pride and above all a tremendous sense of responsibility. We are delighted to share this Campus and collaboration with LIVE. We look forward to addressing the many challenges of a world experiencing vast transformations as we strive to have a positive impact on society,"
added Bruno de Pampelonne, Chairman of the EDHEC Business School.