EDHEC
|
Events
Programmes
Research
Innovation conference 2022 : discover the programme of this event
Reading time :
1 Dec 2022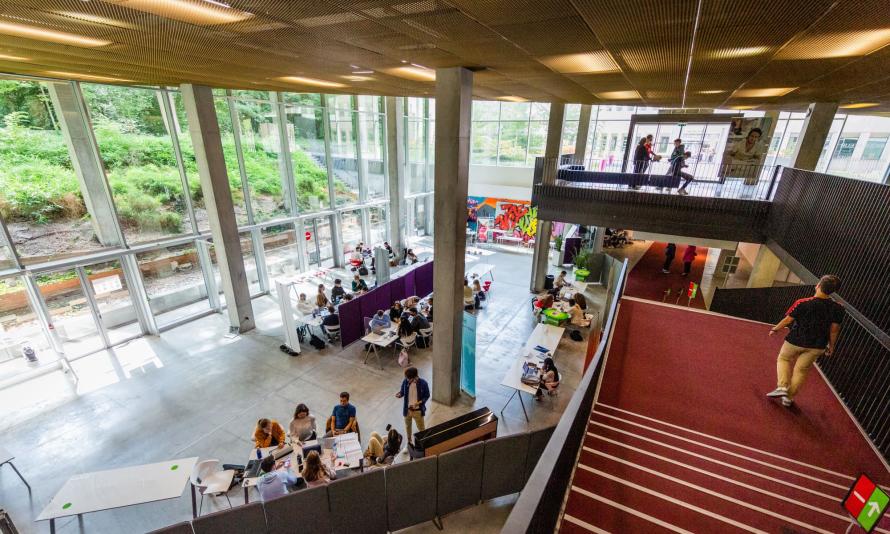 In 2021, nearly 350 EDHEC students (Grande Ecole programme) and a dozen companies worked hand in hand during a large-scale event on the Lille campus on the future of building. They came up with innovative models designed to accompany the transformation of an industry facing multiple challenges: eco-responsibility, energy efficiency, sustainability, etc. (read the press release).
An expanded 2022 edition
This year again, in November and December 2022, the EDHEC Foresight, Innovation and Transformation Chair, headed by Rene Rohrbeck, professor at EDHEC, and ARUP, a long-standing partner, are organising two events bringing together 150 students from the MSc Strategy, Organisation and Consulting and numerous professionals from partner companies. The partners involved in this project are : Somfy, Velux, Rexel, Adeo, Goldbeck as well as GF Piping Systems, Etex and Terreal.
The first event was a 3-day hackathon on the Jean Arnault campus in November 2022, which brought together 40 experts from the building sector against 25 teams of students. The latter had to tackle five challenges aimed at achieving the objectives of the #COP26 climate agreement through innovation opportunity analysis and the identification of levers to strengthen the interaction between customers and managers.
The second event is entitled "Future Business Models in the Building Industry" and allows students to present their reworked and refined proposals following the hackathon, in the form of "5 pitches for 5 major challenges". This presentation, which takes place on 6 December, will be preceded by a workshop to draw up the modalities of a 3rd year of collaboration around the future of building and construction.
Programme of December the 6th
This event will take place entirely in English
9:00 Check-inn (Manoir)
9:30 Market outlook for the three verticals and next steps
10:30 How to manage breakthrough innovations and build new businesses
12:00 Lunch
13:45 Project introduction (Amphi VIP)
14:15 Networking Coffee (Reception lobby)
15:00 Introduction to EDHEC, "Future of" projects and FOB 2.0 ambitions (Auditorium Crédit Mutuel)
15:15 Introduction to challenges
15:25 Students Pitch - 5 teams
16:10 Panel discussion Jury (E207)
Martin Pauli - Associate Director Strategy & Insights, ARUP
Simay Arikan - Senior Director of business development and exploration, VELUX
Julien Neuschwander - Innovation Director, Digital & Services, REXEL
Christopher Duehnen - Head of Building Technologies & EC member, GF Piping Systems
16:50 Award ceremony & Group picture
17:15 Cocktail/Networking with partners, guests and students (Reception lobby)
19:00 Moving to Lille for dinner at 19:30
Organisation
EDHEC Foresight, Innovation and transformation chair & ARUP
In partnership with : Somfy, Velux, GF, Rexel, Groupe Adeo, Godlbeck, Etex, Terreal
This event is limited access, if you have any questions, please contact:
Campus : 372 rue Verte, 59170 Croix
GPS: 50° 40' 26.00'' N / 3° 09' 48.00'' E