Jean Boissinot (Banque de France): Making sense of green finance
How a smarter financial sector can contribute to the net zero transition
EDHEC Speaker Series "The Future of Finance" - online format (zoom)
With David Zerbib (EDHEC) & Emmanuel Jurczenko (EDHEC)
Reading time :
6 Feb 2023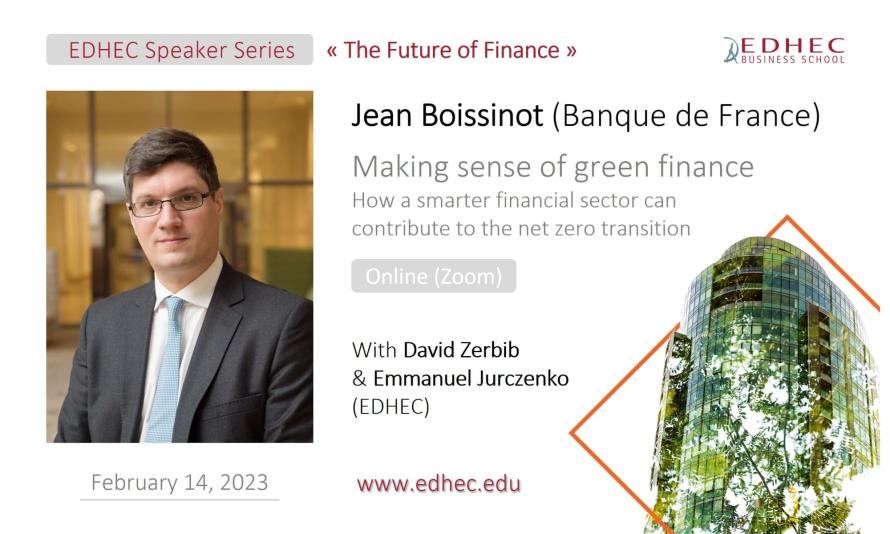 In January 2022, EDHEC Business School has launched a new online monthly speaker series on "The Future of Finance". The objective is to address the most recent advances in the financial industry and discuss how finance can be a powerful tool for tackling key economic and social challenges. To do so, this series gather all year long international renowned industry experts and academic scholars reflecting the research culture and intellectual commitment of EDHEC. The targeted audience is the current EDHEC Business School finance graduate students, the EDHEC alumni, and the members of the enlarged EDHEC community and guests.
On February 14, 2023, from 6pm until 7pm, we welcome Jean Boissinot, deputy director (financial stability) at Banque de France and Head of the NGFS Secretariat on:
"Making sense of green finance - how a smarter financial sector can contribute to the net zero transition"
To register, follow this link
Green and sustainable finance has become a mainstream trend in the financial sector. Yet, its role in the transition remains poorly understood and its value is something being questioned. Jean will draw from a first-hand experience in the development of the global policy agenda and his involvement into various private sector initiatives to propose an understanding of what to expect (and what not to expect) from green and sustainable finance. His talk will draw from this recent book "La Finance verte" published in November 2022 (édition Dunod).
EDHEC Discussants are David Zerbib, associate professor & EDHEC-Risk Climate Impact Institute Affiliate Member, and Emmanuel Jurczenko, director of graduate finance programmes.