JUAN CARLOS QUINTERO
So far, among other things the programme has impacted my overall understanding of finance in general, since I am confronted with new and interesting questions and a vast literature that broadens perspectives on a variety of issues.
Reading time :
10 Sep 2022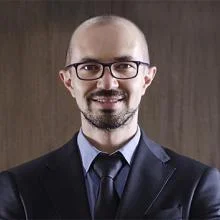 JUAN CARLOS QUINTERO
Chief Officer, Investments and other Assets at FOGAFÍN, Colombia
COULD YOU TELL US ABOUT YOUR BACKGROUND AND WHAT YOU ARE DOING TODAY?
I have worked mainly in asset management within public institutions: several years in Colombia´s Central Bank, and currently as Chief Investment Officer in the Deposit Insurance and Resolution Agency (FOGAFIN). My undergraduate studies were in engineering, and I did graduate studies at the University of Michigan, Ann Arbor, in economics and statistics.
WHY GO FOR DOCTORAL STUDIES AT THIS STAGE OF YOUR CAREER AND HOW DID YOU CHOOSE THIS PARTICULAR PROGRAMME?
I believe in permanent and continuous learning and have always sought avenues that help me do this, such as the CFA and the FRM programmes. At this point in my career I felt that a programme combining rigorous theoretical foundations with independent research would be intellectually demanding as well as helpful in challenging aspects of the industry I work in. I also had an interest in engaging with colleagues that worked in different areas and in learning from faculty that were top researchers in their field. EDHEC's programme had all these elements.
HOW HAS THE PROGRAMME IMPACTED YOUR DAILY WORK SO FAR?
In three ways: a) my approach to problem solving, where I find myself increasingly searching how to anchor problems within a theoretical framework and wanting to address them more rigorously; b) my overall understanding of finance in general, since I am confronted with new and interesting questions and a vast literature that broadens perspectives on a variety of issues; c) on a more practical level, I have found myself more motivated but also having to manage time very accurately to be able to include PhD work within an already busy day.
HAVE YOU FOUND IT BENEFICIAL INTERACTING WITH OTHER PROGRAMME PARTICIPANTS AND HAVING A MAJORITY OF PROFESSIONALS IN THE CLASS?
Indeed. It would have been very hard to go through the first year of the programme without my classmates. We are all under tight work schedules and in different parts of the world but both the weeks we have physically shared during the programme and our conversations throughout the year have been key to getting the most out of it. Seeing how they managed families, work and graduate studies was also very inspirational; they are exceptional individuals.  As I enter this second year, one of the key challenges is keeping in touch with them since everyone is now working on different topics.
FOR YOU, WHAT IS THE MAIN CHALLENGE OF THE PROGRAMME?
The main challenge of the programme is probably the research component that I have recently begun. Homework and exams always had clear deadlines and content, and whenever there were difficulties we could always talk among classmates or look to books and find ways to overcome them. Now, in individual research, we must set our own schedules and workflow, seeking ways to hurdle obstacles when they appear, and focusing on delivering output every week. Having timely support from a supervisor, in terms of feedback regarding your ideas and deliverables is key during this stage. I have been fortunate to have this kind of support from my supervisor.
YOU ARE CURRENTLY STARTING YOUR DISSERTATION WORK; COULD YOU PLEASE INTRODUCE THE TOPIC AND EXPLAIN HOW THIS RESEARCH IS RELEVANT FOR YOUR ORGANISATION?
I am working under the supervision of Gianpaolo Parise, studying the link between moral hazard and coverage within the deposit insurance framework.  The role of deposit insurance in the global financial architecture is controversial, and the debate about its benefits vis-à-vis its cost is still open in the academic literature. My initial interest is to understand how limiting the coverage of deposit insurance (as is usually the case with most deposit insurance schemes worldwide) limits the moral hazard, and how increases in this coverage can do the opposite. 
This issue is key not only for my organisation but for deposit insurers worldwide and is recognised as such by the International Association of Deposit Insurers (IADI) in its key benchmark document (Core Principles for Effective Deposit Insurance Systems, 2014). It is a decision that no deposit insurer in the world can avoid.