Ketch-up, an opportunity to network and socialise
Lina Antelmann tell us all about it. How did you come up with this idea? The idea came during a catch-up call Michelle Sisto and Sébastien Dieuaide had organised with international students. We…
Reading time :
8 Jan 2021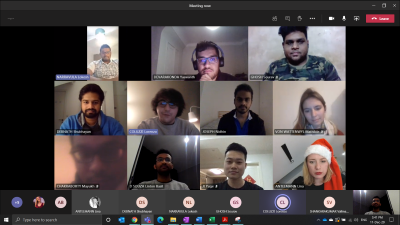 Lina Antelmann tell us all about it.
How did you come up with this idea?
The idea came during a catch-up call Michelle Sisto and Sébastien Dieuaide had organised with international students. We realised pretty quickly that what everyone was missing the most were the social interactions and the networking, which are key to the student experience at a business school. Of course, there are Facebook groups and other social platforms, but the barrier to actually connect and interact with new people through virtual means is still quite high. Shubhayan Debnath, Zih Yun Chiu, Nidhin Joseph, Linton Basil Dsouza and I started brainstorming around how to tackle this problem and came up with the idea to create KETCH-UP.
What is KETCH-UP?
KETCH-UP is a central networking web platform that helps students overcome the virtual barriers of networking. What makes it special is that the focus of the platform is to identify different groups of people with similar interests, be they personal or professional, and leverage IT to facilitate a faster and easier connection between them. This way, it doesn't matter if you're based in China, France, or the US, if you share the same passion or interest with another student from the EDHEC community, you'll be able to find each other and connect!
The official launch is on January 12th, 2021. But when did you start the project?
We did a trial period in December 2020 to learn more about the social dynamics involved in virtual networking, what it actually is that the students are looking for when meeting new people and how to enable it from an IT point of view, and it went really well. We held online theme parties with students across all programmes and a Secret Santa event. For the next steps, we're planning a virtual pub quiz and field-based conversations with EDHEC Alumni. The platform is accessible to all EDHEC students and should go live through SharePoint. In the short-term, it will be key to gain some momentum, spread the KECTH-UP vibes, and show people how much value they can actually get out of networking virtually. At this point, I believe it's much more of a cultural change than it is a technological one. In the long-term, there are endless possibilities regarding what you can do with such a platform, and I think it can become a key cornerstone of the interactions happening at a business school.
Click here to join the platform
Stay tuned on the Facebook page