Learning from the competition
Since 2007, more than 12,000 international business students have competed in the world's largest investment-banking competition, keen to impress recruiters and professionals from global top-tier…
Reading time :
25 May 2020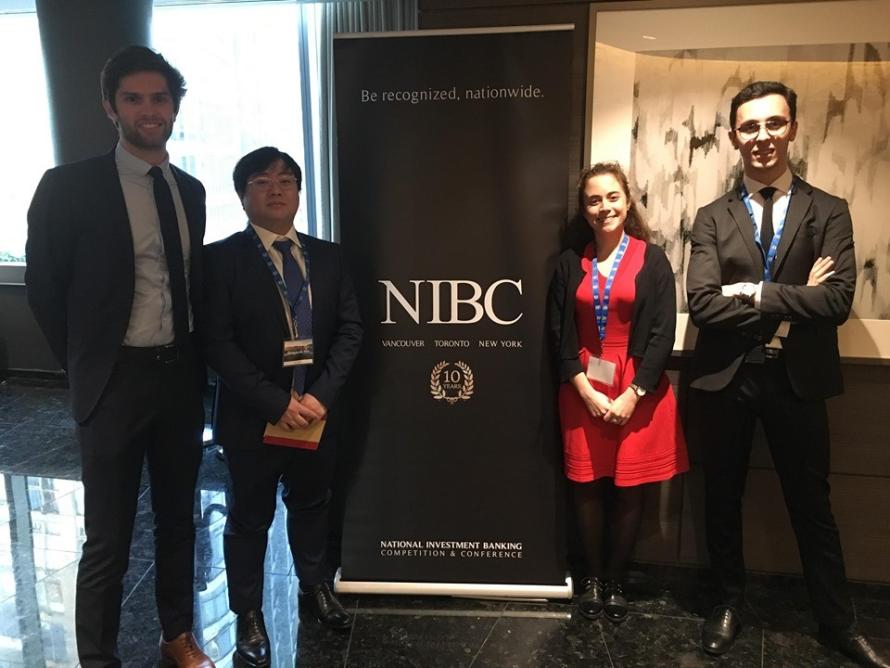 Since 2007, more than 12,000 international business students have competed in the world's largest investment-banking competition, keen to impress recruiters and professionals from global top-tier firms. The core aim of the NIBC and its professional organisers is to create opportunities for aspiring business graduates, from practical skills development and connections with prospective employers to insights from industry leaders and networking with international peers.
Intense competition
Claire, Fabien, Nicolas, and Dong had seven hours to come up with a pitchbook for a merger between Volkswagen and Ford, encompassing issues such as valuation/dilution, market effects, competition, and synergies. This was followed by a presentation to three TD Securities investment bankers – a daunting prospect, but also a great opportunity to network.
"Although, but we did not win, we had the opportunity to attend numerous conferences and networking events with banks such as Goldman Sachs and JP Morgan, gaining first-hand industry insights," says Claire Maillet. "The gala dinner was an opportunity for us to look at the presentations of the finalists and get feedback on our own merger project."
"The finalists' presentations were excellent and our discussions with the candidates were really exciting," adds Fabien Krésac.
Lessons learnt
"This competition was, above all, an opportunity for us to work on a very practical case study, inspired by real transactions," says Nicolas Bonmarchand. "It was also an opportunity to put into practice the valuation knowledge and analytical skills we had acquired during our time at EDHEC."
The students were able to showcase their language and communication skills when presenting their project. "We also realised the impact of the legal aspects of such transactions and the strength of our double degree," adds Dong Seo. "We were proud to represent EDHEC Business School's LL.M. in Law & Tax Management. If we could give one piece of advice to future participants, it would be to be pragmatic and professional. This competition puts you in the role of an investment banker and the recommendation in the pitchbook must be feasible for the company you are advising."
Related resources:
EDHEC Business School has launched the EDHEC Augmented Law Institute
Meet Huang Zhang, LL.M in Law & Tax Management Alumnus
Meet Professor Christophe Roquilly, co-head of the LL.M in Law & Tax Management