L'Oréal brandstorm France national winners are from EDHEC business school
Zaid Zafar Farooqui, Snehal Chaudhari, and Pranavnemon Jagdish, all EDHEC Master 1 students won the L'Oréal Brandstorm France Nationals. Snehal tells us all about their success. You are the L'Oréal…
Reading time :
26 Apr 2022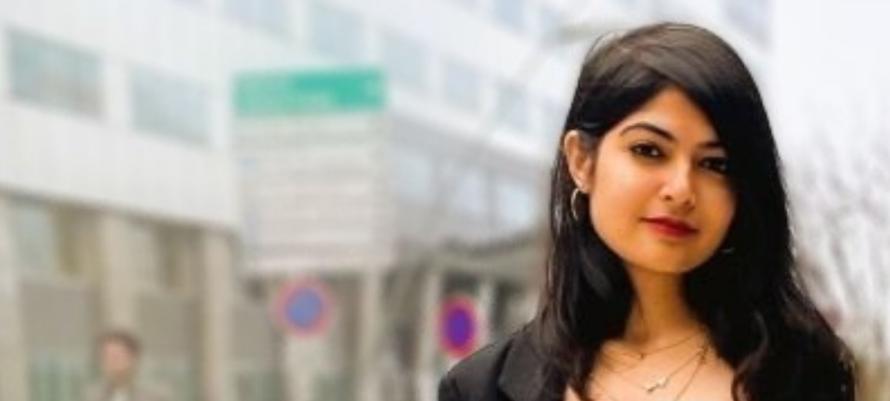 Zaid Zafar Farooqui, Snehal Chaudhari, and Pranavnemon Jagdish, all EDHEC Master 1 students won the L'Oréal Brandstorm France Nationals. Snehal tells us all about their success. 
You are the L'Oréal Brandstorm France national winners. What was the challenge about? How was it organised?
L'Oréal Brandstorm is a real-time global innovation and marketing competition that is spread over 60 countries & more than 40,000 students worldwide. It's the ultimate innovation competition for students because it really stimulates your creativity & lets you compete on a real-life business challenge. Right from ideation to implementation, formulating a business strategy to pitch your idea to L'Oréal global leaders, it has it all! This year was all the more special because it was the 30th anniversary of the competition as it first started in Paris in 1993.
The brief for this year was Disrupt Beauty 2030. We had three tracks to choose from: sustainability, inclusion, and Tech track. My team and I chose the inclusion track wherein our innovation was a product that would help foster inclusion for the visually impaired community.
At the start in France, there were 600 projects (2000 master students) of which 45 teams qualified for the semi-finals. After the semis, 12 teams won and were the finalists ( 4 from each track ) who were then invited to the L'Oréal headquarters to pitch their product in front of the Global L'Oréal Leaders.
How did you get involved in the competition?
We first got to know about Brandstorm through an EDHEC Alumnus who had participated and was one of the finalists last year. We still did not know much about the challenge but we learnt as we progressed in the competition. After we became semi-finalists we also had a mentor from one of the Luxury divisions of L'Oréal, Valentino, Mr. Fabia. He helped us with the insides of the business and really guided us in every way!
You were a team of three, how did you organise the tasks?
Firstly, let me say that having a solid team is super essential. You need to have a team of people you get along with and have respect for because as the competition progresses, you go through a lot of ups and downs.
I had a great team. Me, Zaid, and Pranav are go-getters. Not only were we able to motivate each other, but we also helped bring out the best in each other. We were an explosion of energy and the three of us brought three diverse skillsets to the table with fresh perspectives on the topic. I have more of creative marketing and out-of-the-box thinking.  Zaid thinks more in terms of market strategy and business development. Pranav has numbers and data crunching mind. All of this combined with great communication and interpersonal skills led to us being able to produce some refined work.
The preparation involved doing a lot of market research, gathering consumer insights, and brainstorming day in & day out to finally come up with that one disruptive project. We worked on it for almost four and a half months in addition to our school work. For our pitch, we rehearsed a lot of time by speaking in front of each other & in front of the mirror.
Why did you choose the inclusion track?
Ideally, it would have made sense for me to choose the tech track given the fact that we were a team with all tech backgrounds, but Fostering inclusion in the beauty industry was a topic close to my heart. So I felt like I could produce the best work through the inclusion track.
Because I think that's what the world needs right now. Everybody just wants to feel included & as they belong somewhere. Not everybody has the same privileges as you and I do, I just wanted to play my part in helping one community of people feel less excluded.
At the same time, we as a team wanted to get out of our comfort zone and learn something new. So, we chose to not necessarily go with the tech track but to go for inclusion. But, Apart from being inclusive, Our product does have a lot of tech in it and is also sustainable.
Were you surprised to win the challenge?
Yes, but we were so pleased. We put a lot of work into this and we had unwavering faith that we could win this. But again, we did not really expect to be the national winners: three Indians to be the Face of France. It's quite something and it speaks for how much L'Oréal stands for inclusion!
What are the perks of winning the challenge?
I think the perks are manifold. First, You just learn so much not just in your professional life but also in your personal life, because like I said, you interact with so many people you deal with pressing deadlines and stressful situations while professionally it will give you the relevant experience & widen your perspective on doing business in the beauty industry by imbibing in you the brand knowledge, networking, presentation, and pitching skills.
And especially if you are somebody who wants to work with L'Oréal or is passionate about L'Oréal like I was, then brandstorm is the way to go, it will give you deep insights into L'Oréal's working culture. It will also help you build a solid network by meeting not just recruiters but also current employees. But hey Brandstorm doesn't guarantee a job at L'Oréal!
ABOUT YOU 
You have joined EDHEC in 2021, what can you tell us about your experience so far, academics, life in Lille, career services, student life…
I don't think I would have had the skill set to compete in the brandstorm if it was not because of EDHEC and all the learning experiences that I have had.
Apart from classroom learnings, I think EDHEC really stands for what they say about making an impact. That to me is the truest culture of EDHEC. The faculty members and my professors have been super understanding, super supportive. ISO and Career Center are hands down the best we could ask for, they are always willing to guide and help.
Talking about my student life, I'm the Events Manager at BDA (Bureau des arts) in EDHEC which is an association dedicated to Arts! All of this put me in the right mindset, to be able to participate in a competition like this.
What is your background before joining EDHEC?
I am an electronics engineer, I have done my engineering from VJTI in Mumbai, India. At the same time, I am a professional singer. Being an engineer & an artist gives me the right balance of an analytical & detail-oriented mind with a creative and free-spirited heart which come together in my entrepreneurial attitude.
What do you hope to achieve?
Looking forward to the international level, I hope to learn and absorb as much more as possible while also contributing my level best to the global community. I hope LumiLiner can be a product in real-life to help the visually impaired community feel included in the make-up space. Everybody deserves to feel beautiful and I want to play my part in helping achieve this goal.