#MyMBAStory: How an MBA in France Can Change Your Life: Insights from Alumni
EDHEC Global MBA candidates thrive in an environment where they create strong, professional relationships with classmates, and it?s the addition of a global alumni network that opens entirely new doors - and insights. Recently, some EDHEC alumni came back to Nice, France to share.
Reading time :
4 Jan 2021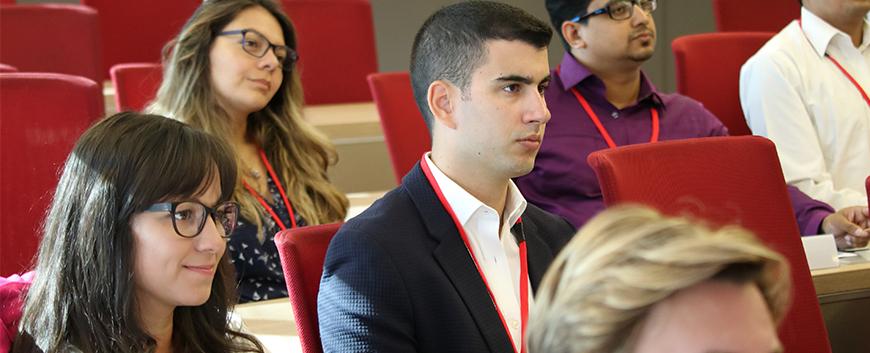 There are many benefits to achieving a Masters in Business Administration, but the connections built during the programme are arguably as important as the in-class learning itself. With an average of eight years of work experience, our participants come from all industries, functions, and countries. The 2019 class, for instance, represented 29 nationalities and in 2018, the class had 36. It is from this melting pot that the participants graduate from their MBA in France into the network of EDHEC Business School's 40,000 alumni worldwide.
Our alumni have bright futures post-graduation. The Economist ranked EDHEC's Global MBA programme #7 in the world for opening new career opportunities and #1 in France. An impressive 81% of students receive their first job offer within three months of graduation - many before they have even completed the programme! Since four out of five graduates receive career opportunities so quickly following an intense programme which packs all the benefits and learning into just 10 months, EDHEC's Global MBA was also ranked #8 in the world for return on investment.
EDHEC'S MBA Alumni day
Global MBA alumni returned to EDHEC's Nice (France) campus to share their personal experiences at the annual Alumni Day. Inspiring the current class, each shared their first-hand knowledge on a range of topics from planning a job search strategy and excelling at interviews to the importance of networking and learning new ways to develop your career.
Each alumni presenter attributed their experience at EDHEC for helping shape them into who they are today. The programme teaches you many things in and out of the classroom. Every alumni journey and experience is different, but one thing they all agree on was the value of their time at EDHEC on a personal and professional level.
My MBA in France - Presenters share their insights
Milagro Cornejo, Global Network Director for Havas Group, was motivated to get an MBA in France for many reasons. Originally from Peru, she wanted to dedicate a year to herself and chose EDHEC because of its emphasis on teamwork and collaboration and its stunning location on the famous Cote d'Azur in France. 
Reflecting on her experience, she recalled that the MBA exposes you to every sort of emotion during the intense 10 months but it's through these ups and downs that she built the confidence she has today. In conclusion, she said one of the biggest benefits of the Global MBA experience on the French Riviera was developing the mindset to welcome challenges in the workplace and gaining the knowledge to know how to address them.
Diversity was a large reason Milagro chose EDHEC over other schools. By working with classmates from around the world, she had an advantage over her competition when she started targeting global brands like Havas Group. She never realised how important working with so many international profiles would be until she gained her new level of communication and negotiation skills. 
The enriching MBA experience also taught her to think outside the box when searching for a job. She admits she was looking for something that didn't quite exist. It's good to dream but you need to be realistic and accept that your dream job might not be your next job - and that's ok! 
Alumna Claudia Carrone shared a very different personal journey from her pursuit of an MBA to how she secured her current role. She was looking for a total career transformation that combined her passion for education and technology with her occupation. These interests eventually directed her to EDHEC, on of the best Business Schools in France.
She was attracted to EDHEC's Global MBA largely because she was curious about the institution's PILAB and its efforts with new learning innovations. During her programme, she tackled the job hunt differently when she abandoned the traditional method of distributing her CV or applying for posts online. Claudia focussed on networking and connecting instead. She recommends being intentional and knowing exactly what you want. Then, being fearless and never giving up. 
Armed with that spirit, she knocked on doors around campus. This unconventional approach worked when she began an internship with EDHEC that led to her full-time job as a Digital Learning Consultant with PILAB. She is one of the 37% of our graduates that make a "triple-jump" changing their location, industry, and function.
Shufei Wan, now a Project Manager at MicroPort CRM, agreed that putting yourself out there and expanding your network is necessary for anyone on the job hunt. She emphasised the importance of always being proactive. She met recruiters via events like EDHEC's Career Fair, the Top Women Summit, and the China Horizon Forum and joined EDHEC clubs in both technology and culture and media during her programme.
Different journeys, similar outcomes
The ways that the guest speakers acquired their current positions were all different. Whether their methods were more traditional or completely unconventional, they all yielded the same results: great jobs that they're excited about today.
The other guest speakers included Martin Gasper, Sourcing Manager at Roche; Max Enno Kraft, Industry Executive in the Microsoft Aspire MBA Program; and Rodrigo Rachitoff, Wealth Management at BNP Paribas in Monaco. Countless other Global MBA graduates have found careers at globally recognised brands too like Amazon, Deloitte, Amadeus, IBM, Nielsen, Mars and Microsoft. 
This interactive event provided a platform where attendees could connect one-on-one and in group discussions with the alumni to learn more about their careers post-MBA and to benefit from their insights. EDHEC's Nice campus was busy with returning alumni all weekend because the MBA Refresher Event on sustainability was hosted the following day. Networking is a powerful and necessary component of any EDHEC event, and the MBA Refresher weekend gave everyone a chance to connect.
"I've never had a situation where I was so close to alumni," said Sanjay Rana, a current Global MBA student. "Everyone was very friendly, open and approachable which is not always the case. I really like that about EDHEC culture. Its collaborative environment extends beyond the classroom."
Begin Your Global MBA in France with EDHEC
The journey wasn't always easy and was in a very different direction for each of these alumni, but they all agree that their MBA in France was a life-changer. The EDHEC MBA alumni network includes over +3,500 MBA's who have spread across the world. For more information about EDHEC Alumni services or events, visit our MBA Hub.
Could this be you ?
Evaluate your profile to speak to one of our career advisors and see how you would fit in with our next cohort.