MBA students discuss with cyber security experts from Facebook, Google, and IBM
In San Francisco's Silicon Valley, EDHEC MBA students visited Facebook, Google, and IBM to network with leading cyber security experts. MBA students at EDHEC Business School have just returned from a…
Reading time :
18 May 2017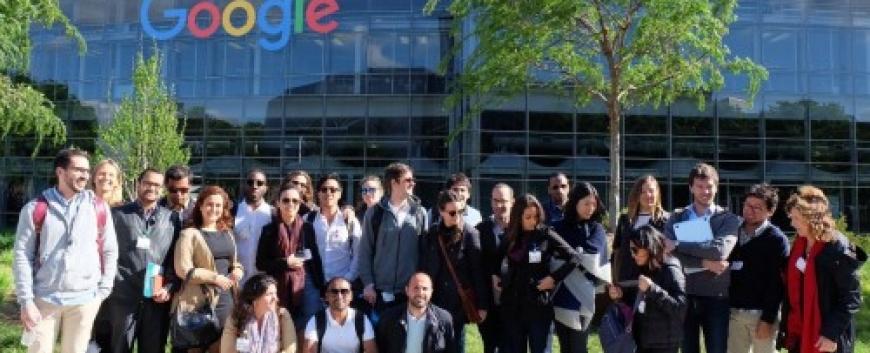 In San Francisco's Silicon Valley, EDHEC MBA students visited Facebook, Google, and IBM to network with leading cyber security experts.
MBA students at EDHEC Business School have just returned from a mid-April trip to San Francisco's Silicon Valley, where they met some of the tech world's most influential entrepreneurs and cybercrime experts.
Silicon valley as the world's main hub for technology and innovation was an ideal place for some real-life experiences, especially for the MBA candidates who have chosen the economic crime management track as their elective during their Global MBA programme. For one week, they met representatives from IBM, Facebook, Google and other tech companies to discuss the impact of cybercrime on today's businesses and companies.
 
How does the threat of cybercrime impact modern business?
As more and more businesses use or rely on technologies like machine learning and artificial intelligence, executives must ensure that their information remains protected from dangers posed inside and outside a company.
Nelly Copaver – an MBA student at EDHEC – was particularly impressed by a two-day session on cyber security held by Jim Bourie, EDHEC alumnus and expert in Criminal Risk Management. Jim challenged many of Nelly's theories about cyber security, and shed light on the very real challenges facing tech companies working today. "As businesses grow," she says " it's important for us to understand how, by using social and digital tools, criminals can damage the company." Today, "even your employees can be a threat for you." she adds.
Identifying and fighting cyber threats
One of the most important take-aways for Nelly was learning how to identify these cyber threats and how to fight them. The visit was also her first time in San Francisco's Silicon Valley, and actually one of the main draws that led her to enroll in the EDHEC Global MBA program. Having fallen for by the city's charms, she says she would welcome a job in the area after graduation. And she definitely aims to take the skills and information they gathered from her time in California into her future career.