MBA students explore International Career Opportunities at EDHEC Global Talent Day
Reading time :
5 Feb 2021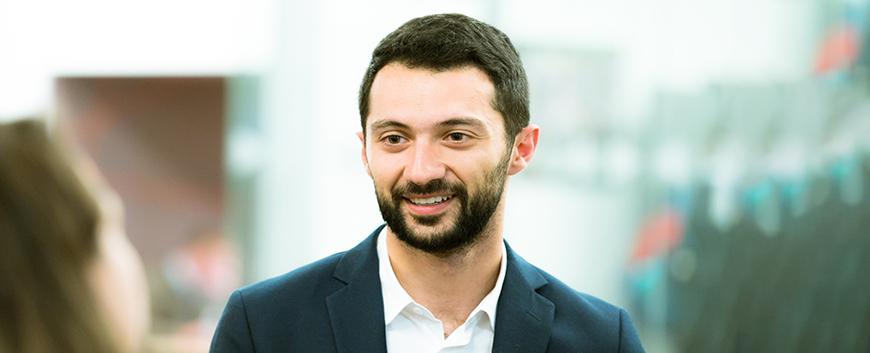 Each year in January, EDHEC MBA Corporate & Career Services organises the Global Talent Day, an exclusive networking event for our Global MBAs which connects students and recent graduates with some of the world's leading brands. The Talent Day gives MBA candidates a unique opportunity to meet with the HR and hiring managers of companies like Google, IBM, Uber, Amadeus, Nielson, Capgemini and Accor and understand more about their international career opportunities, hiring processes and talent requirements.
This year's event was 100% virtual and took place over 2 days so that EDHEC MBA candidates could experience a new addition to the Global Talent Day: our first MBA Hackathon. Here's what happened:
Day 1: Network. Open your horizon. Discover new industries.
Day 1 of the Global Talent Day provides our MBA's with the opportunity to meet, connect and interact with senior talent recruitment specialists from a wide range of leading global companies from a diverse range of industries.  With company presentations, Q & A sessions and networking opportunities, the personalised event allows recruitment & HR experts from organisations like Accor, Amadeus, Capgemini Invent, Google, IBM, Nielson, PayPal, Technique Solaire and Uber to share insights into their company and recruitment strategies and give an insider view on what skills, talents and roles they are looking for in terms of international careers. They also get to meet with our diverse, talented and extremely motivated MBA talent pool during various interactive discussion & networking sessions.
Throughout the MBA programme, our MBA participants have the possibility to learn, question, discuss and interact with experts from some of the world's leading organisations through a wide range of international career events, fireside chats and Expert Speaker Panels : the Global Talent Event is one of the highlights in the calendar for both our students and our corporate partners. It is also why our programme is consistently ranked as one of the best in the world for opening new international career opportunities.
According to Spencer Hamilton, Head of Global MBA Career & Corporate Services at EDHEC this is because the Global Talent Day is specifically designed to "help students connect with talent development and recruitment experts from some of the world's most innovative organisations. The event can open new doors, give invaluable insights and experiences and help MBA candidates to continue building an extensive professional network to develop their international careers. The addition of the MBA Hackathon really strengthened this already-exceptional event for both our MBA's and the participating companies, showcasing in real-time the talent and innovation of our students and their ability to solve a real-life business challenge in a time-sensitive, pressurised and virtual environment".
Day 2:  MBA Case Study Hackathon: Real Challenges, Real Solutions #smartertogether
For the first time, the Global Talent Day event included a new opportunity for MBA and company participants: the MBA Hackathon challenge. On the morning of the 8th January, Accor, Amadeus, IBM, Royal Canin, Technique Solaire and Uber each presented a unique business case study to 2 teams of MBA students per case study. 
"The case-study showcase the student's capabilities in a way no 30-minute interview can do. It boosts interactions for everyone." said Jennifer Pasquier, EDHEC's Career & Corporate Relations Manager. 
Working against the clock, each team had just 2 hours to develop a solution which they presented back to their respective company judges who then selected just one team each to proceed to the final later that date.  
The final 6 teams then had to complete their proposals and create a compelling pitch to win over fellow hackathon classmates and our panel of professional judges including: 
Michael MIRAMOND, Vice President & Managing Director, Carrefour Global Integrated Account at IBM 
Alain DUFOSSE, Business angel & former managing director at Pernod Ricard 
Martin BARBIER, Executive Director EDHEC Alumni Association 
Sandra RICHEZ, EDHEC Global MBA Programme Director 
Once the jury assessed each pitch and gave their final feedback, the winner was decided in a tense 'MBA public' vote.  Find out more about the MBA Hackathon here and meet the winning team!
Are you ready to transform your career? 
Download the brochure to find out how the EDHEC Global MBA will give you the tools, knowledge and confidence you need to accelerate your international career