Meet an alumna: "EDHEC's master gave me the time to explore and broaden my horizons"
When she joined EDHEC master's in management in 2020, Lina Antelmann knew she wanted to challenge herself and her capabilities. She also knew she wanted to change her career path and, develop her career capital. As she joins Bain & Company in Berlin as Associate Consultant, Lina looks back on her journey. An inspiring path.
Reading time :
6 Jun 2023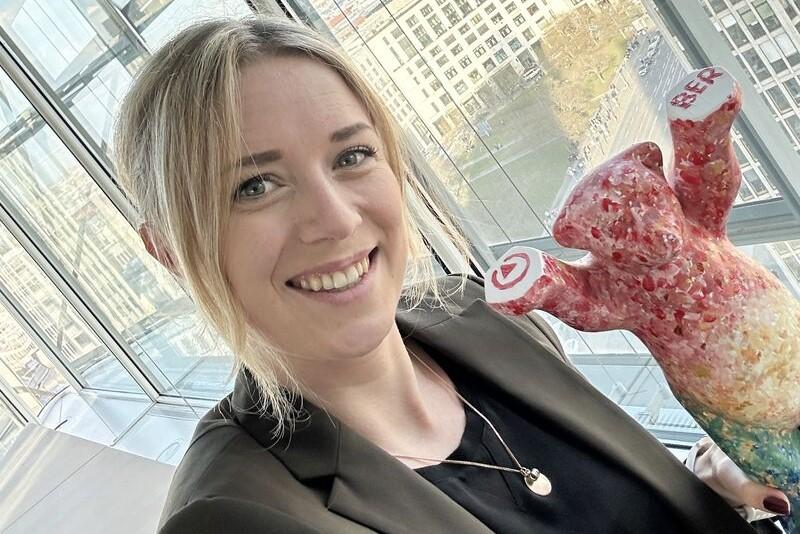 You have completed your master's in management at EDHEC Business School in 2023. Looking back on the three years you spent on the Business Management programme, which highlights would you like to share?
If I had to sum up my experience, I would choose three highlights.
The first one would be: diversity. My best friend at EDHEC had studied Japanese studies before joining the programme. It was very refreshing to meet someone with such a different background. There were also engineers or physicists on the programme… The cohort was so diverse.
Covid was a highlight and a "low light" at the same time. It was a tough period to study in, but it definitely brought everyone closer together. We founded KETCH-UP, a networking club during that time. We built a strong community and turned the crisis into something great.
My final highlight would be my Master 2 choice, the MSc in Data Analytics & Artificial Intelligence. I had never done anything with analytics or coding before. The programme gave me the opportunity to try something new.
You had three years of work experience when you joined the MiM. What triggered your decision to a long study programme?
I would say the gift of time. I believe that in a career, it is healthy to take a step back, to have, what I would call periods of focus and refocus. It is like zooming into something, being very focused and then zooming out and reorienting yourself. With the master's in management, I zoomed out. It was a period of reorientation for me. A period to challenge myself and my capabilities. The master's programme gave me the time to explore and broaden my horizons.
You chose the MSc in Data Analytics & Artificial Intelligence as your master 2. If you had to pitch the programme, what would you say?
It's a continuous riddle! It's challenging and full of people excited to be challenged! I met amazing people on this programme! The MSc equips you with a holistic toolset that helps you see the world from a different angle: from a very analytical one.
I am convinced that no matter what you want to do afterwards, this angle, analytical thinking and problem-solving, the ability to turn data into your best friend will become indispensable in future leadership. You don't need to have programming skills when you start but what you do need is persistence and an excitement to tackle those queries and break the code.
What was your favorite class? Professor?
My favorite class was data mining with Prof. Arnaud Dufays. I think he is a genius! It was both the hardest and the most exciting class I had. If you think of data like clay, in this class we learnt how to model it, use the data, identify patterns, apply it and, get the best insights out of it.
How important was your professional immersion year in your career choice and your MSc specialisation?
Immensely important, I would almost say it was the most important step in my early career. I would have never studied something like data analytics in this depth. From a job market perspective, the MSc in Data Analytics & Artificial Intelligence gave me a competitive edge. You can't build these skills and the knowledge in a LinkedIn Masterclass, it's a whole new world and it requires investment and focus.
As an Associate Consultant Intern at Bain & Company, I realised the value of using a data perspective to solve problems. I enjoyed coming up with a solution to a client's problem. It's always super diverse. I worked with amazing people, just like at EDHEC.
The professional immersion year also helped me understand what I did not want to do.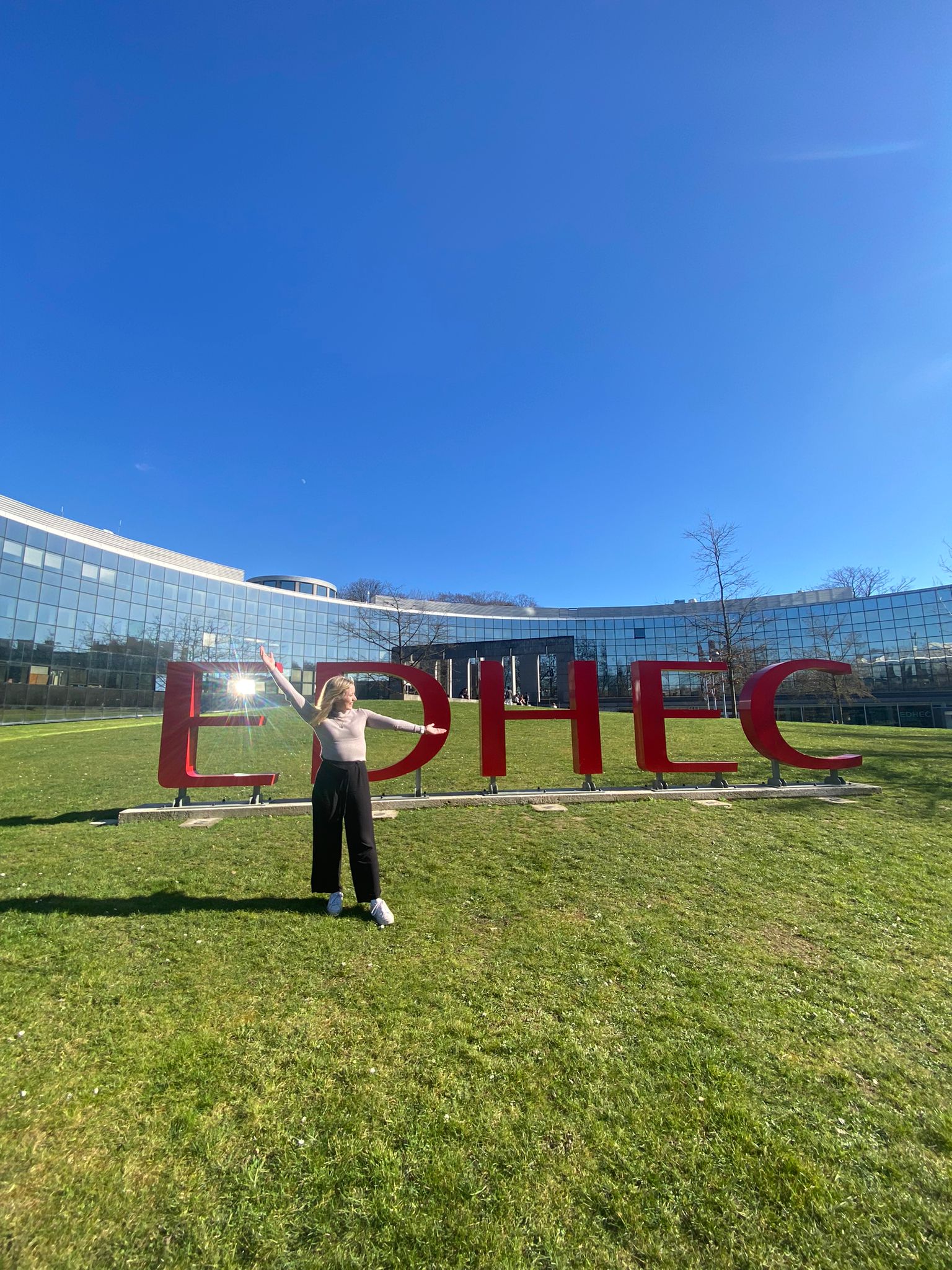 You have joined Bain & Company Berlin as an Associate Consultant. What can you tell us about your role? When did you learn that you would join the company full-time?
I had a full-time job offer at the end of my gap year. 
I'm an Associate Consultant which means that I am on three-to-four-month strategic projects in Germany or abroad. I'm a full-time problem solver. Bain is a strategic consulting firm which means we accompany our clients to find answers to an immensely diverse set of business questions: whether it's about the application of AI, sustainability strategies, the development of new product lines… You are with a new team on each new project, each new client or industry. You never know what your next project will be like, which is exciting and comes with steep learning curves. But you can give your preferences, mine is to work on analytical projects.
I am very excited about this new chapter at Bain.
Do you have career advice for recent graduates?
During my time at EDHEC I came up with my own podcast about this topic called "Stereotypos", together with another EDHEC Alumni Josh. In one of the episodes, we had a very inspiring guest: Michelle Sisto, EDHEC's Associate Dean for graduate studies. She gave me a piece of great advice; I will refer to it. She explained that your career is like a playground, it can go up and down, it's a daily experiment. She encouraged me to learn from the downs, really accept that careers are not linear. You never know the end. So be playful, and experiment. Actually, that's also what the word "typos" in the title stands for, considering mistakes as something great.
If you would have asked me three years ago where I would be, I would have never thought to be where I am right now. So be open!
EDHEC's motto is: make an impact. How do you intend to make your impact?
Through people. You don't need to wait until you have a management position to call yourself a leader and have a positive impact on people, be a role model for your beliefs and values and try to make their everyday life better. This is what we tried through KETCH-UP.
I hope to contribute to good teams, enjoy the work with my colleagues, push them beyond their boundaries, make them believe in themselves and, come up with some crazy new ideas. Because I think great teams are the base for any great product or service. I'm a team player. Maybe my sixteen years as a football player have something to do with that!
If you had three words to sum up your EDHEC experience what would they be?
Immersive, supportive, inspirational.