Master
|
CSR
Programmes
Student Life
Meet an alumnus: sustainability at the core of his career
Adithya Narayanan graduated from EDHEC Business School in 2022.  He has joined Sustainability Consulting Leadership Program (SCLP) at Schneider Electric. The EDHEC Alumnus looks back at his academic experience.  
Reading time :
18 Jan 2023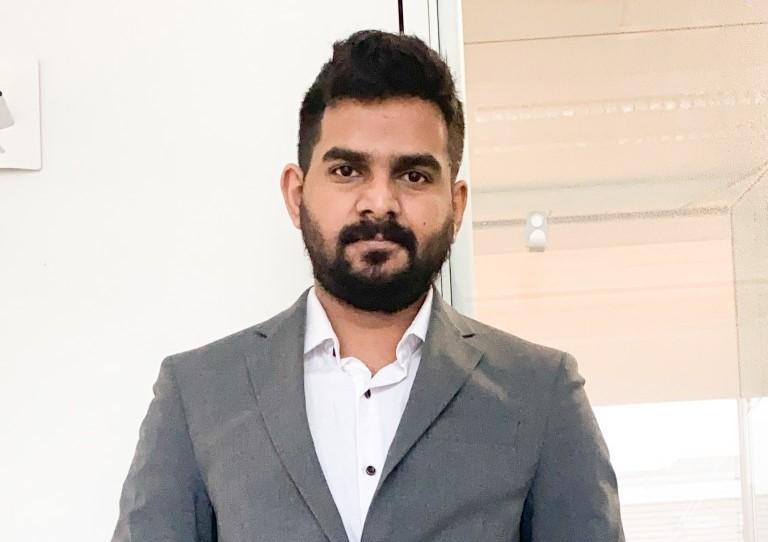 You have completed your Master in Management at EDHEC Business School in 2022. Looking back on the three years you spent on the programme, which highlights would you like to share?
I must say I took the biggest risk of my life (both professionally and financially) 3 years ago when I decided to do my Master's abroad. I am so happy that this leap of faith paid off eventually as I am beginning to enjoy the 'harvest'. I am also happy to see EDHEC climbing up the rankings as I progressed through my course. Today, EDHEC Is now the 7th best Business School in Europe (FT Rankings 2022). Moreover, I have grown a lot just by studying together with a talented and diverse lot of classmates. During my 3-year course, EDHEC has provided me with many opportunities to improve my leadership and life skills. I was elected as the Cohort Representative during my first year. I also served as the Vice President of Oikos Lille, an association for students who are passionate about Sustainability. A few other memories I still cherish are leading my team to third place in the Open Innovation Challenge, a huge round of applause from the audience for my Pitch in Pitch Academy Course (Master 1), and winning the Green Future for Real Estate Challenge (Master 2). Furthermore, being in Europe enabled me to visit nearly 20 countries and explore their rich heritage during the 3 years.
You chose the MSc in Global & Sustainable Business as your master 2. If you had to pitch the programme, what would you say?
I am so passionate about working in the Sustainability sector so choosing the MSc in Global & Sustainability Business was a no-brainer for me. In fact, I picked the MSc in Global & Sustainable Business even before coming to France. Although the programme structure lets you confirm the Master 2 choice towards the end of the gap year.
The MSc in Global & Sustainable Business opens door to many career opportunities emerging in the Sustainability Sector, especially in Europe. The course also gives an in-depth understanding of various Business aspects of Sustainability and enables you to become a True Sustainability Professional.
How important was your professional immersion year in your career choice and your MSc specialisation?
I had a work experience of more than 2 years before joining the programme but I truly admire the professional immersion year structure, which helped me understand the European working environment and culture, which is totally different from my job back in India. The gap year also helped me explore my career options and gain experience in the Industry I wanted to work.
My strategy in the gap year was to do one internship in the Sustainability Sector and to do another for a large company (any industry) which could boost my CV. This worked out well for me. I would recommend strategizing your gap year. Think long-term! And do at least one internship related to the MSc and the post-graduate career you want to pursue.
You have joined the Sustainability Consulting Leadership Program (SCLP) at Schneider Electric. What can you tell us about this programme?
Joining a Graduate Program in my desired field in a company I always wanted to work for was my dream come true, indeed. I joined Schneider Electric as a Sustainability Analyst in November 2022. The 2-year programme gives us an opportunity to rotate through three different departments within the Sustainability Business of Schneider Electric. My first rotation is within the Sales Team and it's been a really exciting couple of months!
Do you have career advice for recent graduates?
I know that it could be really difficult for applicants to open up their graduate career, especially when you hear the words 'Recession' and 'Layoffs' in the news on a daily basis. However, the economy may recover faster than you imagine so do not lose hope and make sure that you are ready with the desired skill sets and motivation when an opportunity hits. Above all, do not self-reject and believe in yourself!
EDHEC's motto is make an impact. How do you intend to make your impact?
I have always been inspired by the motto of EDHEC and tried to make a positive impact on the people and environment around me. My current role at Schneider lets me scale this much larger by advising clients to reduce their Carbon and Energy Footprint. I hope to be able to make the best use of my new responsibility and scale it up even more as I assume more responsibilities and influence more people.