Meet an Alumnus: "EDHEC community has been my unwavering pillar of support"
Coming from Pakistan to France, Ayzar Ahmad completed his master's degree at EDHEC Business School, graduating as the Valedictorian from the MSc in Strategy, Organisation and Consulting in 2023. He shares insights about the master in strategic management and his life on EDHEC's Lille Campus.
Reading time :
7 Nov 2023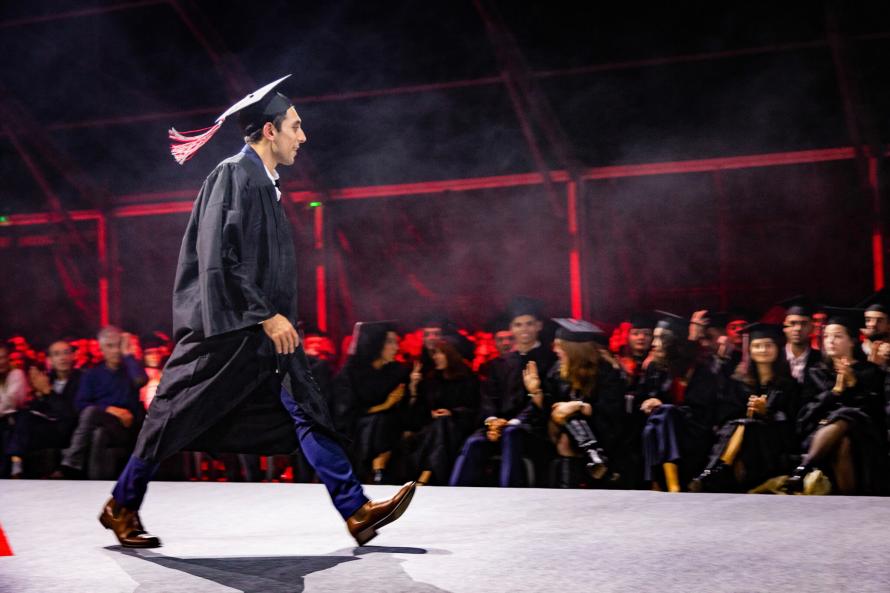 What is your background?
In 2018, I enrolled at EDHEC to pursue a bachelor's degree, followed by a MSc in Strategy, Organisation and consulting. Since I had never visited Europe before, I was entirely new to the experience of interacting with people from different walks of life. It was a significant adjustment for me, but it turned out to be an absolute delight! 
Why did you choose EDHEC Business School?
When I was looking at the rankings, I was pleasantly surprised by the high rankings of French Business Schools, especially, EDHEC. While these rankings provided reassurance for my choice, my primary reason for joining EDHEC was the exceptional programmes it offered. Moreover, part of my family who lives in France spoke highly of the institution which further re-affirmed the school's excellence. I would say I placed more weight on these factors than on the rankings themselves.
What motivated your choice to pursue the master in strategic management?
Even though I had a job proposition in Singapore, I decided to come back to pursue the MSc in Strategy, Organisation and Consulting. Since I previously wanted to earn a master's degree in strategy and consulting, a programme that not many universities offer, and when I discovered EDHEC offered it, it became the evident choice for me - it fitted perfectly with my career plans. 
Who is the master in strategic management designed for? What career outcomes does it lead to?
The MSc in Strategy, Organisation and Consulting addresses the needs of those aspiring to become consultants but it can also appeal to a diverse range of other students, including those pursuing roles as project managers, strategists, economists, etc. 
The curriculum contains a myriad of interesting courses including one of my favourite courses 'Foresight & Strategic Design' presented by the EDHEC Chair of Foresight, Innovation and Transformation (F.I.T). It equips students with valuable insights applicable to the companies they will eventually work for - proving essential for informed decision-making.
You obtained Strategic Foresight Certificate. How did it benefit you in reaching your career goals?
When I looked at the list of certificates available at EDHEC, I chose the one I had never heard about before – Strategic Foresight, which eventually taught me to adopt a forward-looking and systematic approach towards anticipating and preparing for potential future scenarios. 
This experience taught me that sometimes the road less travelled can lead you to invaluable life experiences and this is exactly what happened during the course of this certificate. To give you an example, today, I work as a consultant for global logistics giant, Maersk, and they have an in-house strategic insights department which is currently introducing Strategic foresight in the decision making at the company, having prior knowledge allowed me to build common grounds with colleagues and have an impactful conversation on the future of the shipping industry.
How have industry professionals in the classroom benefitted you? 
During my master in strategic management, EDHEC's faculty was quite active. All the industry experts they brought in were very knowledgeable. It allowed us as students to litmus-test different career paths and understand what it entails to embody different corporate roles which can be invaluable experiences for soon-to-be young professionals.
Can you share how the EDHEC community has been your "unwavering pillar of support"?
My fellow students and Career Centre not only inspired me to exceed my limits but gave me recognition and confidence to rise up to my true potential, this really helped me to keep pushing forward when the going became tough.
Campus life: what did you enjoy the most?
Throughout my life, I have visited and studied on numerous campuses, and I must say the EDHEC's Lille campus is one of my favourites! It is a beautiful campus - a perfect blend of modernity with the beautiful, curved building in the front and traditional French Manor in the back. Additionally, living on campus allowed me to be in proximity to the education building and enjoy all the amenities and camaraderie that come with on-campus life.
Another aspect I truly appreciated at EDHEC is its 'Diversity of thought'. Students from different parts of the world come together and bring with them amazing ideas shaped by their unique backgrounds and life experiences. This is something that I have always cherished about EDHEC. 
What advice can you give future students?
You need to allow yourself to be open to new experiences. When I first arrived, I was very reserved about my surroundings. Nonetheless, I decided to join a student association, enabling me to become more open to new possibilities. Despite not speaking French initially, once I made an effort to learn the language and the culture, I was pleasantly surprised by how appreciative people around me were of these efforts. 
Additionally, although EDHEC is in France, it is crucial to remember that it is part of the European Union, and there are many companies which are actively seeking English-speaking candidates. Therefore, do not restrict yourself to seeking an internship or employment solely in France, numerous rewarding opportunities exist beyond its borders. If you wish to stay in France to work but don't speak the language yet, show potential employers your willingness to go the extra mile and learn the language.
3 words to describe your EDHEC experience
Transformation, Friendship, and Courage.
In a nutshell, my journey at EDHEC has been a whirlwind of challenges, growth, and personal transformation. This experience has equipped me with the necessary skills to define my own North star in life.