|
Master
|
Events
Programmes
Student Life
Meet a student: 'I was drawn to the global perspective of the GETT programme'
After having completed a bachelor's degree in mechanical engineering and worked at an American e-learning firm, Chinmay Patil chose EDHEC Business School to upgrade is managerial skills and make a career transition. Hesitating between two programmes, his choice landed on the Global Master in Management track - GETT. 
Reading time :
25 Oct 2023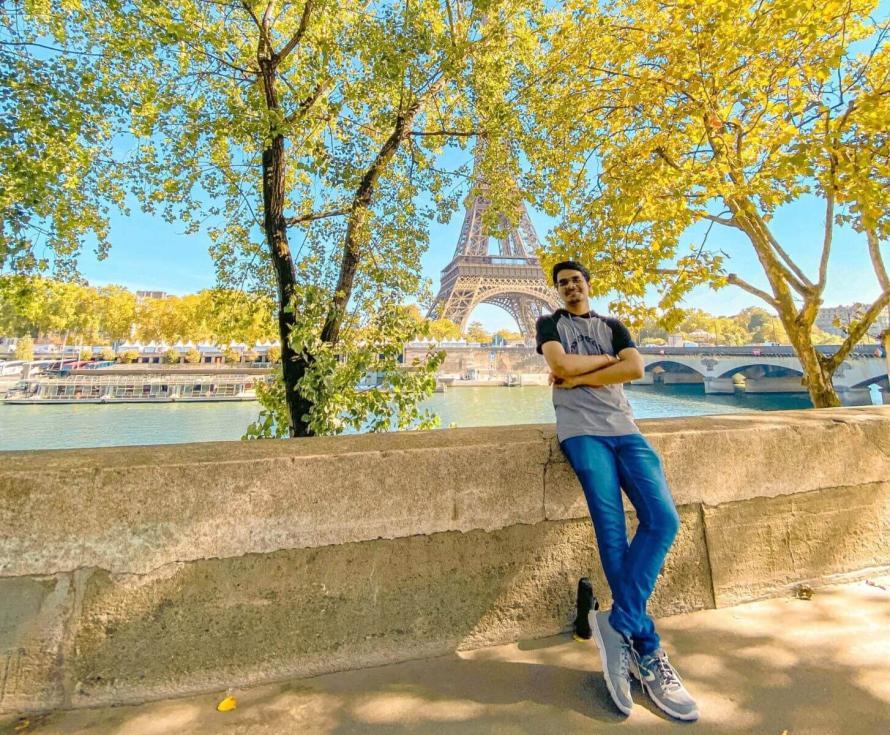 Why did you choose EDHEC Business School?
I was certain about my desire to study abroad in Europe for its rich culture and top-notch management education. To familiarise myself with European business schools and make an informed decision, I referred to the Financial Times rankings, where EDHEC holds a favourable position. 
Why did you choose the Global Master in Management - GETT ? 
I was drawn to the global perspective of the Global Master in Management programme, and its inclusion of finance in the curriculum - particularly emerging financial technologies, which made it even more appealing to me. Additionally, being part of the Berkeley and SKK alumni networks will significantly contribute to achieving my career goals. My long-term objective is to become an entrepreneur, making the Global Master in Management track the perfect fit for me.
How the learning expedition 'GETTing things done!' helped you bond with your classmates?
It was a three-day trip to Arles – South of France to connect with fellow students from the same cohort. This experience allowed us to forge strong bonds among us. We visited the museums, engaged in a painting activity at a mission supporting women empowerment and other activities allowing us to create lasting connections. The French students in the group played a crucial role in helping me understand the French culture. This trip provided me with the opportunity to become well-acquainted with the other students with whom I will be spending the next three years. 
Throughout the first semester, multiple company visits are organized. Having already attended visits to Malt and IBM, can you share your insights? 
The company visits provide an opportunity to meet EDHEC Alumni on-site allowing us to explore the company's environment, learn about various roles and ask questions. 
The visit to Malt was related to the strategic management course. We engaged with the company's CEO, an EDHEC Alumnus, who shared insights into creating and managing the company in a competitive market. He encouraged students to explore entrepreneurial paths and we had the chance to ask him questions. 
During the visit to IBM Paris headquarters, we met with two EDHEC Alumni who were deeply passionate about their roles and the company. They shared insights about the company's environment and discussed their personal career growth. Additionally, they expressed a willingness to offer internships for the gap year and after completing Master 2.
How do you plane to adapt to moving in three countries in three years? 
Living in three countries in three years is quite exciting for me. Although I generally embrace change easily, I initially felt a bit apprehensive. However, the warm welcome from fellow students and our mutual support made the adaptation process smooth. The programme is thoughtfully designed to foster strong connections among us, ensuring that we can rely on each other throughout this journey. 
Why is the Global Master in Management - GETT programme a great fit for your career goals?
The Global Master in Management programme will equip me with management skills, providing an international experience while still getting skills in finance. My long-term career goal is to be an entrepreneur in the FinTech industry. 
What skills have you acquired in your first semester in the Global Master in Management track (GETT)?
During this semester on the Paris campus, I engaged in theorical courses in management, allowing me to apply them in group projects and in my future internships. I already sense an increased level of confidence in my managerial skills.