'The Master in Management programme played a crucial role in helping me pinpoint my true career aspirations'
Reading time :
17 Oct 2023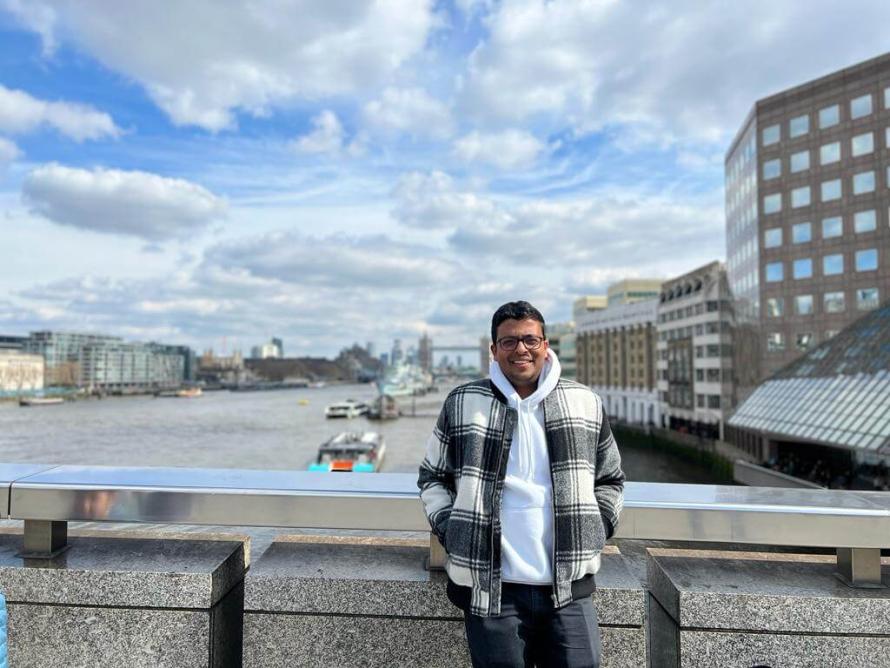 Why did you choose EDHEC Business School? 
I started by looking at highly ranked business schools, and after connecting with EDHEC's alumni and having an exceptionally positive interaction with the admission team, EDHEC became the clear and compelling choice.
Why did you choose the MiM – Business Management track ? 
I sought a three-year programme that would enable me to learn about business, gain professional experience and specialise in my desired field. The Master in Management – Business Management track provided me with all these opportunities.  
The gap year proved essential as it opened my eyes to my true career aspirations and provided me with valuable professional experience. This experience offered crucial insights, guiding my decision to pursue a specific career path post-graduation – either as a data analyst or business analyst in a tech industry. Consequently, I chose to enrol in MSc Data Analytics & Artificial Intelligence during my final year. 
You won the L'Oréal Brandstorm Challenge 2022. Can you tell us about the experience and how it helped you reach your career objectives.
We pitched our product LumiLiner (an eyeliner for the visually impaired community) for L'Oreal Brandstorm 2022 under the 'Inclusion Track'. The theme for this track was to "IMAGINE BREAKAWAY PRODUCTS & SERVICES TO EMPOWER INCLUSIVE BEAUTY".
We won the French national round, beating out over 600 teams and 2400 participants. Winning this challenge helped me open the door to get an internship at L'Oreal for my gap year. Coming from a background without any makeup/beauty or marketing experience, Brandstorm 2022 was the perfect bridge to ensure I fit in L'Oreal's culture.
How did the gap-year enabled you to choose the MSc in Data Analytics & Artificial Intelligence? 
The gap year was the perfect springboard to decide which specialisation to go into in my final year at EDHEC.
Emerging victorious in the L'Oréal Brandstorm challenge opened the door for me to secure an internship at L'Oréal in Paris as a business analyst. While it was a great experience, it prompted me to recognise my desire to pursue a career in the tech industry.
For my second internship, I took on an internship as a Business Analyst at Amazon in Luxembourg. This experience confirmed my passion for working with data, affirming my desire to seek my professional path as a data analyst.
How did you benefit from EDHEC's Career Booster? 
EDHEC's Career Centre was very helpful and available. I attended multiple one-on-one sessions during which we worked on editing my resume and discussed a career in data science.
The career fairs and career days organized by the Career Centre was a good exercise and enable me to widen my network by making connections. 
You received the Dean's List Top 5% Award. How did you reach this goal?
When I arrived at EDHEC, I had just finished my bachelor's in degree in India and did not have a lot of work experience. I needed something to show that I am different to stand out from the crowd. So, on top of being a student ambassador, a cohort representator, a participant in the TEDxEDHEC association, etc., I tried to make sure that I got the best grades to be at the top of the class. To reach this goal, I was consistent – always trying to be on top of coursework and ahead of deadlines. My method worked, I ranked among the top 5% in the Business Management class, Master 1.
Working in France, did you find that French speaking is essential to be hired? 
I attended French classes prior to arriving in France, reaching an A1 proficiency level. My limited proficiency in French did not pose a challenge during my internships, as I collaborated with a diverse group of international individuals. The experience to work and live in Paris also enabled me to improve my French for day-to-day activities. 
What are your plans after graduation? 
In the near future, I want to stay and work in Europe to see what it is like to have a career here and continue to experience the European culture.
As a student ambassador, what advice would you give someone who is thinking about applying for the programme? 
It is a great programme that gives you time to figure out your life goals, offering remarkable experiences and opportunities. To be successful, you must forge your own path, stop listening to others and do what you want to do!
If you had three words to sum up your EDHEC experience, what would they be? 
Diverse – You are always meeting people from different walks of life and different nationalities. 
Fast pace – Time flies by, especially in the Master in Management programme where you're constantly moving around. Always make sure to enjoy every moment.
Open-Minded - To engage in various activities such as meeting new people and moving around, you always have to be open to new experiences.